Article
August 2014
Sarasota Magazine August 2014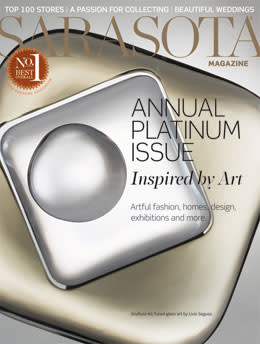 Subscribe to Sarasota Magazine
Subscription Services 
About Us
Features
Inside the Ringling Museum's high-tech art conservation lab with new chief Barbara Ramsay.
What drives the art market and its buyers and sellers? Rich Rescigno explores the fascinating, sometime s frenzied world of the avid acquirer.
Cool new fashions at 1920s Sarasota High, soon to become a contemporary art museum. Photography by Mark Farmwald
J.B. McCourtney's portraits of Sarasotans tell us much about our city--and ourselves.
For five happy couples, our seaside paradise was the perfect place for the wedding of their dreams. By Katy Bryan-Beachler and Megan McDonald
Departments
Pam Daniel enjoys a sister's view of the life of a free-spirited art dealer.
The Heat Index 
Carol Tisch's art-inspired shopping finds, plus our Real Estate Junkie's Home of the Month.
Mr. Chatterbox 
Three landmark homes now on the market have plenty of tales to tell.
Our annual guide to Sarasota's top luxury retailers. By Heather Dunhill
John Pirman sketches Sarasota's ballet dancers preparing for The Secret Garden.