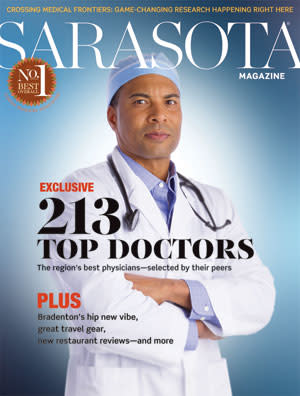 Subscribe to Sarasota Magazine
FEATURES
As a Ringling Museum exhibit examines fakes and forgers, we talk with Sarasota author Clifford Irving about one of the best—Elmyr de Hory, the subject of his book, Fake!
Bob Plunket believes Bradenton is now playing the role of hip Brooklyn to our Sarasota Manhattan. Find out why.
Local doctors and patients are part of a knowledge explosion that could change much of what we know about human health. By Hannah Wallace
Our exclusive listing of the region's best physicians from Castle Connolly's medical researchers.
DEPARTMENTS
For early Sarasotans, life was risky—and health care even risker. By Pam Daniel
The Heat Index
People, issues and events on our radar, including top tickets, Carol Tisch's shopping finds, chef Judi Gallagher's dish, Heather Dunhill's Fashion IQ, Bob Plunket's Home of the Month--and more.
Our creaky, cranky columnist on aging boomers' obsession with their health.
Luxury Home
A modern take on the atomic ranch home in Laurel Park, plus the latest news in real estate and design.
Food and Wine
John Bancroft savors classic Cuban at Columbia and tasty Italian at Made in Italy. Plus: foodologist Mark Gabrick and his barbecue, and Sarasota's best lobster roll.
Illustrator John Pirman spots one of the best bayfront views around.