Article
Sarasota Magazine April 2014: The Outdoor Issue
The Outdoor Issue.
FEATURES
Inside the Ellenton ice rink where champions train.
National Geographic photographer Joel Sartore hopes his portraits may help rescue some of Florida's at-risk species.
Our state parks are unique and acclaimed. So why do we have to keep fighting to keep them that way? Award-winning environmental reporter Craig Pittman investigates.
As this month's festival proves, Sarasota loves the movies. But that alone won't make us a player in the competitive world of filmmaking. By Hannah Wallace
Beachy-chic resort wear for spring.
Novelist Randy Wayne White's fight to protect Florida's tarpon has all the elements of one of his acclaimed thrillers. By Tony D'Souza
When it comes to real estate, the answers may surprise you. By Robert Plunket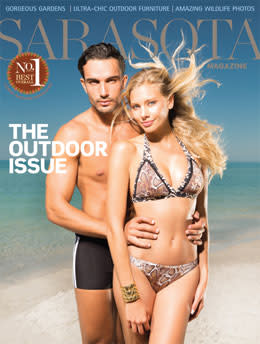 Subscribe to Sarasota Magazine
DEPARTMENTS
Pam Daniel takes us aboard the Ark Project.
The Heat Index
People, issues and events on our radar, including top tickets, Carol Tisch's shopping finds, chef Judi Gallagher's dish, Heather Dunhill's Fashion IQ , Bob Plunket's Home of the Month—and more.
Mr. C is outraged by our "Young Issue." What about celebrating the Old?
Luxury Home
Landscape projects we love, plus the latest news in real estate and design trends.
Health Report
An interview with a celebrity burn survivor, new warnings about acetaminophen and a look at fitness program Gyrotonics. By Hannah Wallace
Food and Wine
John Bancroft finds Bradenton cuisine stars in the new Derek's and Soma Creekside. Plus: Sarasota's best Key lime pie, and the makers of the award-winning Lick My Spoon caramel sauce.
Illustrator John Pirman spots a hidden gem: the Bayfront Community Center.