Article
Sarasota Magazine March 2014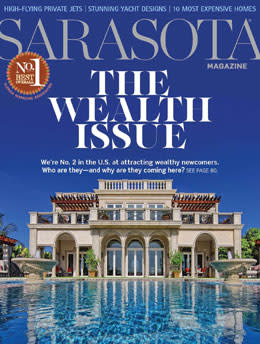 Subscribe to Sarasota Magazine
FEATURES
Private jets and high fliers at Sarasota's Rectrix Aviation.
Former Barron's editor Rich Rescigno reports on why the ultra-wealthy are moving to Sarasota at record rates.
Tony D'Souza reels in fish--and financial expertise--at an exclusive outing in Maine hosted by a nationally prominent Sarasota wealth adviser.
When blended families and large estates are in the picture, the battle over inheritance can get vicious. By Kim Hackett
Writer Adam Davies has long admired Porsches from afar; now he finds thrills and chills behind the wheel at Sebring's famous race course.
DEPARTMENTS
You've made it big in business and retired to Sarasota. Now what? By Pam Daniel
The Heat Index
People, issues and events on our radar, including top tickets, Carol Tisch's shopping finds, chef Judi Gallagher's dish, Heather Dunhill's Fashion IQ, Bob Plunket's Home of the Month, Party Girl and more.
Welcome back, marijuana. It's been a long time.
Luxury Home
Yacht designer Susan Dabney on what her clients want, plus luxury real estate news and design trends.
Plans to beat a "superbug" in Sarasota, plus broken heart syndrome and more. By Hannah Wallace
Food and Wine
John Bancroft raves about Roast and finds new favorites at Rick's French Bistro and Lolita Tartine. Plus, Sarasota's best pizza and Deb Lynch of Jackalope Meadows.