Article
February 2014
Sarasota Magazine February 2014 food and wine issue.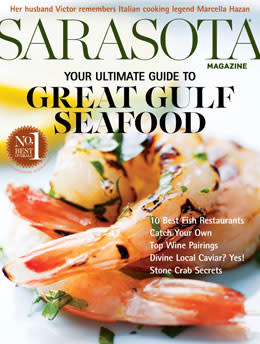 Subscribe to Sarasota Magazine
FEATURES
Su Byron scouts out the greatest gluten-free dishes in town.
A gourmet guide to Gulf seafood, from our food critic's favorite fish houses to stone crab serets, hometown caviar, tips for fishermen and more.
Sarasota's Victor Hazan shares his memories of his beloved wife, famous cookbook author Marcella Hazan.
Tech entrepreneur Jesse Biter and his wife Katie entertain friends in their rooftop penthouse garden. By Megan McDonald. Photography by Barbara Banks
Hand-held treats are a tasty new trend. By Megan McDonald
Susan Kelley journeys to Italy to feast with Salute! owner Alberto Guardagnini on his country estate.
Derek Barnes attracted serious foodies at his Rosemary District restaurant. But he's taking a different approach with his new place. By Cooper Levey-Baker
DEPARTMENTS
To Marcella with love. By Pam Daniel
Heat Index
People, issues and events on our radar, including top tickets, international food finds, Chef Judi Gallagher's dish, Heather Dunhill's Fashion IQ--and more.
Veronica Pastore meets the chefs of tomorrow at USF's HospitaBull Dinner.
If money were no object, where would you choose to live? Mr. C reports on an heiress who chose a...hospital.
Luxury Home
Ilene Denton peeks inside great kitchens and reports on neighborhood and real estate news. Plus: Design trends from Marsha Fottler.
An alternative to open-heart surgery, advice for caregivers, and fitness news. By Hannah Wallace 
John Pirman sketches local landmark Walt's Fish Market.