Article
SPONSORED: How to Choose the Right White Paint Color - Five Perfect Whites.
Sarasota's Chic on the Cheap schools us in how to choose the right white for your space.

It's white paint—how hard can it be? At Chic on the Cheap, we know there are a bazillion shades of white in the paint fan deck—and that's only a slight exaggeration. Pick the wrong shade and you can easily end up with walls that are a little yellow, pink or beige.
Think about the difference between a white wedding dress and an ivory one. Those two colors create totally different feelings for a wedding. The same goes for the interior of your home. Colors in combination look different than they do when viewed separately. When you have a true white, it's reflective; you have all the freedom in the world to mix up your other colors, furnishings, and accessories without their appearance being altered. And no matter what style an interior design client has, I've never gone wrong with a true white. Using the perfect white paint is an affordable design change you can make to your home.
So, now that I've got you looking at your baseboards and crown molding questioning if they're really white, here are my top five tried-and-true whites.
The Crispest
Sherwin Williams Extra White. This color is so clean; it has just a slight hint of cool blue. It's a white that looks as if someone spent hours meticulously cleaning your home in preparation for a visit from your mother-in-law. Use this one if you hate clutter.
The Coolest
Benjamin Moore Simply White. This white is effortless—it has a minor amount of cream. Compare this color to having a dinner party where your guests compliment your culinary skills. Sit back and graciously say thank you (even though you know Morton's did all the hard work!). Use this white if you want timeless elegance.
The Warmest
Benjamin Moore White Dove. This is my hands-down most welcoming white. It has a tiny bit of yellow, and it's like getting a hug every time you walk into the room. Use this color if you want an inviting space.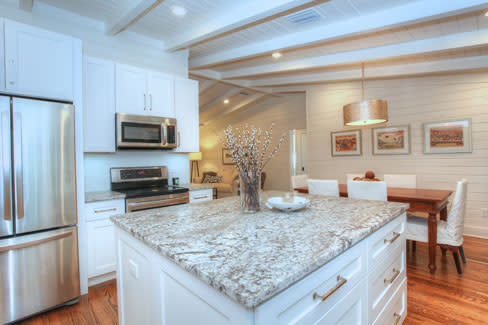 The Calmest
Behr Ultra Pure White. This color is warm neutral. It has a teensy weensy bit of tan in it. It doesn't smack you in the face when you see it; it's very quiet and authentic. Use this as a backdrop for art or photos.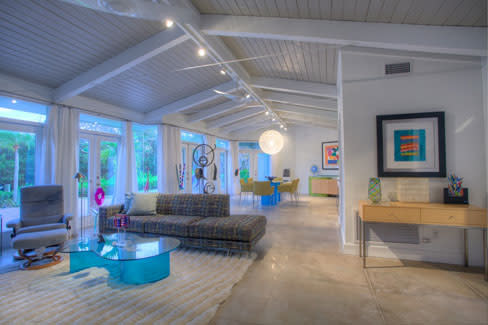 The Brightest
Benjamin Moore Decorators White. This hue is crisp and tailored, with a gray undertone. It's like an expensive pair of shoes—it makes you look smarter. Use this in your closet to make your wardrobe look its best.
Tastefully yours,
Jill Geisdorf, RID, LEED AP
Interior Designer at Chic on the Cheap