Article
January 2014: The Young Issue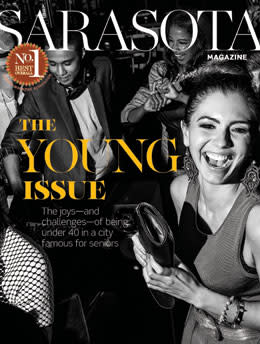 FEATURES
Cooper Levey-Baker takes a look at how the millennial generation is adapting to—and redefining—Sarasota. Plus: A three-way conversation on the young Sarasota professional's eternal dilemma: Should I stay or should I go?
Bright young lights in cool club fashions. Photography by Mark Farmwald.
Got kids? Got grandkids? Abby Weingarten rounds up 26 great things to do with your little ones.
From hip newlyweds to sophisticated collectors, design savants are heading to Elliot Bernstein's mid-century modern auctions. By Robert Plunket
DEPARTMENTS
Why so many of our kids are coming back to town. By Pam Daniel
Heat Index
People, issues and events on our radar, including top tickets, Carol Tisch's shopping finds, Chef Judi Gallagher's dish, Heather Dunhill's Fashion IQ, an update on Sarasota designer Camilyn Beth, why Vassar President Emerita Frances Daly Fergusson chose Sarasota as her new hometown—and more.
Veronica Pastore meets real live angels at All Children's Hospital Guild's Miracle Ball.
Step right up to the Sailor Circus arena, where Sarasota students learn the art of performing under the Big Top.
The truth about those 50th anniversary high school reunions.
Luxury Home
Ilene Denton visits an award-winning green home and reports on neighborhood and real estate news. Plus: design trends from Marsha Fottler.
A new massage at the Ritz, skincare basics and more. By Hannah Wallace
Food and Wine
The Usual Place is anything but ordinary, reports restaurant critic John Bancroft. Plus: a revamped Polo Grill, the coffeemakers at Perq, Sarasota's best muffin and a good deal at PDQ.
Boats galore on City Island. Illustration by John Pirman