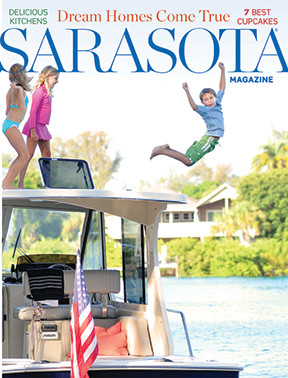 FEATURES
For a special breed of Sarasotan, the Ringling Museum neighborhood is the only game in town. By Robert Plunket
Architect Jerry Sparkman with his design for a Casey Key guesthouse. By Carol Tisch
Escape is only minutes away when Steve Ellis and his family load up on the boat and head to their Jewfish Key retreat. By Hannah Wallace
Striking images from photographer J.B. McCourtney's garden
We peek inside three different but equally delectable kitchens. By Carol Tisch
DEPARTMENTS
Pam Daniel on the homes that are closest to our hearts.
The latest scoop, including Charlie Huisking's "Arts Capital," Carol Tisch's shopping finds, one hot dish from chef Judi Gallagher--and more.
Mr. C hangs with Tea Party favorite Michele Bachmann.
LIMELIGHT
Rebecca Baxter snaps the social scene.
Kay Kipling's calendar of the best arts and entertainment events for October.
Fitness and health news you can use. By Hannah Wallace
FOOD AND WINE
John Bancroft flies High at Mad Crow Brewery & Grill and checks out the new Patrick's 1481 and Ocean Blues. Plus: our picks for the best cupcake in town.
Photographer Ian Dean takes an offbeat look at a Sarasota family dining room.
.