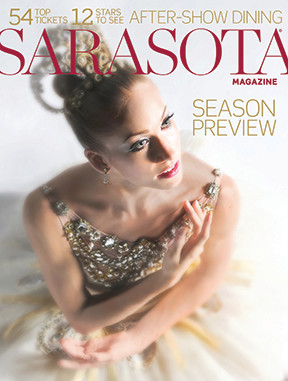 FEATURES
Our ultimate guide to the best and brightest in this season's music, dance, theater, visual arts and more.
Planning a visit to the Big Apple? New York Post columnist Michael Riedel dishes on the big new shows--and the hottest restaurants for the theater crowd.
David Ball navigates Sarasota's heady new world of specialty brews.
Carol Tisch spots bright new lights on the jewelry scene.
A promising young actor faces 30 years in prison for his affair with an underage girl. Hannah Wallace digs into the case.
DEPARTMENTS
Pam Daniel gets some personal experience in the power of storytelling.
The latest scoop, including Charlie Huisking's "Arts Capital," Carol Tisch's shopping finds, one hot dish from chef Judi Gallagher--and more.
LIMELIGHT
Rebecca Baxter snaps the social scene.
Mr. C gets mushy about philanthropist Betty Shoenbaum.
Kay Kipling's calendar of the best arts and entertainment events for November.
Fitness and health news you can use. By Hannah Wallace
John Bancroft finds himself infatuated with indigenous. Plus: Taste of Asia, our pick for Sarasota's best French fries, a wine festival and more.
A colorful downtown shop welcomes browsers as autumn arrives. Photo by Chad Spencer