Article
June 2013
Sarasota Magazine June 2013: Nik Wallenda on fame, fear, family and this month's walk across the Grand Canyon. Plus: Star swimmers at the Pan-American championships, new restaurants reviews and your event calendar.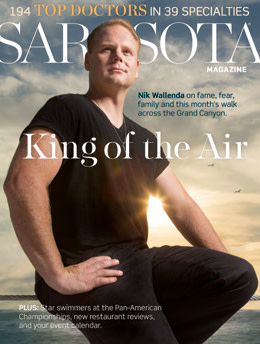 FEATURES
Hannah Wallace dives into the world of our Sharks Masters Swimming Team, just as they prepare to host the international Pan-American Championships here.
Tony D'Souza interviews master showman Nik Wallenda on the eve of his heart-stopping walk across the Grand Canyon.
Web extra: Watch Nik's Sarasota Skywalk. 
Our exclusive annual listing of the area's most outstanding physicians, as assessed by medical healthcare research firm Castle Connolly. Plus: Doctors share their most unforgettable patients, and insights from local medical students.
Web extra: Top Doctors share the lessons they've learned throughout their careers.
DEPARTMENTS
It's not just Nik. Why we're really a circus town once more. By Pam Daniel
INSIDER
The latest scoop, including Carol Tisch's shopping finds, Peter  and Patricia Estes' new downtown furniture store, Kay Kipling's top tickets, one hot dish from chef Judi Gallagher, a new Sarasota paddleboard company, an interview with two Sarasota ecologists who are passionate about climate change, this month's media picks and more.
Mr. C talks with Sarasota architectural guru Carl Abbott.
Veronica Pastore rounds 'em up at the Cattle Baron's ball.
Style blogger Heather Dunhill shares looks and loot she loves.
Ilene Denton reports on international buyers and other real estate news.
The truth about acupuncture, wellness on the web and more.
FOOD AND WINE
John Bancroft finds comfort and cocktails in a prime Main Street location with Made. Plus: a good deal at Word of Mouth, the scoop on the Purple Belle ice cream truck, three champagnes for summer and more.
Web extra: Get the recipe for Made's popular double-dipped fried chicken.