Article
Theater Review: "Stop Kiss"
Theater review: The FSU/Asolo Conservatory presents Diana Son's "Stop Kiss."
By Kay Kipling
[caption id="attachment_768" align="alignnone" width="488"]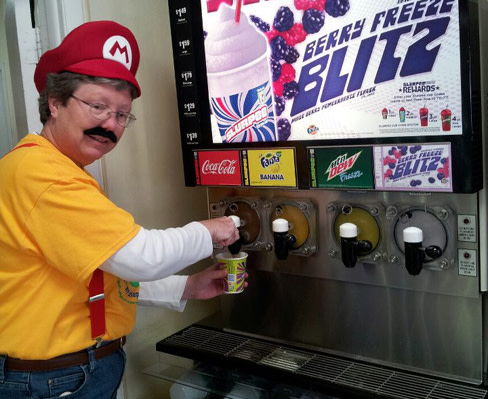 Photo by Frank Atura.[/caption]
Part of the purpose of the FSU/Asolo Conservatory's MFA training program is to prepare its students for all types of acting and all types of roles, which sometimes requires them to portray characters quite a bit older than they are. That can be a challenge for them and interesting for the audience, but there's a special appeal in seeing the actors play characters more closely related to their generation, as they did earlier this season with Annie Baker's The Aliens, and as they do with the current production, Stop Kiss, by Diana Son.
The Conservatory actually presented this play, about two young women living in New York who develop a friendship that turns deeper, more than a decade ago, when it was relatively new. But it's worth taking another look at it, as the questions and concerns it addresses are still pertinent to anyone (but especially twentysomethings) struggling to really find out who they are.
In this case, Callie (Lucy Lavely) and Sara (Tori Grace Hines) first meet in Callie's NYC apartment, where she's been living for several years as she works at a not very fulfilling job as a traffic reporter. That sounds almost glamorous to Sara, who's from St. Louis and new to the big, bad city, where she's going to be a third-grade teacher in the Bronx. Callie's agreed to look after Sara's cat for her, and at first she does seem to be the worldly wise one of the pair.
But as the two gradually bond while talking about past boyfriends and ethnic restaurants, it becomes apparent that Sara actually knows more about what she wants from life right now. She's left behind her family and her former boyfriend, Peter (Jefferson McDonald), while Callie's still attached to her college-era "friends with benefits" partner, George (Cale Haupert), even though that's going nowhere. As the story unfolds—not in chronological order, but going back and forth in time between chats at Callie's apartment to a hospital where Sara lies gravely injured after a gay bashing attack on the two women—we see these young people make tentative strides towards the truth in their lives and the relationship.
Son's play is presented in short scenes, with pop music playing as they shift, and those scenes are mostly quiet, low-key, with few moments that can count as big, dramatic ones (another way in which it's similar to The Aliens). Lavely has the most to do, the most to change, and she gets us to care about Callie and her unhappiness. Hines may be overplaying the more girlish, unsophisticated aspects of Sara a bit, but she's believable when calling Callie on her self-deceptions. The other actors don't have a great deal of stage time, but Haupert and McDonald are convincing in their own ways as the men in the women's lives.
Stop Kiss entertains in its lighter moments and touches in its darker ones, and Matthew Arbour's direction helps his cast examine the inner workings of Son's characters. The play continues through March 10 in the Cook Theatre; call 351-8000 or go to asolorep.org.