Authentic Florida
Three Authentic Florida Holiday Destinations
Robin Draper shares three of her favorite Authentic Florida holiday destinations.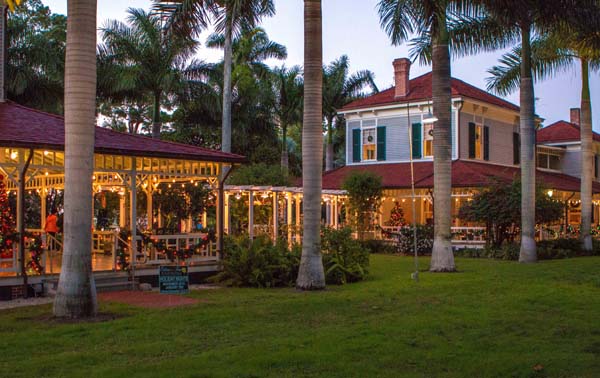 During the holidays, we prepare for our traditions with decorations and merry-making. We plan meals, spend time with friends, shop and attend events, or visit places that heighten the spirit of the season.
But sometimes we yearn to find things that reflect simpler, less commercial times.
In our area there are so many things to do and places to go. Locally, Selby Gardens merrily decorates its property for the holidays, while the Ringling Museum Gardens and Ca d'Zan pull out all the stops.
And not far from home, there are more things to do that remind us of those simpler and, often, historic times. Here are three more Authentic Florida destinations to keep you in the spirit of the season.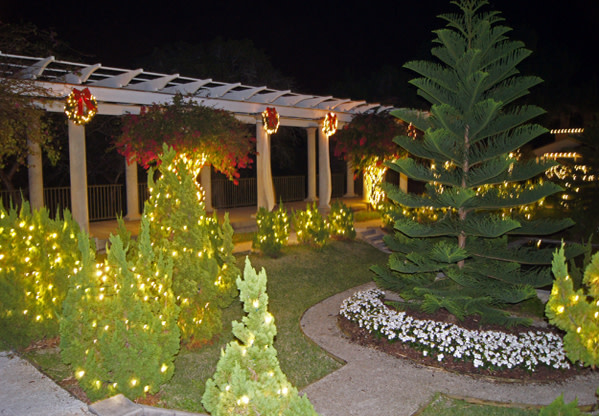 Holly Days & Mangrove Nights, Historic Spanish Point, Osprey
Now through December 31
South of Sarasota, Historic Spanish Point in Osprey is once again presenting its annual Holly Days & Mangrove Lights through New Year's Eve.
The historic museum and grounds, which cover 30 acres along Sarasota Bay, includes pioneer homes, gardens, a chapel and packinghouse, and is decorated for the holiday season.
Visitors can explore a site that has been inhabited from prehistoric times, through the pioneer era and into the 20th century. Archaeological exhibits provide a window into the lives of the first inhabitants while restored cottages and outbuildings showcase Florida's pioneer days. Restored formal lawns and gardens, a beautiful pergola, an arch and aqueduct remain from the days when the site was known as The Oaks and was the winter estate of Chicago socialite Bertha Palmer, widow of wealthy tycoon Potter Palmer.
There is also a popular and unique feature among the holiday décor here. The miniature white lights in the trees throughout the grounds are beautiful, but a path through a lighted mangrove arbor evokes a mystical, magical Florida holiday ambiance. Mangroves are tropical trees that grow along Florida waterways with extensive root systems, serving as nurseries for marine life.
December special events include the Holly Holiday Party, with light refreshments, holiday music and plenty of good cheer, and top off the year during the New Year's Eve Starlight and Fire Family Party at White Cottage with bonfires and marshmallow roasting.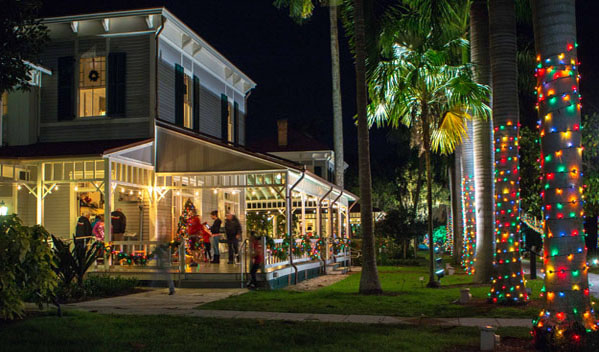 Edison & Ford Winter Estates Holiday Nights, Ft. Myers
Now through January 3, 2016
Lights sparkle and decorations glimmer at Florida's Ft. Myers Edison & Ford Winter Estates, where visitors can peek into the lives of Thomas Edison and Henry Ford, legendary icons who lived on the 20-acre property in the early 1900s.
Visitors can step back into an old-fashioned Florida holiday celebration while admiring the historic buildings, huge banyan trees, and tropical and botanical gardens.
During the holidays, the homes and gardens of the Edison and Ford families are seasonally decorated with millions of lights and historic decorations. Visitors can enjoy nightly entertainment, special tours, and on select nights visits from Santa.
This event is a fitting celebration since Thomas Edison created the first Christmas lights and Christmas was Henry Ford's favorite holiday. Because of the spectacular decorations and holiday activities, USA Today selected Edison Ford Holiday Nights as one of the "Top Ten Historic Holiday Sites" in the nation, along with the White House, Mount Vernon and the Biltmore Estate.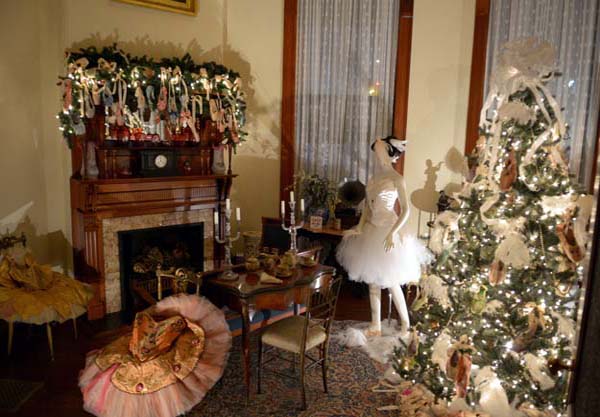 Victorian Christmas, Henry B. Plant Museum, University of Tampa, Tampa
Now through December 23
Experience the extravagance and grandeur of a Victorian Christmas during the Henry B. Plant Museum's Victorian Christmas Stroll at the University of Tampa. Visitors get a glimpse of Christmas past as the former 1891 Tampa Bay Hotel is transformed with period holiday decorations. The event runs every day through December 23.
During the Victorian Christmas Stroll, explore the museum filled with Christmas trees ranging in height from a few inches to more than 14 feet. Hundreds of feet of garland and more than 40,000 lights glow throughout the museum. Decorations include vintage fashions, antique toys, hand-painted ballet pointe shoes and fanciful ornaments.
The Victorian Christmas Stroll celebrates the warmth and spirit of an old fashioned holiday. Complimentary cider and cookies are served on the veranda each day while holiday music floats through the air. Guests can enjoy live music each evening.
The museum will host a number of special performances during the Victorian Christmas Stroll. Included are choir and orchestral performances and a puppet theater.
To receive Authentic Florida's free ENEWs, featuring travel and living updates, delivered weekly, sign up on the home page Authentic Florida, voted 2015 Blog of the Year and 2015 Best Travel Blog at the Orlando Sunshine Awards.