Article
Strawberry Kumquat Salad, Oh My!
Robin Draper of Authentic Florida dishes out a delicious Strawberry Kumquat Salad recipe featuring fresh Florida seasonal produce.
Recently, I visited Central Florida's Dade City, north of Tampa in Pasco County. Dade City is charming with a distinction of being the Kumquat Capital of the World. So, I came home inspired to create this salad with three fresh Florida ingredients: kumquats, strawberries and kale.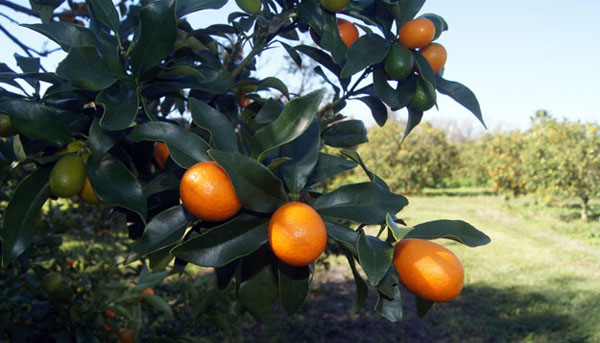 Kumquats are a member of the Florida citrus family and are a small, bite-sized fruit, characterized by a distinct sweet and sour taste. They can be eaten – skin and all - but have seeds. Many Floridians love to pop them in their mouth and eat them whole, (seeds and all).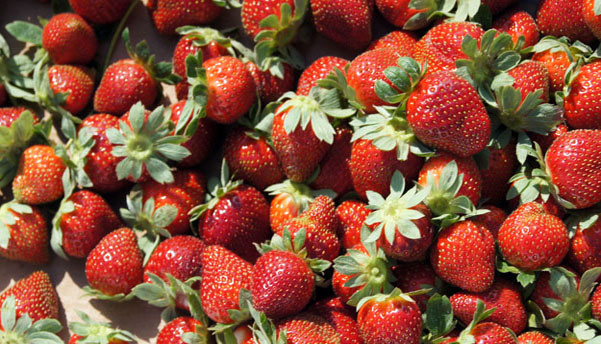 As the kumquat season winds down (November through March), Florida strawberries are being harvested - but now you can find both available in the market. Add fresh seasonal Florida kale (or a salad green of your choice) and you have Florida's "Triple Crown" Salad.
Florida Strawberry & Kumquat Salad is one of my all-time favorites and is not only beautiful to look at, you will be amazed at the flavorful combination of sweet strawberries, citrusy kumquats, a hint of mint, toasted almonds tossed with a balsamic vinaigrette.
I served this to guests with a simple mug of soup and it was a real hit. The balsamic vinaigrette really balances out the flavors.
Serves four as a main course.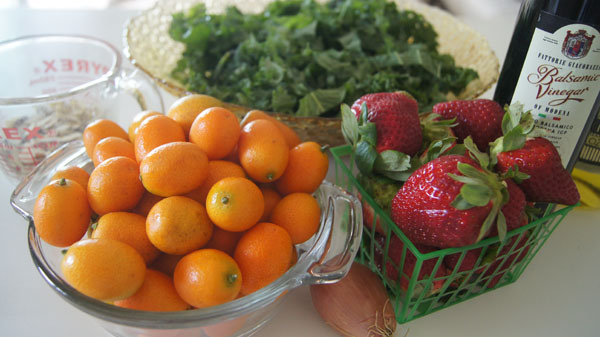 Salad Ingredients
1 pint of strawberries
1 pint of kumquats (Nagami, oval shaped, found in most grocery stores)
1 kale bunch (fresh or cut in pieces in bags), or arugula
½ cup of raw, unsalted sliced almonds
3 Tbsp. fresh mint (3-4 sprigs), diced (or sliced in strips)
For the Vinaigrette
¼ cup of balsamic vinegar
½ up of olive oil
2 Tablespoons minced shallots (one large shallot)
Steps
Preheat oven to 350 degrees. Spread the almonds on a baking sheet and bake in the oven until toasted 5-10 minutes. (Tip: set a timer to keep watch). Let cool.
Meanwhile, rinse the kale, pat dry and remove the stem of the kale (if not already removed), take the leaves of the kale, roll like a cigar and cut thin strips. Place in a large bowl.
Next, rinse 6-8 strawberries, remove the stems and thinly slice the strawberries. Set aside.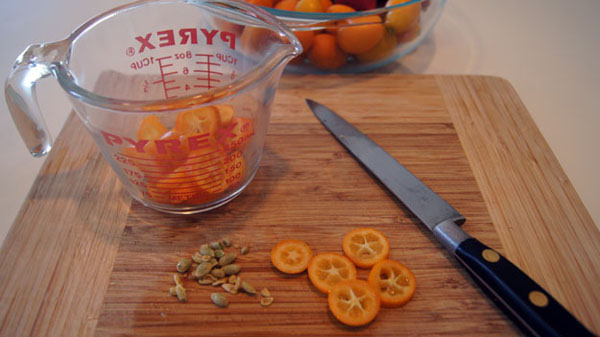 Then, rinse 8-10 kumquats. Pat dry. Next, with a sharp knife, thinly slice off the ends. Carefully cut the kumquat in thirds. The middle slice will have the most seeds and you'll want to take the point of the knife and remove the seeds.  Set aside.Take the kale salad greens, sprinkle the strawberries, kumquats, mint, and almonds.
Making the Vinaigrette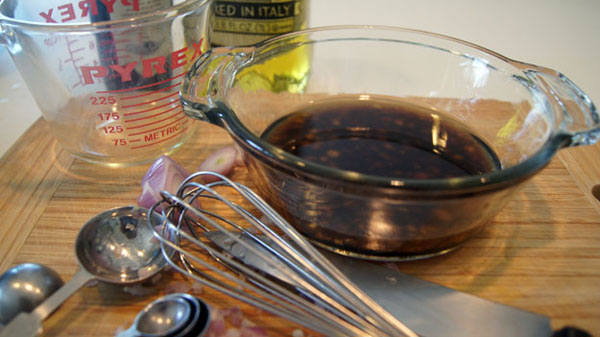 For the dressing, in a bowl, pour 2 tablespoons of minced shallots, add ¼ cup of balsamic vinegar, and whisk in ½ cup of olive oil. Pour over the salad (you may not need all of it), and toss the salad before serving.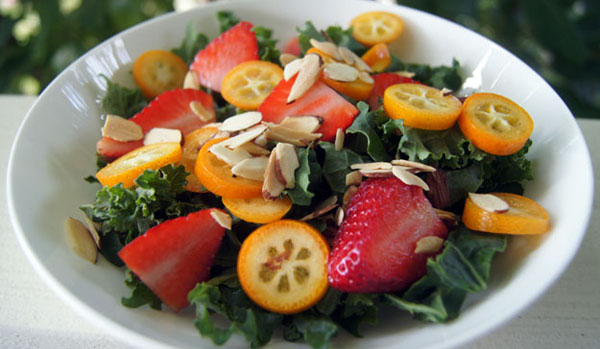 To receive Authentic Florida's free weekly ENEWs, featuring travel and living updates - including recipes, sign up on the award-winning website, Authentic Florida.
Robin Draper is a Sarasota native who writes about real, Authentic Florida travel, recipes, authors, artists and living topics. She is a member of the Society of American Travel Writers and the Florida Outdoor Writers Association. Authentic Florida received 2015 Blog of the Year and Best Travel Blog at the Sunshine Awards in Orlando.