Article
Mr. Chatterbox Takes a Day Trip
History, home cooking, and reform school--the day trip of Mr. Chatterbox's dreams.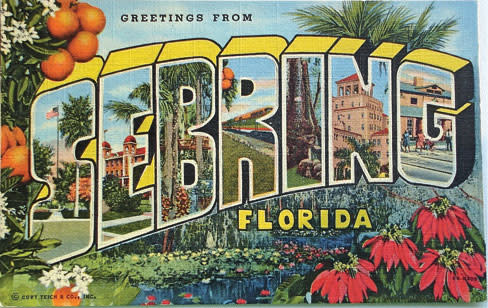 After living in Sarasota for 30 years, I thought I'd been on every day trip and weekend getaway that exists. Some are always a thrill, like Fort Lauderdale and Miami. Others are good once or twice, like Cedar Key and Micanopy. And some, like Tarpon Springs—well, once is more than enough.
But there is a part of Florida I barely knew existed, even though it's amazingly close. I'm referring to the towns directly to our east—Wauchula, Avon Park, Sebring and Lake Placid. To get to them you go to Arcadia and just keep going. Are they worth a trip? Is there anything worth seeing? Let's find out.
Heading out S.R. 64, the first town you'll hit is Wauchula. It's the county seat of Hardee County and has about 4,300 people. The trick to visiting Wauchula is to make sure you don't end up in the hospital, as this is where the famous "baby swap" occurred back in 1990—two infant girls were switched in the local hospital and didn't find out about it until they were unruly adolescents.
Wauchula turns out to be a pleasant town with a lot of churches and several good "home cookin'" restaurants, but frankly, as a weekend getaway, it doesn't quite have enough of a pull to attract crowds. Although I hear there's a very nice retirement home for apes who were in show business, which you can visit.
Instead I'd press on to Avon Park, a slightly larger town that has its own knack for attracting bad publicity. Many of us can remember back in 2006 when the town's mayor tried to drive the Hispanic population out of town with a series of punitive laws, including no speaking Spanish in public.
The laws didn't pass, but they made the town seem mean. This, coupled with that horrible food fight at the local reform school last month—14 buildings were destroyed in a dispute over ramen noodles—make Avon Park an unlikely candidate for a carefree couple of days.
Well, don't worry. Avon Park is an interesting place as long as you're not Mexican or a juvenile delinquent. The town is dotted with lakes, all perfectly circular, and at first glance you think, uh-oh, sinkholes. In fact, they were sinkholes, but they "sank" such a long time ago they seem pretty stable. (One, Lake Tulane, is thought to be the oldest lake in North America.)
The big surprise in Avon Park is the Hotel Jacaranda. Built back in the 1920s and once host to Babe Ruth and Clark Gable, it's still there, right on Main Street. It's a classic Old Florida hotel with rockers on the front porch and high-ceilinged rooms and an elevator with one of those sliding gates—it's hard to believe it's still there, much less still operating. What saved it is South Florida State College, which bought it back in 1988 and turned half of it into a dorm. But the other half remains a hotel, with rooms starting at $59 a night. The place is clean and pleasant, with a nice selection of Highwayman paintings in the lobby and an old-fashioned dining room where the college students learn to cook and serve. The country-fried steak I had was delicious.
Sebring, the next town to the south, is a surprise. It's famous around the world for its racetrack and the Chrysler car named after it. And remember Jay Sebring, the hair products mogul who was murdered with Sharon Tate? He recognized that's there something glamorous about the very sound of the word, and named his business—and himself—after it.
But glamorous it's not. Unless you live in Avon Park. Then it would be like Vegas. It's a little bigger, around 10,000 people, but it's got all the latest chain stores and restaurants. It's been a winter resort since the very early 1900s and in many ways reminds me of an alternative Sarasota. It also has a great gimmick. It's built around the shore of a very large lake, miles across. To drive around the lake is to drive through town.
I just wish the lake were a little prettier. There's something wrong with the shoreline. There's no beach. The grass just kind of grows out into the water, and not in a lovely, low-country kind of way. This hasn't stopped generations of winter people from building substantial homes around the lake, though. There are hundreds of them, and you can get a showplace for $500,000.
People play golf in Sebring—there are 13 local courses—and there is a very good antique mall on U.S. 27. In the cute, old-fashioned downtown area they even have a circle like St. Armands, with a war memorial and several arty/antique stores. A loudspeaker plays Frank Sinatra songs in the hot afternoon.
And guess what? They also have an old hotel, still operating, and living firmly in the past. It's called the Kenilworth Lodge, built by old Mr. Sebring in 1916. The famous people who have stayed here sound like ghosts of a long-forgotten age—Evangeline Booth, Samuel Undermeyer, William Jennings Bryant. The place, as far as I could tell, has never been remodeled. The rooms, the walls, the exposed pipes—it all looks original. The lobby is crammed with Haywood Wakefield rattan, haphazardly arranged. When it comes to spending the night here, your mind is squarely on the borderline of "It would be so much fun!" and "I've seen it, that's enough."
If you leave now, you'll have time to squeeze in Lake Placid, the next town to the south. It's very small (just 1,800 people), very pleasant, very middle-class, with nice homes set on a series of small lakes. In an attempt to draw visitors, the town has transformed itself into the "Town of Murals." There are 45 of them, mostly dealing with local history. Some are in 3D and some have sound and thematically matching trash cans. They are spread through the town, and people come for tours and festivals.
Unfortunately, this is exactly what I don't want in a weekend getaway. Lake Placid recently won a prize as The Most Interesting Town In America, and I wish it well. But given the choice of admiring a mural celebrating the caladium industry or gawking at a damaged reform school through a chain link fence, which would you choose? There. I rest my case.
For more from Bob Plunket, click here to read his Real Estate Junkie blog.