Article
Embracing the Authentic Florida Life
As a Florida native, I love to discover the "hidden gems" of my home state. I also like to share basic ideas and "tips" for authentic Florida living
[caption id="attachment_146" align="alignnone" width="488"]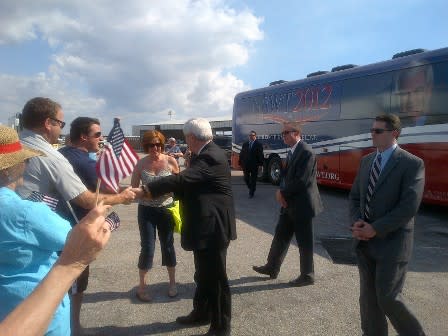 Robin Draper[/caption]
I always try to keep things simple. Why complicate life? I have learned that by keeping my ideas, concepts and routines simple, my life doesn't get sidetracked with unnecessary clutter that makes me feel overwhelmed. Simplicity helps me feel grounded. And that's good.
So that's why Authentic Florida is dedicated to sharing simple and delightful pleasures for Florida living.  Through it, I celebrate and share simple joys for enjoying Florida, and the result is that everything becomes so much more meaningful - at least for me. And another thing I have found is that the simple joys can be really affordable.
As a Florida native, I love to discover the "hidden gems" of my home state. I also like to share basic ideas and "tips" for authentic Florida living. The following are some of my favorite ideas to help you find more ways to love life in our wonderful state.
Tip #1: Travel Florida
I believe Florida's state parks are some of the best bargains anywhere. Just recently, I was visiting Central Florida's Rainbow Springs State Park. We kayaked, swam, saw waterfalls, luscious gardens and learned Florida history – all for $2. Now that's a deal.
Do yourself a favor. Google your nearest state park and go. Take a lunch. Take a friend or family and just go.  You won't be disappointed. There's so much to do. Read a little about what the park offers and consider a hike, a bike ride, kayak trip or picnic, or just do nothing – it will still be an opportunity to take in Florida's natural beauty.
Tip #2: Cook Florida
Visit your nearest farmers market, produce stand, or even a locally owned grocery store. Look for fresh ingredients from Florida. What's in season? Unlike other states, Florida has two major growing seasons, Fall/Winter and Winter/Spring, so there's plenty to enjoy from October all the way through mid-June. Florida seafood, fruit and vegetables, would be a good place to start.
By using what's fresh and in season, you'll find yourself in good company. The greatest chefs in the world always start with fresh ingredients, especially when they can source them locally.
Tip #3: Garden Florida
A year ago, I didn't know how to plant a tomato. Now I'm a certified Master Gardener! Even if you don't have a back yard, consider growing fresh herbs in a pot or planter. The freshness of homegrown herbs makes any meal better.
Tip #4: Exercise Florida
When it cools down this Fall, take advantage of enjoying a new sport that gets you out – paddle boarding, yoga on the beach, horseback riding in the pine flatwoods, canoeing or kayaking in the Florida mangroves or springs, or biking in one of the state's 160 state parks. Trying something new will give you a new perspective on Florida!
Tip #5: Read Florida
If you read nothing else when it comes to Florida literature, do read A Land Remembered, an Authentic Florida favorite. You'll fall in love with this endearing Florida tale by Patrick Smith. You can usually find it on the "Local Interest" shelf in your favorite bookstore, or check it out at just about any public library.
Tip #6: Enjoy Florida Art
Look around you. Find your community's art center. Go to an art show, visit a gallery. There are Florida artists everywhere who create art reflective of our Florida environment. Local art is unique and special, and purchasing it supports our creative artisans.
Tip #7: Decorate Florida
Does your home reflect your Florida surroundings? Does it bring in the light? Florida is special because we have lots of sunshine year around. Your home is your castle and creates your mood. Lighten it up!
And finally: Love Florida
I suppose living an Authentic Florida life has always been my passion.  The joys of discovering "real" Florida allows me the opportunity to discover new things and practice what I love in all areas of my life – from travel to cooking, books to gardening, art to decorating my home. Even better is sharing my passion with all of you, my Authentic Florida readers and friends.
So, it really doesn't matter whether you were born here, or came south to escape colder weather, came for a vacation and never left, or even moved here from another country. Anyone can live an authentic Florida life.
Are you living yours?
Sign up for Authentic Florida's free E-News, a bi-monthly newsletter featuring latest travel, food and living ideas by visiting Authentic Florida.