Article
Vacation Guide: Beaches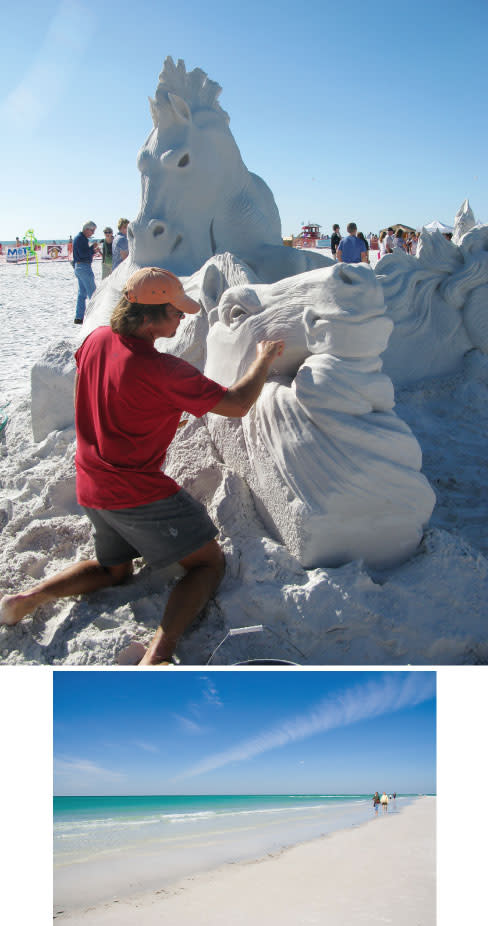 Castles in the Sand
There's an excellent reason Dr. Beach (aka world-renowned beach expert Dr. Stephen P. Leatherman) named Siesta Beach America's No. 1 beach in 2011: the sugar-white, silky smooth sand, of course, made of 99 percent quartz crystals. (Once a beach attains that No. 1 distinction, it is "retired" from further competition, joining a kind of Hall of Fame of great beaches.) That sand makes Siesta Beach irresistible to just about everybody—beach walkers, kite flyers, volleyball players amateur and pro, drum circle aficionados (hundreds of whom bang in the sunset every Sunday evening), and especially sandcastle builders.
Two big sand sculpture competitions every year challenge participants' creativity and attract legions of spectators to marvel at the results. The Siesta Key Crystal Classic in November draws master professional sculptors from across the country. There's also an amateur division, and you can even take a free, 45-minute sand sculpting lesson. And the 40th annual Siesta Sand Sculpture Contest in May attracts young and old alike to compete in several categories. Lots of families participate. This year's is Saturday, May 4.
So many prehistoric sharks' teeth wash up on Venice area beaches that the city is called the Shark's Tooth Capital of the World. There's even a Shark's Tooth Festival featuring displays of the fossils along with music, food and drink; this year's is April 12-14 at the Venice Municipal Airport Fairgrounds.
34
Number of miles of Gulf of Mexico shoreline in Sarasota County
North to South
Coquina Beach, Anna Maria Island. Bridge access from Bradenton via Cortez Road or Manatee Avenue, or from Longboat Key via Gulf of Mexico Drive. This long, uninterrupted stretch of public shoreline on the south end of Anna Maria Island offers soft white sand and calm, often very clear water. Ample parking along the road or in the large lot to the south, where you'll also find concessions, restrooms and an extensive picnic area.
Longboat Key. Look for signs along the north end of Gulf of Mexico Drive; bridge access to the north from Anna Maria Island and the south from Lido Key. A handful of public accesses allow Longboat nonresidents a chance to park and enjoy the quiet solitude of the key—which has no direct link to the mainland and is so populated by private condominiums and resorts that these few public accesses rarely, if ever, draw a crowd. No amenities.
Lido Beach, 400 Ben Franklin Drive, Lido Key; bridge access from the John Ringling Causeway in downtown Sarasota, or south from Longboat Key. Within walking distance of St. Armands Circle's shops and restaurants, Lido Beach is family-friendly and great for swimming, with year-round lifeguards, ample parking, an exceptional concession stand, wheelchair access and a swimming pool. More than a mile of beachfront extends through North Lido, making for an idyllic stroll less than five minutes from downtown Sarasota.
South Lido Beach/Park, 190 Taft Drive, Lido Key. The intersection of Big Pass and the Gulf of Mexico is a favorite spot for picnicking, with tables, grills, a playground and nature trails under shady Australian pines. Boaters, kayakers and personal watercraft enthusiasts flock here, especially on weekends. No lifeguards on duty; beware strong currents.
Siesta Beach, 948 Beach Road, Siesta Key; bridge access from Siesta Drive or Stickney Point Road. The crown jewel of our local waterfront, Siesta was named America's No. 1 beach in 2011 for its expanse of flourlike sand and clear Gulf waters. Great picnic area and volleyball courts, year-round lifeguards, plus tennis courts, concessions, restrooms, pavilion and more, but even with an 800-space lot, parking can be a challenge.
Turtle Beach, 8862 Midnight Pass Road, Siesta Key. A favorite for kayakers, who can explore nearby lagoon and natural wetlands, Turtle Beach also boasts a popular campground—a rare opportunity to pitch your tent within the sound of waves. A recent improvement project has left quiet Turtle Beach with new pedestrian walkways, playground, pavilion, handicapped-accessible boardwalk, kayak launch and enhanced restrooms and parking. No lifeguards on duty.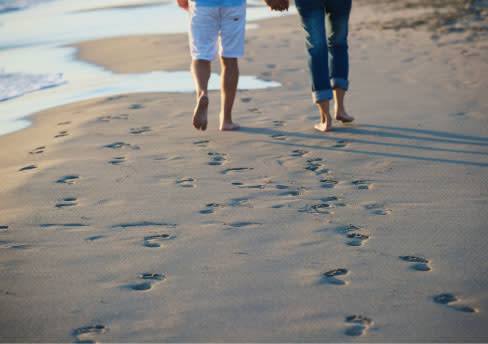 Nokomis Beach, 100 Casey Key Road, Casey Key; bridge access via Albee Road, Laurel. Sarasota County's oldest public beach is family-friendly, with boat launch, playground, picnic tables and snack bar. The Nokomis Beach Plaza, built in the 1950s, was recently restored. Five walkovers protect the dunes and shoreline. Lifeguards are on duty year-round.
North Jetty Beach, 1000 S. Casey Key Road, Casey Key; bridge access via Albee Road, Laurel. Florida's west coast is not a surfing hotspot, but the jetties, meant to battle erosion, help to create decent-size surf with regularity. (They're also home to some great fishing, as resident anglers will attest.) Bait shop and concession stand, plus year-round lifeguards, restrooms and volleyball and horseshoe courts.
Venice Beach, 101 The Esplanade, Venice. Famous for its sharks' teeth, Venice Beach draws treasure hunters and beachcombers to search for the fossilized souvenirs. The Venice Beach Pavilion, which houses its concession stand, is a landmark of architecture in the Sarasota School. Year-round lifeguards, plus beach wheelchairs, picnicking, restrooms and volleyball.
Brohard Beach and Paw Park, 1600 Harbor Drive S., Venice. Between Venice and Caspersen beaches, Brohard Beach is the area's only public, Gulf-front dog-friendly beach. The Paw Park has fenced-in grassy areas specifically designed for dog-play (including a separate area for smaller dogs), and four-legged friends can also romp through the water and along a section of the beach. Picnic tables and restrooms, but no lifeguards.
Caspersen Beach, 4100 Harbor Drive, Venice. A secluded stretch of all-natural coastline south of Venice, Caspersen provides beachcombers an excellent selection of shells as well as fossilized bones and teeth. Explore the untouched beachfront and nearby marshlands via a short nature trail, or just kick back and enjoy the peace and quiet from this sacred section of undeveloped Sarasota County. Restrooms and picnic area, but no lifeguards.
Manasota Beach, 8570 Manasota Key Road, Manasota Key; bridge access via Manasota Beach Road. Gulf beach access as well as boating docks along the Intracoastal Waterway that double as boardwalks for exploring the mangroves. Year-round lifeguards, picnic tables and shelters, fishing, restrooms, docks and boat ramps.
Blind Pass Beach, 6725 Manasota Key Road, Manasota Key; bridge access via Manasota Beach Road, or Beach Road to the south. A quiet, narrow stretch of beach-to-bay in southernmost Sarasota County, Blind Pass is a secluded spot perfect for a nature hike or quiet beach picnics surrounded by serene Florida flora. Canoe launch, fishing, restrooms and playground, but no lifeguards.