Article
Vacation Guide: Arts & Entertainment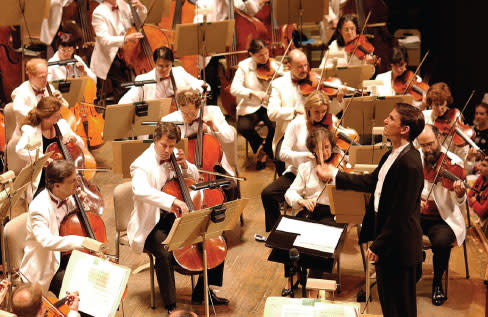 All-American Arts
From the Asolo Rep's rousing production of 1776 to the Sarasota Opera's powerful Of Mice and Men and a Sarasota Orchestra pops series that highlights Broadway, Dixieland jazz and the Great American Songbook, this is a red, white and blue cultural season that celebrates all things American. Among the highlights: Gloria Musicae presents three concerts under the "Made in America" banner, including the July 4th premiere of The Gettysburg Anthem by Alan Gershwin, George Gershwin's son. Florida Studio Theatre salutes the music of the '50s in its cabaret production of Let's Twist Again. And you can't get any more all-American than the Beach Boys, the Boston Pops Esplanade Orchestra and the Oak Ridge Boys, all coming to the Van Wezel Performing Arts Hall.
The Asolo Rep season is a kickoff to a five-year "American Character" initiative, with plays such as Glengarry Glen Ross, The Heidi Chronicles and Clybourne Park that were chosen to "deepen our collective understanding of what it means to be living in this country at this point in time, how we got here, and where we will go from here," according to producing artistic director Michael Donald Edwards. We're intrigued!
8
Number of theater companies producing plays and musicals in Sarasota County.
GOTTA DANCE Another accolade for Sarasota Ballet: The Kennedy Center has invited it to perform in its Ballet Across America festival in Washington, D.C., June 4-9—one of just nine American dance troupes to receive the honor.
THEATER
Asolo Repertory Theatre, (941) 351-8000. For more than 50 years, the Asolo Rep has been presenting professional, Equity theater productions, with a rotating repertory cast and format almost unique in North America. The season, usually offering eight or nine plays, begins in November and continues into June. asolorep.org
Banyan Theater Company, (941) 358-5330. The Banyan offers theater-hungry audiences the opportunity to view professional-quality productions in the traditionally slower summer months, and they run the gamut from Eugene O'Neill to Chekhov to Neil LaBute, giving us plenty to talk about after the final curtain. banyantheatercompany.com
FSU Center for the Performing Arts, 5555 N. Tamiami Trail, Sarasota. (941) 351-8000. Home to the professional Asolo Rep, the FSU/Asolo Conservatory of Professional Actor Training (which presents its own four-play season in the smaller Cook Theatre here), Sarasota Ballet of Florida and, in the summer, the Banyan Theater Company. Performances on two stages year-round.
Florida Studio Theatre, 1241 N. Palm Ave., Sarasota. (941) 366-9000. FST's diverse offerings run virtually year-round on three stages in downtown Sarasota. The mainstage season at the Keating Theatre and the newly expanded Gompertz Theatre mixes drama, musical comedies and new work; a smaller, intimate cabaret stage is perfect for musical revues and improv comedy shows, and another cabaret space opens this season. floridastudiotheatre.org
Manatee Players, 102 12th St. W., Bradenton. (941) 748-5875. This venerable community theater presents a full season of plays (mostly musicals of late) at its Riverfront Theatre in downtown Bradenton. (It expects to move to its long-awaited, bigger facility this spring.) The quality is often well above the usual concept of community theater. manateeplayers.com
The Players Theatre, 838 N. Tamiami Trail, Sarasota. (941) 365-2494. The great-granddaddy of local community theaters, with a stage that has been graced by Montgomery Clift and Charlton Heston. It offers Broadway musical favorites September through April, plus a summer play fest and occasional edgier work. Its performing arts school helps students of all ages hone the talents that may eventually launch them onto mainstage. theplayers.org
Venice Theatre, 140 W. Tampa Ave., Venice. (941) 488-1115. This award-winning community theater presents musical favorites, the occasional drama and a comedy or two on its mainstage. Its smaller, black-box Pinkerton Theater plays host to more contemporary Stage II offerings and cabaret shows. As a testament to its success, Venice Theatre hosted the 2010 International Amateur Theatre Festival. venicestage.com
Westcoast Black Theatre Troupe, (941) 366-1505. This professional African-American theater company presents hit musicals and the occasional drama, drawn from either African-American playwrights or relating to the African-American experience. wbttsrq.org
MUSIC, DANCE & POETRY
Artist Series Concerts of Sarasota. (941) 306-1200. The Artist Series continues to captivate audiences with world-class classical music as well as concerts featuring pop and Broadway sounds. Most concerts take place at the intimate Historic Asolo Theater, October through June. artistseries.net
Fuzión Dance Artists, (941) 345-5755. Fuzión presents a range of dance genres, often in collaboration with other arts groups, at venues throughout the area. The company and its choreographers also work with students of all ages. fuziondance.com.
Gloria Musicae, (941) 387-6046. This longtime professional chamber chorus presents several concerts a year at various venues, including a December holiday event, a Fourth of July celebration and a large-scale piece. gloriamusicae.com
The Jazz Club of Sarasota, 330 S. Pineapple Ave., Suite 111, Sarasota. (941) 366-1552. Celebrating three-plus decades of promoting, performing and preserving jazz, the Jazz Club organizes performances year-round, including jams, members' concerts, educational programs and the big Sarasota Jazz Festival in the spring. jazzclubsarasota.org
Key Chorale, (941) 921-4845. "Vast Voyages: Boldly Going Where We Have Not Gone Before" is the intriguing theme of this esteemed choral ensemble's 2012-2013 season. Cirque des Voix, its collaboration with Circus Sarasota, comes to the Sailor Circus arena in March. keychorale.org
La Musica International Chamber Music Festival, (941) 366-8450, ext. 3. Each April, La Musica brings musicians from Europe and the Americas to perform chamber works under the artistic direction of Bruno Giuranna and Derek Han. Public rehearsals take place at New College's Sainer Pavilion and concerts take place at the Sarasota Opera House. lamusicafestival.org
New Music New College, (941) 487-4888. This innovative concert series brings nationally and internationally renowned contemporary musicians to the New College campus to perform, discuss and enlighten. newmusicnewcollege.org
Perlman Music Program Suncoast, (941) 955-4942. A professional development program for gifted young musicians founded by the famed Itzhak and Toby Perlman, with free public recitals offered during the two-week winter program. It culminates with a Celebration Concert at the Sarasota Opera House led by Itzhak Perlman himself. perlmanmusicprogramsuncoast.org
Sarasota Ballet, (941) 359-0099. Under the artistic direction of Iain Webb, this international professional company has garnered much acclaim for its stagings of new or rarely seen dances by choreographers ranging from legends like Sir Frederick Ashton to more contemporary masters such as Matthew Bourne. sarasotaballet.org.
Sarasota Choral Society, (941) 343-9894. A community chorus numbering up to 300 strong that has performed the Christmas portion of Handel's Messiah (accompanied by a full orchestra, organist and soloists) every December for 68 years. sarasotachoralsociety.org
Sarasota Concert Association, (941) 955-0040. Presents a popular five-concert series at the Van Wezel featuring internationally renowned symphony and chamber orchestras, ensembles and soloists. Among them this season: Joshua Bell and the Tokyo String Quartet. sarasotaconcert-association.org
Sarasota Concert Band, (941) 364-2263. Performs at various area venues, focusing on concert band music, often with a patriotic theme. sarasotaconcertband.org
Sarasota Opera, 61 N. Pineapple Ave., Sarasota. (941) 328-1300. This internationally acclaimed professional company, led by Maestro Victor DeRenzi, performs in the stunningly restored Sarasota Opera House. Fall and winter seasons generally present four operas from Mozart to Puccini to the opera's widely praised Verdi cycle, plus 20th-century masterpieces by American composers. The company also maintains a unique Sarasota Youth Opera program. sarasotaopera.org
Sarasota Orchestra, 709 N. Tamiami Trail, Sarasota. (941) 953-4252. This 80-member professional orchestra, the oldest in the state, presents a traditional Masterworks series, plus Chamber Soirees and a pops series. The orchestra is also justly proud of its Youth Orchestra programs, which involve more than 200 young musicians. sarasotaorchestra.org
Sarasota Pops, (941) 926-POPS. The community orchestra performs five concerts at Sarasota's Church of the Palms from late October to April, with material varying from Bach to Christmas tunes to jazz. On Feb. 10, Moody Blues drummer Graeme Edge will guest conduct. sarasotapops.org
Soulspeak/Soulmoves, (941) 366-6468. This long-running artists' collective presents live poetry performances, as well as dance, music and art, centered on spontaneous communal speaking. soulspeak.org
Van Wezel Performing Arts Hall, 777 N. Tamiami Trail, Sarasota. (941) 953-3368. This distinctive purple seashell-shaped hall on Sarasota's bayfront boasts a wide-ranging season of Broadway touring theater, international dance companies both classical and modern, acclaimed world orchestras, comedians, pop and country music stars and more, mostly October through May. vanwezel.org
Venice Symphony, (941) 488-1010. Presenting seven sets of concerts from November through April, from classical to pops, as well as a summer music camp. Performances are held at Venice's Church of the Nazarene. thevenicesymphony.org
CIRCUS
Circus Sarasota, (941) 355-9335. Co-founders of this top-quality, one-ring circus, Pedro Reis and Dolly Jacobs (daughter of legendary clown Lou Jacobs) produce winter performances under the Big Top that feature international stars in the fields of high-wire, aerial, juggling, equestrian acts and more. This year's headliner: Nik Wallenda. circussarasota.org
COMEDY
McCurdy's Comedy Theatre, 3333 N. Tamiami Trail, Sarasota. (941) 925-FUNY. Nationally known stand-up comics make regular stops at this popular club in north Sarasota (think Darrell Hammond, Jeff Dunham and Last Comic Standing alums). mccurdyscomedy.com
FILM
Sarasota Film Festival, (941) 366-6200. Each spring, Sarasota welcomes actors, filmmakers and film lovers to a 10-day celebration of the art of film, with screenings of brand-new movies at downtown's Hollywood 20, plus parties, talks with the artists and more. This year's fest is set for April 5-14; several celebs are usually in attendance (past attendees include Charlize Theron, Kevin Kline and Werner Herzog). sarasotafilmfestival.com
Sarasota Film Society/Burns Court Cinema, (941) 955-FILM or (941) 364-8662. SFS. Presents independent and international films at the intimate Burns Court Cinema in downtown Sarasota and at its Lakewood Ranch Cinema. The weeklong Cine-World Festival in November is hugely popular. filmsociety.org.
FESTIVAL FUN
You name it, Sarasota's got a festival for it. Here's a roundup of our major celebrations of the arts.
Bradenton Blues Festival. The inaugural event takes place Dec. 1, 2012, along Bradenton's brand-new Riverwalk. bradentonbluesfestival.org
Carreño Dance Festival. Ballet lovers flock to this fest's events in August and December at the Sarasota Opera House. carreno-dancefestival.com
Cine-World Film Festival. Those in the know about movies look forward to this film fest each November at Sarasota Film Society's Burns Court Cinema. (941) 955-3456, filmsociety.org
La Musica International Chamber Music Festival. La Musica brings musicians from Europe and the Americas to perform chamber works, April 8-19, 2013. (941) 366-8450 ext. 3, lamusicafestival.org
Ringling International Arts Festival. A relative newcomer, RIAF has blossomed into an exciting kickoff to the cultural season, with dance, theater, music and more on the grounds of the Ringling Museum. ringling-artsfestival.org
Sarasota Blues & Music Festival. Takes place in September at Ed Smith Stadium, with lots of familiar music names on tap. sarasotabluesfest.com
Sarasota Chalk Festival. Each fall, artists take to the streets of the Burns Court area to make pavement art. chalkfestival.org
Sarasota Film Festival. Sarasota welcomes filmmakers and fans to a celebration of movies, with screenings at downtown's Hollywood 20, plus parties, special talks and more. April 5-14, 2013; (941) 364-9514, sarasotafilmfestival.com
Sarasota Jazz Festival. The 33rd annual festival takes place March 3-9, with performances at several venues. (941) 366-1552, jazzclubsarasota.org
Sarasota Music Festival. There's lots of young student talent, as well as an impressive faculty, at this venerable festival, taking place June 2-22, 2013, for the 49th year. (941) 953-3434, sarasotaorchestra.org