Article
Sarasota After Dark: Nocturnal Nature
For spectacle and entertainment, you can't beat the great outdoors.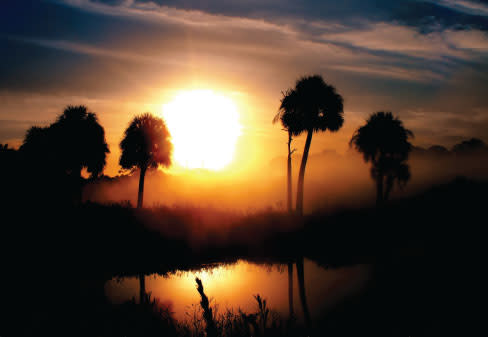 Moon Over Myakka Concert Series
Myakka River State Park comes alive at night, to the tune of 'gators, frogs, coyotes and all the other animals who call the park home. The Friends of Myakka add live music to the mix. Moon Over Myakka is a series of evening concerts set in one of our favorite natural habitats. For a concert schedule, visit myakkariver.org or call 373-7839.
Horseback riding
An equine adventure in the dark might sound dangerous, but don't fret: Rosaire's Riding Academy offers private lessons and group sessions in a well-lit riding area. rideapony.com, 356-9993
Full Moon Paddle
Trust us: When the full moon reflects softly on Sarasota Bay, there's nothing else like it. This moonlit kayak tour with Mote Aquarium will show you a side of the bay—and its inhabitants—you won't see during the day. The next one is Nov. 28. $24 for members, $28 for nonmembers. mote.org, 388-4441
Stargazing
For breathtaking views of the moon, stars and visible planets, don't miss Sidewalk Astronomy, a monthly gathering of the Local Group of Deep Sky Observers. Telescope enthusiasts set up shop and invite visitors to stare in wonder. The best part? It's totally free. Nov. 17 at Riverview High School, sunset to 10 p.m. lgdso.com
Full Moon Yoga
You've heard of sun salutations, but what about the moon? Rosemary Court Yoga presents a full moon session on Siesta Beach, led by Jamie Coffey Reynolds with live music by Keith S. Coker. We dare you to try finding something more relaxing. Nov. 28, 6 p.m., at Beach Access number 7 (Beach Road and Calle de Siesta). rosemarycourt.com, 952-5280