Article
Growing Up on Tamiami Trail
For Sarasota Magazine founder Dan Denton, growing up on U.S. 41 was the next best thing to a Harvard M.B.A.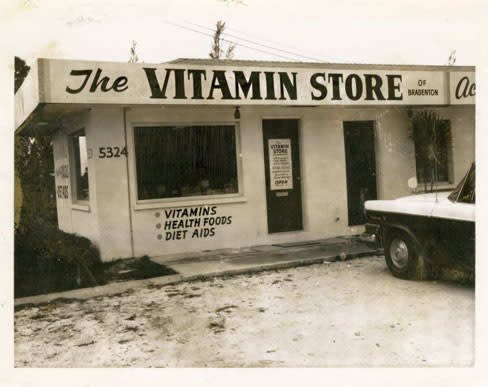 For several years in the early 1960s, when I was 9 or 10 years old, our family of six lived in a converted strip motel just up the road from Sarasota on Bradenton's South U.S. 41. It wasn't your traditional neighborhood—signs outnumbered mailboxes there, and even a topless lounge could (and did) open nearby without much fuss.
The building was gutted by fire and bulldozed in the 1980s, and today there's a used car lot there. But every time I drive by, I think of that old six-room motel, the businesses my parents (and later I) launched there, and the only-in-Florida adventures we shared in our makeshift home on the Trail. Surely it was where my own entrepreneurial spirit was born.
In 1960, Dad had brought us here from Orlando for a fresh start, and real estate on the growing Gulf coast looked like the answer. He figured that Sarasota, with Bird Key just dredged, had peaked and Bradenton would soon be booming, so he rented the front office of the Sunshine Motor Court for his new brokerage.
Soon the entire motel was for sale for $25,000, and though the $1,000 down payment was my parents' total savings, they didn't hesitate. What would they do with five empty motel rooms, and how would they make the $161.09 monthly payments? Their solution was to stop paying house rent, move the family into the motel, and start another business to generate cash while Dad worked the real estate.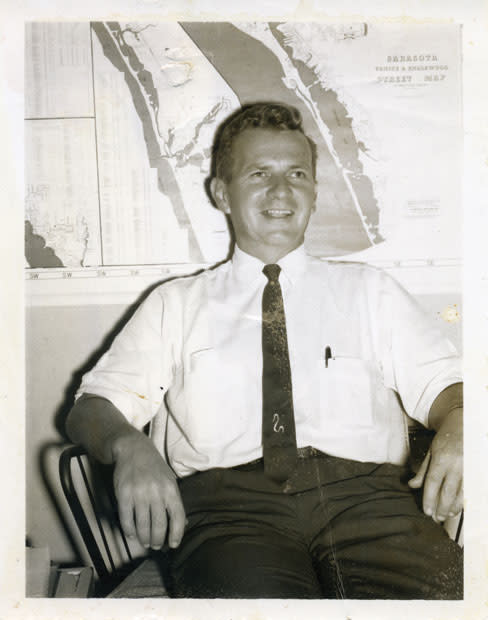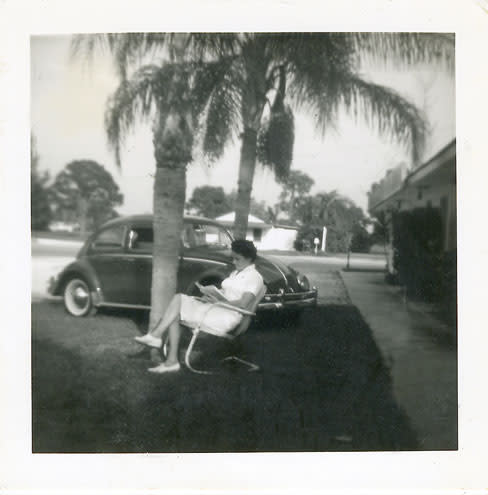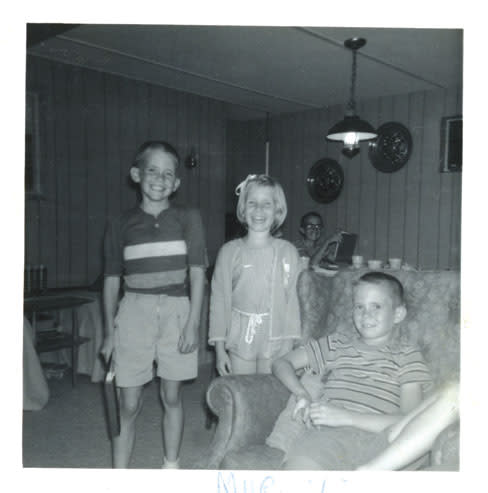 That Commercial Magic
Almost immediately, the property began to work its spell on us. Trained as a nurse, Mom decided to open a vitamin and health food store in the front office, and move Dad's operations to the next two rooms. When The Vitamin Store of Bradenton opened in 1961, President Kennedy was pushing physical fitness in the schools and Robert Preston was singing Chicken Fat on the radio.
Visitors streamed over from the trailer parks, and within months Mom had two best-selling products—safflower oil and a special bread containing extra gluten. But her best idea came a few months later on a sidewalk in St. Petersburg, where she and Dad saw a line of retirees waiting to have their blood pressures read. She bought a stethoscope and blood pressure gauge, and placed a large red sign in the window reading, "Blood Pressure Reading 75 Cents." In her crisp white nurse's uniform, with two fingers firmly on the pulse of Bradenton's retirement market, my mother had found her cash cow.
Living there suddenly made perfect sense. While Dad was out pitching mobile home park listings—in that neighborhood, what else would he specialize in?—Mom could answer his phone, run the vitamin store, take blood pressures, mind the kids, do the housework and study for her real estate broker's license. Grandpa Denton, a master carpenter from Chicago, arrived for a three-month stay to turn the back three motel rooms into our home.
By the time we moved in, the spirit of adventure had seized us all. There on the highway, with the traffic and Grandpa's buzz saw, everything seemed to be humming. Also, the idea of living in a motel seemed incredibly glamorous to my 9-year-old mind—how would we ever use all those sheets and towels that came with the place?
Grandpa connected all the rooms, building bunks for the three boys in the first one. Sister Holly got the middle room, and the back room became the combo kitchen, dining, living room and parents' master suite.
If you started back there in the morning and charged straight through the doorways all the way to the front, you'd see the scenes of our family's life as if in a movie: parents at breakfast, siblings getting dressed and making beds, two dark-paneled real estate offices where big deals could happen any day, and finally the tidy vitamin store, with the morning sun over U.S. 41 bathing the room in hot yellow light. Mom made that trot many times a day. When customers entered the vitamin store, a bell would ring in the living room and she'd drop her housework, position her nurse's cap, and off she'd go.
All the World a Sign
Did I mention that every single room had its own air conditioner? And its own private entrance? There were no closets, but that was OK. Visitors were always pulling up, and we'd guess whether for vitamins or blood pressure readings, to talk real estate or just ask directions.
Some cars pulled in to turn around—"TAs," we called them—and some came to inquire about one of Dad's many hand-painted signs.
"Put something on 41 with a sign on it and it'll sell," Dad always said, and he spent years proving the point. The signs said things like "Waterfront Trailer Park, $75,000 down." But there were also those Day-Glo "For Sale" signs he'd tape to the sides of boats, campers, trash trailers and a succession of family cars that had outlived his affection for them.
When Dad decided to enter the solar hot water business, he hauled a huge portable heating unit out to the curb along with a sign reading, "Free Hot Water." The idea was that you could turn the spigot on, touch the scalding water, and immediately imagine your potential savings in fuel bills.
But instead of producing sales, the gimmick attracted a stream of visitors from the trailer park who arrived with buckets to collect their free hot water.
Just as other families tended their lawns to heighten curb appeal, we had our signage to maintain. If the elements didn't damage them, flying beer bottles would, and Dad would come back with ever bigger and better signs. By the time brother John took over Advance Realty years later, the old motel had been done over with stylish, dust-blue Bahama shutters, and the entire top half of the structure had become a sign. When the building was bulldozed after the fire, Dad's first thought was to replace it with—what else?—a billboard.
As the traffic got heavier, all kinds of food franchises, bars and car lots arrived on our strip. And that topless lounge. But more cars meant more customers, and that's what our neighborhood was all about. We'd hear more sirens and gnashing metal as the months went by, but despite long summer afternoons waiting by the 53rd Avenue intersection, my brothers and I never actually saw an accident happen. They finally put in a light.
Highway living posed some special problems. To train our new puppy not to stray toward the Trail, Dad took poor Princess to the curb for an hour at a stretch and whacked her with the classifieds every time a car passed. There wasn't much privacy, either. Pedestrians would come in asking for water, and motorists would stop to picnic on the concrete and tile table in the yard. If the offices and stores were closed, would-be customers might head back and visit the family.
But there were so many advantages for us kids. Pretending that we were business titans at Dad's desk or Mom's cash drawer, we spent hours dreaming up business schemes. After brother John got a pet rabbit for his eighth birthday, he and I stayed up most of the night planning a roadside bunny and hutch sales concession.
And there was golf right next door. The Jimmy Lentz Golf Driving Range provided our first paid jobs, shagging golf balls for 10 cents a bucket. Balls that flew over the fence, landing with a loud crack on the metal trailer roofs, carried a bounty of a nickel each. We complained then that no other children lived in the neighborhood, but later the old driving range became the Pirates Cove Family Fun Center, and every kid in the two-county area was hanging out next door. Today the site is a gas station.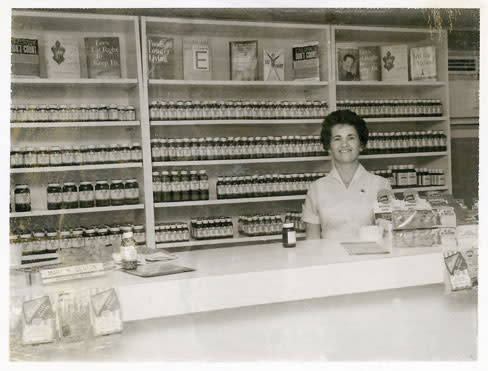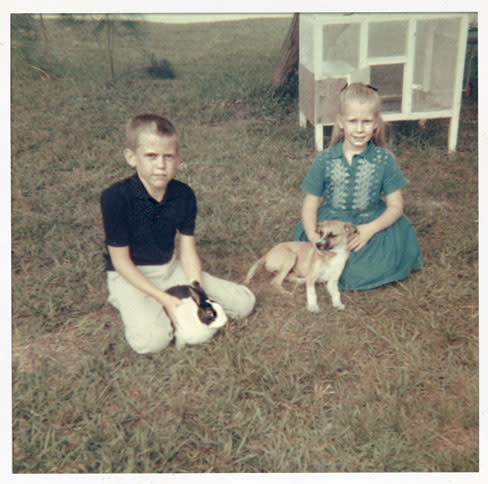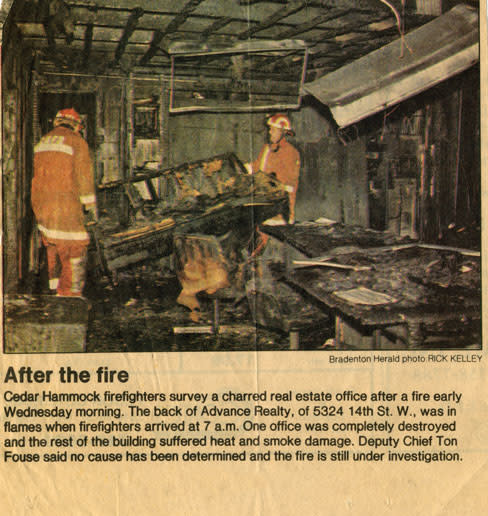 Different Dreamers
Change is the only constant on U.S. 41, and for our family most of those changes were good. Dad's business did well enough that we sold The Vitamin Store and moved to a real house. His office, and later John's, grew to fill the whole building. In the 1970s, Mom and Dad bought an adjoining 100 feet of highway frontage to the north. There, another building with a front office and a rear apartment eventually housed brother David after college. In 1979, I lived in the apartment and launched what would become Sarasota Magazine in the front office. Like my parents, I was happy to be working at home—at least for a few years.
As my parents would say over the years, "If a business will work anywhere around here, it'll work on 41." We always talked about what would "go" on the rest of the property. An ice cream parlor? A barbecue restaurant? How about a pet cemetery? Dad checked them all out, finally deciding on a mini-storage warehouse (closets at last!). The Attic had a good long run, and Dad kept a small office next door for as long as the family owned the property.
One night a few years before Dad passed away, he and Mom got out a scrapbook and we all started talking. We never got a good picture of the motel, I guess because we weren't very proud of it; in fact, we children had cruelly dubbed it "The Shack." But one photo brought it all back for me. There's Mom in her nurse whites, sitting outside in a metal lawn chair. U.S. 41 hasn't been six-laned yet, and the big car lot hasn't been built across the street. She's reading a book, probably for the real estate exam. Here on the beautiful west coast of Florida, a limitless future seemed like ours to earn.
With the motel gone, Dad talked of expanding The Attic, but Mom felt perhaps they should "let someone else build their dream," and so they eventually sold it. The thing she just couldn't get over, she said, was how very small that empty lot looked, especially compared to "all the life we packed into that motel."
Dan Denton is president/CEO of Gulfshore Media LLC. A version of this article won a first-place award for "Best Essay" from the Florida Magazine Association in 1987.