Home Tour
House Tour: A Modern Anna Maria Island Beach House
Take a tour of Seagrape House, a recently completed home on Anna Maria Island.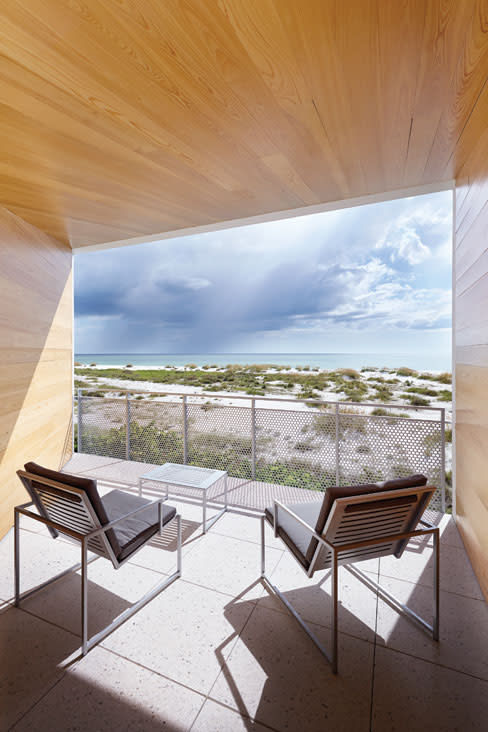 Time passes, children grow, sand dunes shift, seabirds glide across the sky, and tides ebb and flow. But the recently completed Seagrape House, set amid a stand of mature seagrapes on a spectacular stretch of north Anna Maria Island beachfront, was built to last.
Designed by a young husband-and-wife team of architects from Tampa as a weekend retreat for her physician-parents and their three grown children and four grandchildren, the Seagrape House testifies to the power of nature to bring generations together.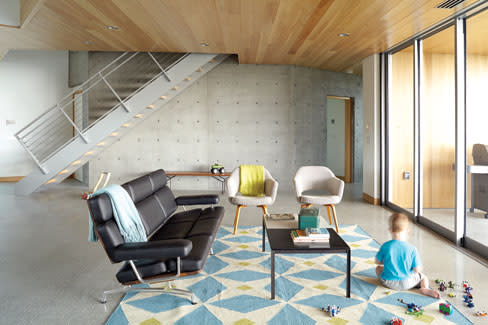 "We conceived of the house as a physical anchor along the blurred edge between land and sea, a tool to understand the landscape and one's place within it," says architect Jody Beck of Traction Architecture in Tampa. It was the first major project designed by Beck together with her architect husband, Ross-Alan Tisdale, who both had separate careers in residential and commercial architecture before joining forces in 2012. The home was featured in the Wall Street Journal in late October, and this fall, the couple received an Award of Honor from AIA Tampa Bay.
Beck and Tisdale gave the Seagrape House a modern, wedge-shaped design and placed it on the site so that, from the second- and third-floor living spaces that start 15 feet above sea level, all you see are acres of rolling, sea-oat-strewn dunes, soft white sand and the turquoise Gulf of Mexico. Not another home is in sight.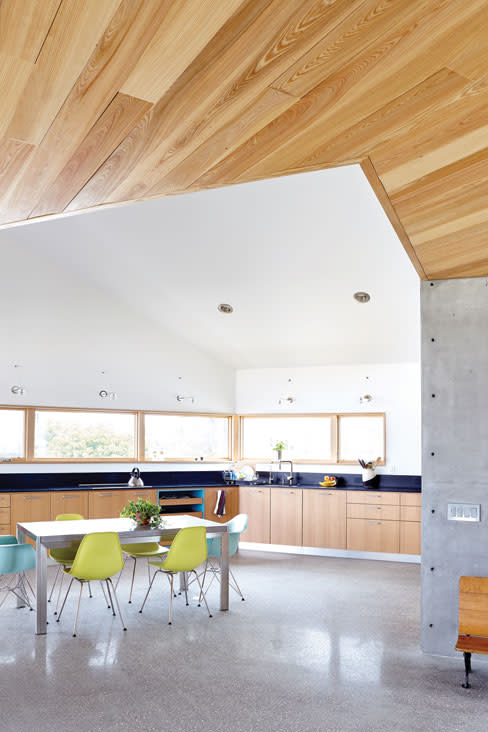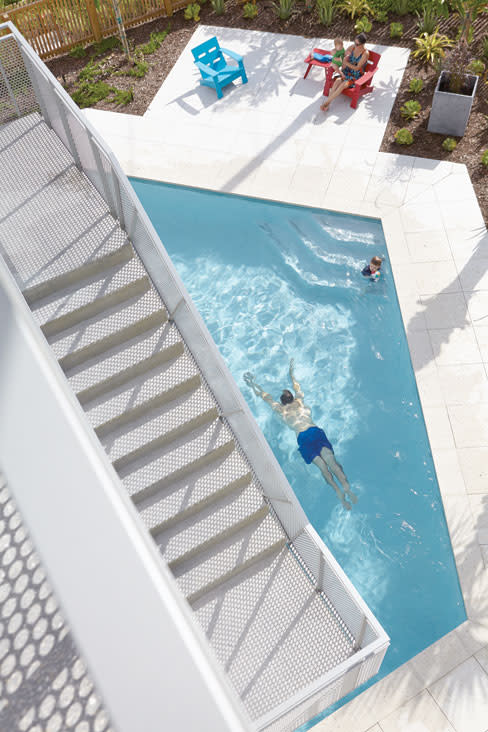 Then they created floor-to-ceiling window walls along the Gulf side—the expanse in the open kitchen-dining-living room is 24 feet long—to draw the eye irresistibly westward. They chose clean-lined, minimalist furnishings that don't compete with the ever-changing views. (Another nod to the generations; a lot of the mid-century modern furniture was Beck's late grandmother's; she had lived on Longboat Key for many years.) "Even when we're inside, we feel like we're outside," says Beck.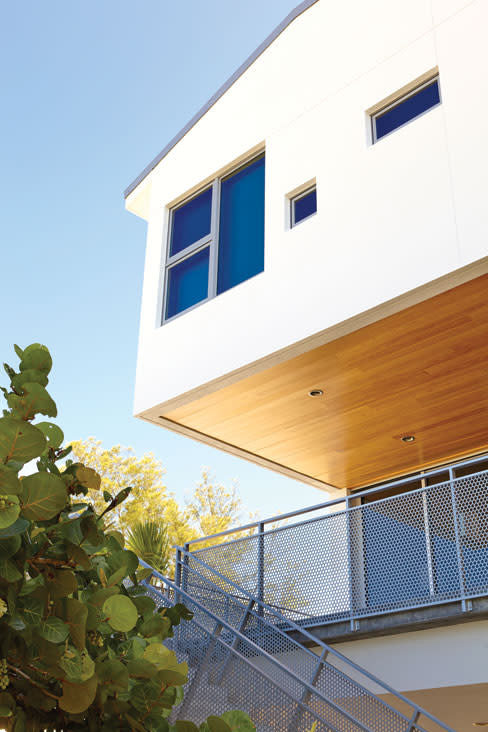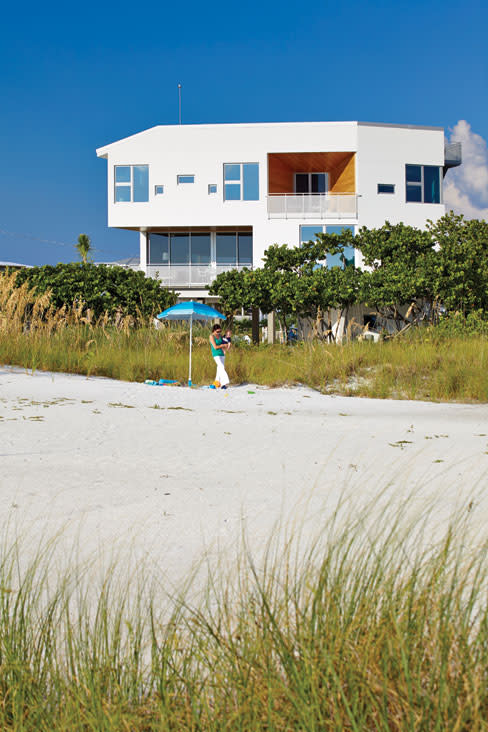 Poured-concrete construction ensures that the Seagrape House can withstand a Category 5 hurricane. Several of the exterior and interior concrete walls were left exposed—an interesting juxtaposition to the smooth white stucco covering the rest of the home. The floors are polished concrete, with so much aggregate mixed in that some people mistake them for terrazzo.
The house is also the first LEED Platinum home on Anna Maria Island, with solar panels that provide about 65 percent of its electrical needs, LED lighting, kitchen and bath countertops made of recycled paper, water-efficient fixtures and energy efficient appliances, and a Florida-friendly landscape that requires no irrigation. The HERS (Home Energy Rating System) rating, says Beck, is 11—remarkable when you consider that the average new home has a HERS rating of 100. "An 11 is 89 percent more energy efficient than average," she says.
A serious project, the Seagrape House is not without a sense of humor. Carved into the cypress walls in the small TV/reading nook are two messages: "Veracruz 1,028 Miles" and "Tulum 587 Miles." Beck says they're "a nod to distant civilizations."
A time capsule cleverly set high into an exposed concrete wall is packed with family mementoes. "It's another example of this house as a constant," says the architect. "The landscape changes, we're changing, but it's still here."
DESIGN TEAM
Architect: Traction Architecture, PLC
Jody Beck, AIA, LEED AP BD+C, and Ross-Alan Tisdale, AIA, LEED AP BD+C
Builder: Whitehead Construction
Structural Engineering: Sego & Sego, LLC
LEED Consulting: Two Trails
For more Sarasota real estate news and home tours, click here to read Bob Plunket's Real Estate Junkie blog. >>
This article appears in the December 2013 issue of Sarasota Magazine. Like what you read? Click here to subscribe. >>