Home & Garden
Step Inside Four Stunning Sarasota Beach Houses
Whatever its size or style, owning a beach house makes you happy.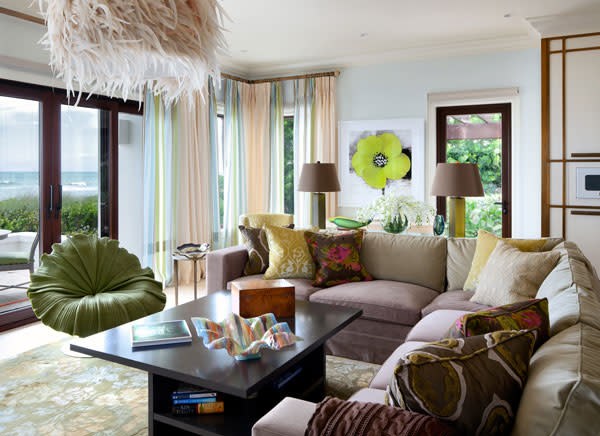 "A beach house is like a well from which we draw memories of the happy times spent there," writes Antonia van der Meer, former editor-in-chief of Coastal Living, in her dreamy new coffee-table book, Beach House Happy: the Joy of Living by the Water. The book has gorgeous, glossy photographs of her favorite beach houses across the country, one of them on our own Casey Key.
"While I was editor of Coastal Living it became very clear to me there's something about being near the beach that makes people feel really good," she says. "My readers' attachment to their beach homes was unusual, much stronger than to their primary residences."
Van der Meer says she became fascinated with the tangible elements surrounding beach houses that foster well-being—the soothing sound of waves; the crunch of sand beneath the feet; the bright, happy colors and playful touches that are often chosen for décor; the homes with history that "are like old friends; they know all our stories, and they nurture us," she writes.
"I kept finding the things that make us feel good in general were very much integral to beach houses," she told us. "Generosity and sharing make the giver feel good [for example], and I can see that in a beach house—people are opening them up to their friends and families; they want people to come back."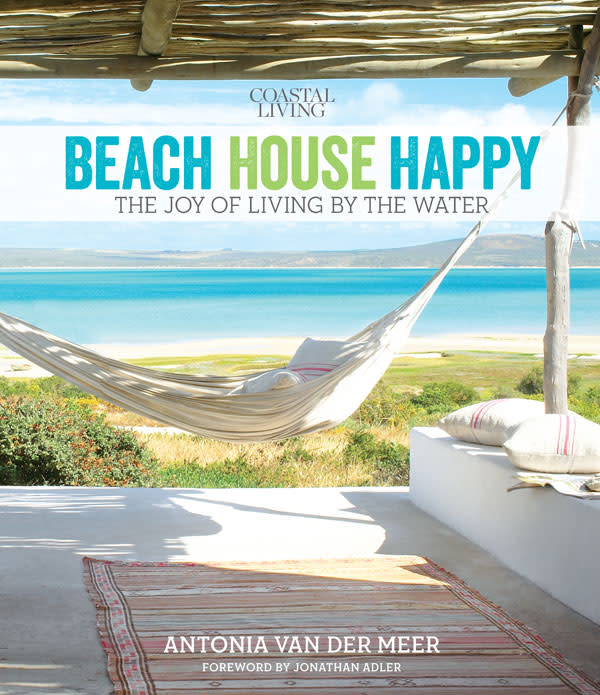 She writes from experience. The editor and author was born and raised in a 1902 beach house in New London, Conn., which she and her husband subsequently purchased from her mother. "We came full circle," she says. "It's wonderful to be back in a home with that history—both the history of the house and my family history there. My children are all beach lovers, and now that they're older, they return and bring their friends. I hope it continues to be full circle for them and their families, too."
And that's the secret to successful beach houses, she says: They're really family places. "The beauty of a beach house does not come from dramatic, fanciful, or over-the-top elements," she writes in her book. "Instead it comes from a humbler, deeper place."
Here, you'll see some beach houses that belong to local families, from cozy cottages to striking modern structures. Each offers a different interpretation of Florida beachfront living, yet every one expresses a love of the coastal setting and holds treasured family memories.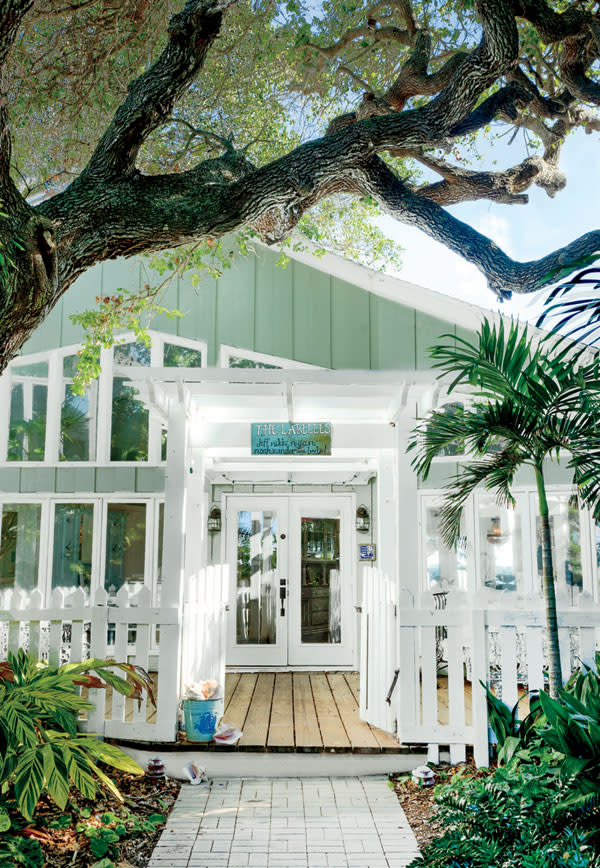 Photos by Mark Lohman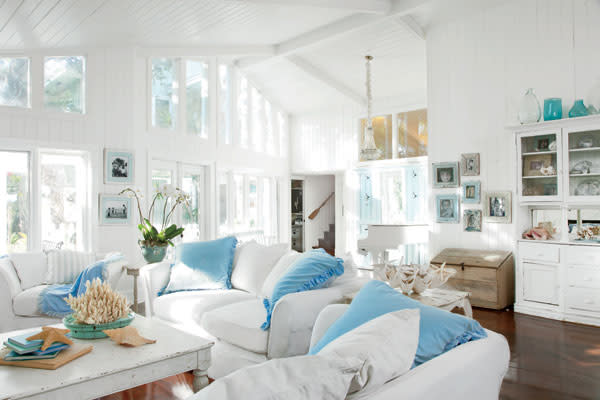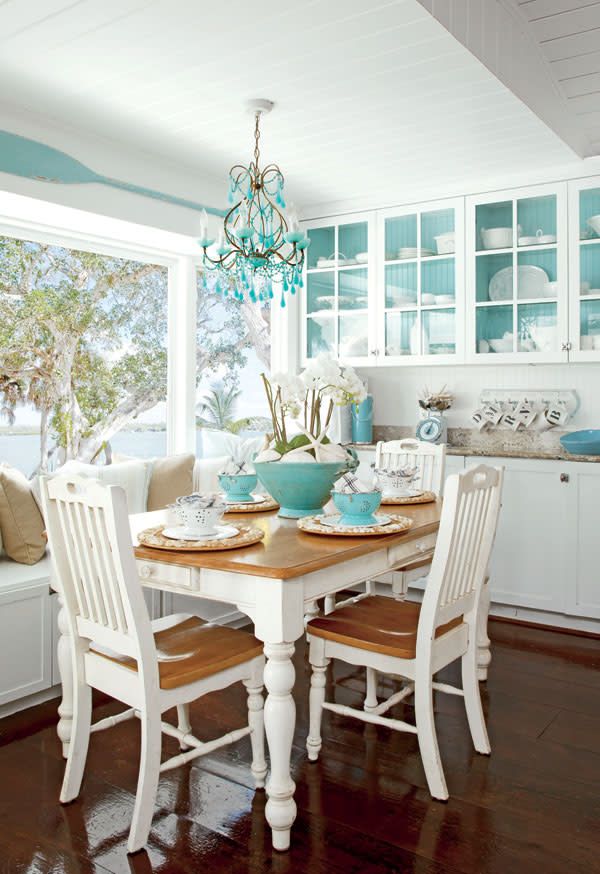 Family Ties: A Casey Key Cottage
Jeff and Nikki LaBelle's Casey Key beach cottage, featured in Beach House Happy, has a classic Key West vibe (yes, there's even a white picket fence) and shabby-chic décor that accommodates the LaBelles, their four children and their menagerie of pets. (When the white denim slipcovers on her couches get soiled, "I just throw them in the wash with a little bleach," she told van der Meer.)
"That is one of my favorite homes in the book," says the author. "There's something very open and sunny about it. I love the all-white feeling inside the house, the tongue-in-groove paneling. It's beachy right down to the sea-
shell-encrusted placemats. There's  a  real, comfortable simplicity I was drawn to; a feeling that it really is for a family, for kids, for their friends."
It also hit the mark for its authenticity. "A beach house doesn't have to look perfect," says van der Meer. "People are not perfect; they have dogs, they spill things, they have wet bathing suits. When people strive for absolute perfection it puts a lot of pressure on them and feels less comfortable and welcoming to guests."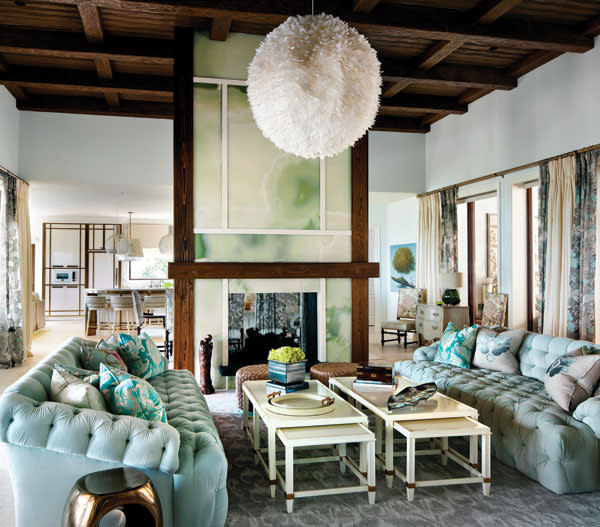 Natural Star: Bringing the Outdoors In
"The ocean is literally in front of your face," says interior designer Lori Morris of Toronto-based House of LMD, describing a 1970s ranch-style vacation home on Casey Key that's perched right on the beach. The owners, from Ontario, Canada, decided to spare the home from the wrecking ball. Instead, they charged Morris with enhancing its architecture and décor in a way that is cozy yet comfortable for big family gatherings, and that brings the outdoors in.
Morris  chose natural materials—a reclaimed wood ceiling in the great room for warmth and authenticity; elegant wood-framed windows; furniture in shades of blue, seafoam green and gray; and slabs of dramatic green onyx on the fireplace that echo the movement of the waves right outside their door. For the master bath, she found marble with flecks of blue, soft yellow and white "that feels like the ocean," she says, and complemented it with a custom-designed wave pattern on the shower doors and a vintage Murano chandelier in bold blue "to make the room sing."
Now, the designer says, "It's a beautiful, soothing, warm, elegant, sexy beach house," one that the couple and their extended family will enjoy for generations. Says the homeowner, "Even after going there more times than I can say, when I unlock the door and walk in, it still takes my breath away."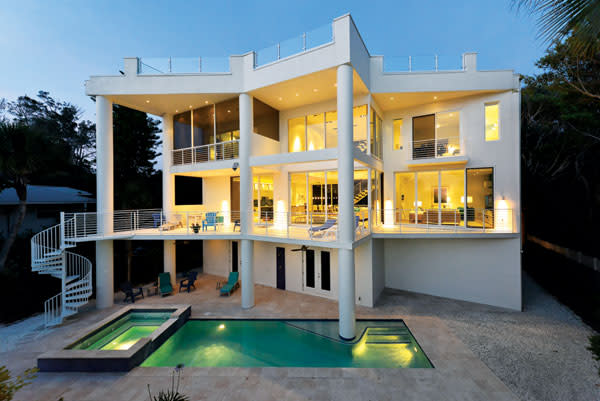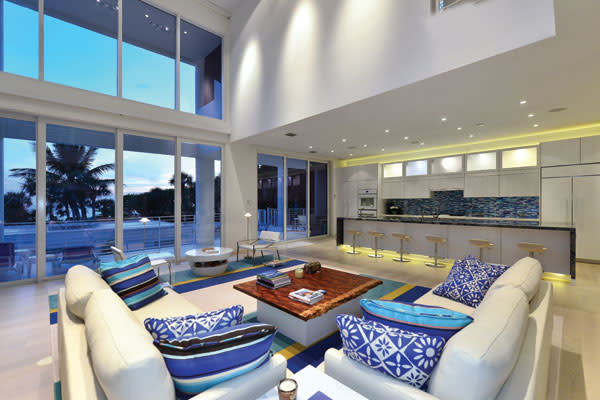 Coastal Contemporary: Ultra-Modern on Manasota
A Minnesota couple who had purchased a Gulf-front acre on Manasota Key had one request of architect Mark Sultana: design for them a modern vacation house that captured the Gulf views, and make it one-of-a-kind.
The resulting four-bedroom residence is ultra-modern in its angular forms and two-story glass walls that stretch across the entire west side. (A 90-degree corner sliding glass door opens the house to the Gulf.) There are two stories of living space plus a rooftop terrace that stretches across the entire house. The core of the house is a staircase that wraps around an elevator; a "very cool" engineering challenge, Sultana says.
Sultana also converted an existing 1930s-era residence on the property from two stories to one; it's now the owners' one-bedroom guest house, with a full array of rooftop solar panels that provides much of the electricity for both houses.
"It's a party house, very social with an open floor plan, and the owners entertain there a lot," says Sultana. In fact, the homeowners were so satisfied with the final result, he says, that they've made it their permanent, year-round residence.