Article
Home Tour: A Ski Lodge-Inspired Longboat Key Condo
Step inside a renovated Longboat Key condo that takes creative cues from a cozy ski lodge.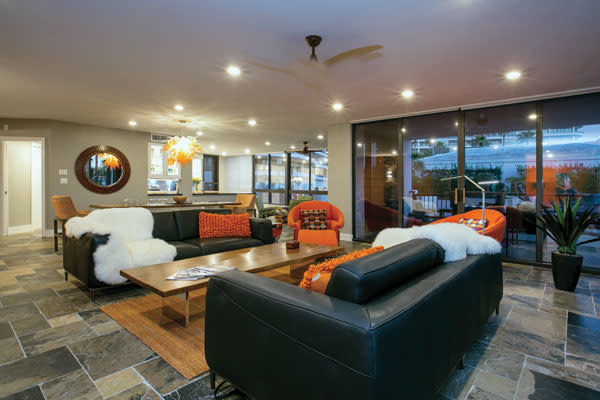 Like a skier schussing down a black diamond run, interior designer Mark Dalton took a daring leap when he took on the recent renovation of a condominium in the exclusive Gulf-front Sanctuary on Longboat Key. Instead of more predictable beachy sand-sea-and-sky colorways, Dalton looked west, much farther than the west coast of Florida, for a cozy mountain lodge motif, complete with lots of wood, slate and stacked stone.
"The clients let me run wild with creativity," says Dalton of the couple, Cincinnatians who spend the winter on Longboat Key and who'd purchased the first-floor walk-down unit from the original owners. "They gave me the artistic freedom to do something nobody had done like this in any of those buildings."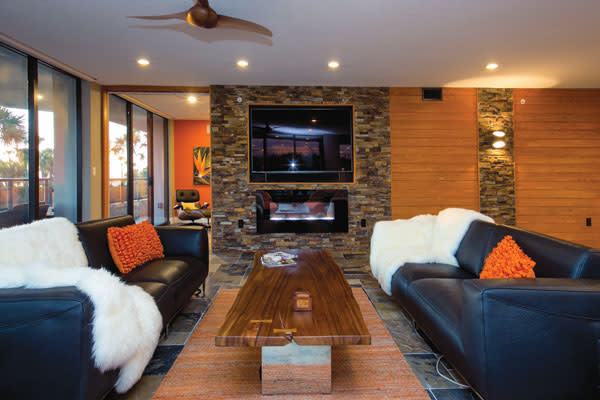 Dalton says the ski-lodge vision struck him as soon as the homeowners opened the front door. It turns out they do like to snow-ski, and make yearly ski trips out West, says the husband, "but that wasn't our vision [for this project], it was Mark's vision. Mark guided us along all of this. We found him on Houzz after meeting with three other designers who weren't thinking outside the box. We could tell he was not afraid to use color, and that was important to my wife. It was a matter of trusting him, which," he admits, at first was "hard for me to do."
It's a big apartment—3,700 square feet in all, with two bedrooms and a den, plus three full baths and a powder room—perfect to accommodate the couple's visiting children and grandchildren. Every Gulf-facing room has floor-to-ceiling windows or sliding glass doors. But the 1989 layout and interior design—"closed-off rooms and cold, dated chrome and glass furnishings," the designer says—didn't do justice to the apartment's beautiful water views.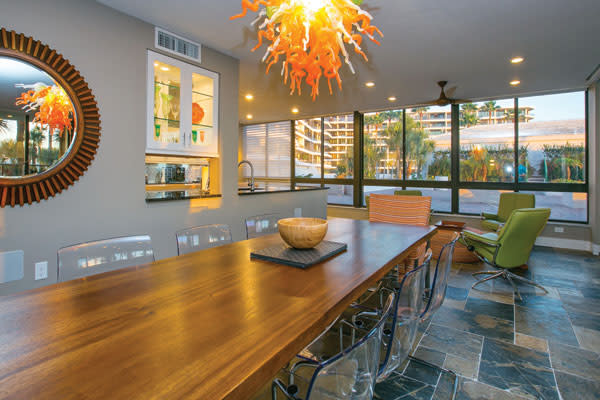 Working with his design colleague Jessica Napoli, Dalton clad the living room's fireplace wall with stacked stone and tongue-in-groove cedar that he stained orange, his signature color. ("My mother always had a bright orange chair in her living room. I always liked that look and it carried into who I am," he says. "It gives you a good, happy pop of color.")
The same orange-stained wood went on the entry foyer ceiling, and on every important door that goes into a room—guest room, powder room, the master bedroom, the office. Walls that weren't clad in wood were painted a deep, vibrant orange.
Dalton stripped the carpet, tile and marble floor coverings and installed French patterned slate inside and out. ("Not only does the slate look beautiful, it feels cool and natural on the bare feet and it's nonslip," the husband says. "I feel so stable on the floor.") Dalton also replaced the heavy window coverings and installed electric window treatments that disappear with the push of a button.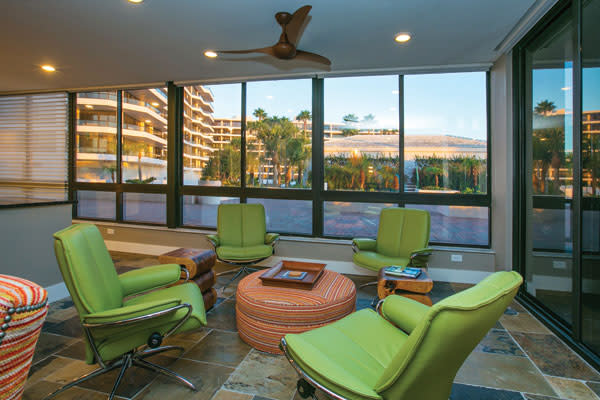 He opened up the kitchen to maximize water views and continued the apartment's wood theme with a butcher-block kitchen island. And in the spacious master bedroom, he added stacked stone on either side of the tufted-fabric headboard. "We changed the orientation," says Dalton. "The previous owner had the bed on the wall where the three mirrors are. Now you have a focal point when you walk in the room."
As for furnishings, the interior designer put his high-low philosophy into practice by mixing Thayer Coggin orange chairs and ottoman—the highest ticket items in the home—with $89 Ikea dining room chairs. "The lamb throws are from Ikea—the client sewed them together," says Dalton. "She bought them and said, 'Do you like them?' and I said, 'Yes, I do.'"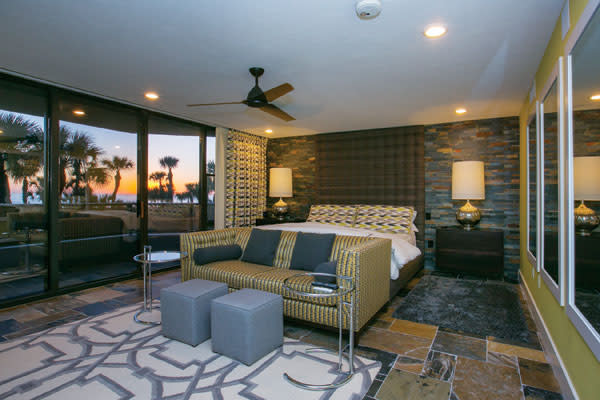 The owners rate the end result a 10. "It's soothing and comfortable," says the husband—like a cup of hot cocoa after a run down the slopes. "We like it because it's different."
For more home tours and interior design news, click here. >>