Article
Neighborhood Watch: Laurel Oak Estates
Take a closer look at Sarasota's Laurel Oak Estates.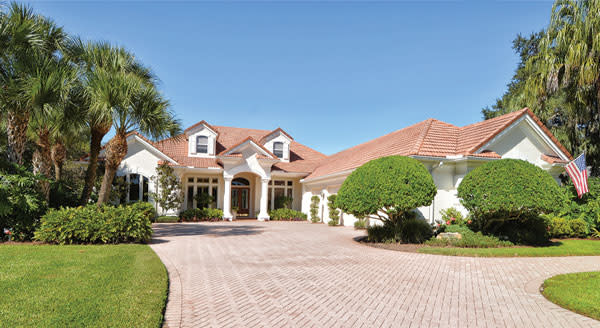 For years, all the news about east-county real estate has been about the growth in and around Lakewood Ranch. But that's not the only eastern area attracting buyers. "If you want room to breathe and you want to be in Sarasota, you're missing out when you don't consider what I call the mature communities like Laurel Oak Estates," says Barbara Ackerman of Coldwell Banker.
Developed in the 1990s off Bee Ridge Road just east of I-75, Laurel Oak Estates has 408 custom homes on one-plus-acre home sites set on the private Laurel Oak Country Club, with 36 holes of golf, a 45,000-square-foot clubhouse, tennis center and array of social activities. Home owners are not required to join the country club.
At press time, 21 homes were on the market, seven of them for more than $1 million. The splashiest belongs to tennis star Monica Seles. At $1.75 million, the walled and gated compound has nearly 6,000 square feet of living space plus a lighted hard-surface tennis court, naturally, and room for another. But Ackerman's current listing at 2710 Dick Wilson Drive, priced at $1.1 million, is more typical of the private gated community—an executive home built by Arthur Rutenberg Homes in 2000 with five bedrooms and six baths on an acre overlooking the golf course.
The community has been built out for years, and there's lots of remodeling going on, primarily cosmetic updates to kitchens and baths, Ackerman says. Most residents are local or they're part-timers and travel during the summer. "It also attracts people in their 50s with college-age children who want to make a move to Florida and aren't prepared to give up their big homes yet," Ackerman says.
"This is a family community," Ackerman says. "For Halloween they dress up their golf carts and go trick or treating. Because it's gated and safe, you can let your kids go to the club, take a tennis or swimming lesson and come home."
Stats
Number of Laurel Oak Estates homes: 408
Number of sales May 2014-April 2015: 14
Range of sale prices: $500,000-$1.6 million
Range of square footage: 2,367–9,076