Article
Sarasota Real Estate News - June 2015
The latest news in real estate and design.
Neighborhood Watch: Sorrento Shores
Number of Sorrento Shores homes: 232
Number of sales April 2014-March 2015: 9
Range of sale prices: $325,000 to $1.4 million
Range of square footage: 1,466-4,530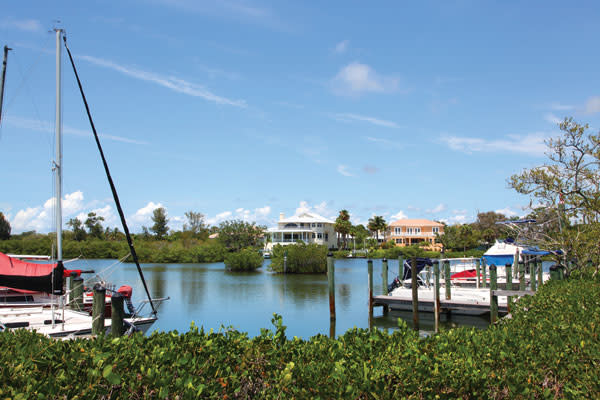 Canal view in Sorrento Shores.
Platted in the late 1950s and populated with unpretentious Florida ranch-style homes in the 1960s, laid-back Sorrento Shores is tucked along Little Sarasota Bay in south Osprey, midway between Venice and Sarasota. About 60 percent of its 232 homes are on canals or open bayfront.
The drawing card here is price.
Even with the premium placed on waterfront homes, it's possible to find a canal-front home listed in the high $400,000s or $500,000s—"about $300,000 less for a canal-front home than you would find the closer you get to downtown Sarasota," says Michael Saunders & Company agent Drew Russell. "Your dollars go a lot farther here."
Time has not passed Sorrento Shores by, however. "There's some new building going up, and a lot of renovations in between," says Russell, who spent his youth visiting grandparents who lived in the neighborhood. The highest-priced listing this spring was a newish 6,000-square-foot Mediterranean-style home on the open bay, on the market for $2,695,000.
A good mix of year-round residents and snowbirds calls Sorrento Shores home, and there are a lot of families, Russell says; Laurel-Nokomis elementary and middle schools and Venice High are the district schools, and Pine View School for the Gifted is nearby. "Because it's right in-between Venice and Sarasota, you can be a professional working in downtown Venice or in the Sarasota market," he says.
And even if you opt for a non-waterfront home in the $200,000s or $300,000s, you can rent a slip in the community marina.
The Design Tourist Visits Sarasota
The Design Tourist recently stopped off in Sarasota and has produced two lively short videos about the Sarasota School of Architecture that are now streaming on her website, thedesigntourist.com. Host Karen LeBlanc, who covers design trends for The Design Network, visited after the Sarasota Architectural Foundation's successful inaugural Sarasota MOD Weekend. SAF coordinated her visit, which included tours of Paul Rudolph's Harkavy House and Umbrella House in Lido Shores, Rudolph and Ralph Twitchell's Revere Quality House, and Sam and Pam Holladay's Tim Seibert-designed home in Whitfield Estates, which was featured in the January issue of Sarasota Magazine.  "She's very cool and very knowledgeable," says SAF president Janet Minker.
Bridge to Sarasota History
Taylor Morrison, developer of the new active-lifestyle community The Esplanade by Siesta Key, honored the property's original owners this spring by naming the bridge over its 10-acre lake the Wilson Family Bridge.
Attorney Clyde Wilson Jr. sold the 80-acre tract just east of U.S. 41 and north of Clark Road to then-Taylor Woodrow in 2006. Virtually the last large piece of undeveloped land close to U.S. 41 and the beaches of Siesta Key, it sold for an impressive $40 million. At about $500,000 per acre, "it set a record in Sarasota County that still stands," Wilson says.
The Wilson family had owned the property since 1945; Wilson's parents built a house on the lake in 1962 and they'd kept horses and cattle there. But their roots here go back to 1877, when his great-grandfather, Augustus Wilson, moved to Old Miakka. At that time, Sarasota County was part of one large Manatee County. Augustus, an Indian agent for the state of Florida, worked to homestead Seminoles and was also a state senator. "He introduced the bill into the state legislature to start Sarasota County," Wilson says.
One of Augustus' seven children, Dr. Cullen B. Wilson, established one of Sarasota's first medical practices in 1908, working out of his home on Orange Avenue. The Wilson family donated the home to Sarasota County; it now stands in Urfer Family Park on Honore Avenue and Bee Ridge Road.
Now nearing completion, the gated Esplanade by Siesta Key has more than 400 single-family homes and villas in what Taylor Morrison calls "California Tuscan" architectural style. The amenity center, which has heated pool, tennis and bocce courts and an activities director, opened in late March.
For more Sarasota real estate and interior design news, click here. >>