Article
Sarasota Pool Featured on HGTV's "Amazing Water Homes"
A Siesta Key fantasy lagoon earns its spot on HGTV's "Amazing Water Homes."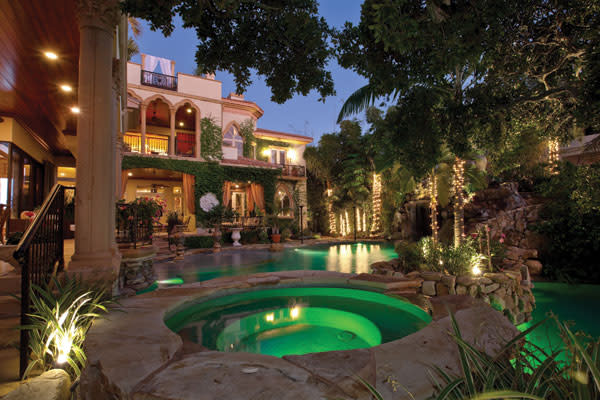 There are swimming pools, and then there is Chivas James' fantasy lagoon, so delightfully over the top that it landed on HGTV's Amazing Water Homes last fall.
Millions of viewers around the country oohed and aahed over the free-form water feature overlooking Big Pass and, beyond it, the spit of white sand beach at south Lido Key. It's actually composed of two pools plus a dedicated spa, all of it surrounded by a riot of bougainvillea, bamboo and other tropical vegetation and framed by a twisted old live oak. The upper pool has its own rock grotto, with spa jets, of course. Adventurers climb a set of rock steps, then plunge down the adjoining slide, or jump off a diving rock above the grotto. On top of it all is a stage. "I was at a Christmas party that Chivas had, and there was a fire breather up there; it was pretty incredible," says real estate agent Joel Schemmel of Premier Sotheby's International Realty, who has listed the Gulf-front property at $8.99 million.
"This house is all about the outdoors," says Schemmel, who points out the disappearing sliders that open up the family room entirely to a poolside terrace with outdoor kitchen, which easily accommodated 150 for a Premier Sotheby's wine tasting. (There's also a third-floor party deck with its own hot tub and spectacular pool and Gulf views.)
The HGTV show has drawn interest to the 9,000-square-foot home, he says, from "successful people in their late 40s and early 50s with families, and from empty nesters, half looking it as a second home, and half looking at it as their primary residence." One of them, he's sure, will soon take the plunge.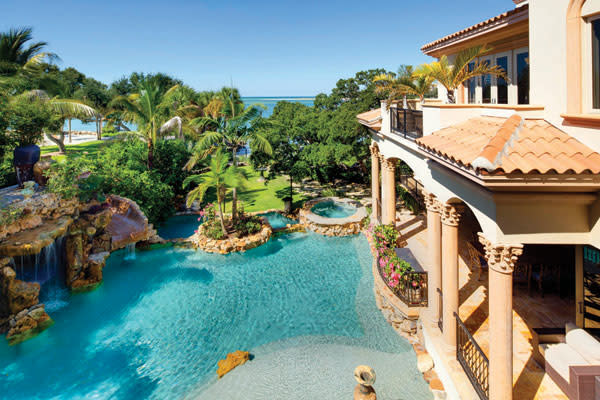 The Wave of the Future
Pool trends for 2015.
STRAIGHT AHEAD Clean-lined, straight-edge rectangular pools now rule the day, says John Collier of Waterscapes Pools & Spas, and many incorporate vanishing-edge spas with water that cascades into the pool. Glass tile mosaics are the finish of choice in high-end pools, says Collier, in shades of blue, or grays and blacks for people with modern taste. "They used to be cost-prohibitive, but have become more affordable," he says. And the hydrazzo interior finish is very popular; it's likened to terrazzo became it's polished and very smooth. "In spas where people like to sit a lot, it's beneficial," he says.
FIRE AND LIGHT "We're doing a lot of fireplaces and fire pits attached to the pool," says Phil Hess of Pool Design Concepts. "And fire urns, too; sometimes one on each side of the spa as a focal point." There's a new emphasis on lighting design, he reports. "We're using IntelliBrite lights that you can program to change colors and create light shows, like an all-American Fourth of July, a Caribbean light show." And pool lighting has gone LED; those old, 12-inch, incandescent underwater pool lights are now just two inches in diameter with a pure white light. "They're brighter, but you hardly notice them anymore," says Hess.
ALL NATURAL Lucas Congdon of Lucas Lagoons, whose extravagant pools have earned him his own reality show on Animal Planet—Insane Pools is airing Friday nights through April 3—says he's still using natural rock waterfalls, but they're more minimalistic, straight-edged rectangular pools with perhaps one monolithic boulder as a "singular piece of art." "I call them my modern Zen pools," he says.