Article
Inside Circus Collector Howard Tibbals' Colorful Home
The home of the greatest circus fan on Earth is as exuberant and dazzling as you'd expect.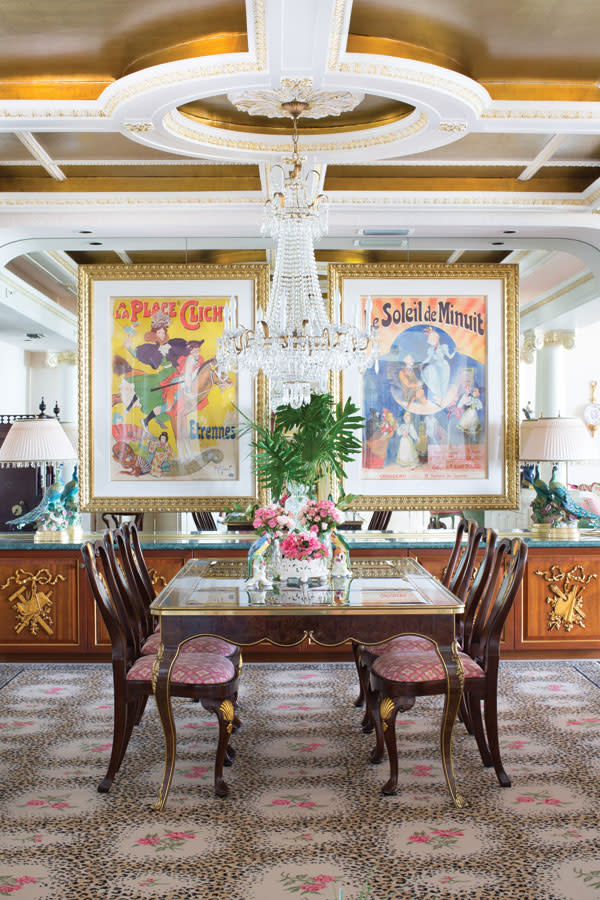 The home of the greatest circus fan on earth is as exuberant and dazzling as you'd expect.
Howard and Janice Tibbals' recently redone Gulf-front home is every bit as colorful, playful, art-filled and full of surprises as you'd expect from the man who built the 44,000-piece Howard Bros. model circus and funded the Circus Museum Tibbals Learning Center where it resides at the John and Mable Ringling Museum of Art.
Howard Tibbals has spent much of his lifetime, since the age of 19, building the remarkably detailed 1/16th-scale Howard Bros. Circus, and he and Janice initially donated $6.5 million to The Ringling—matched by the state—to ensure that it will be properly cared for in perpetuity in the Tibbals Learning Center. (They've also made subsequent significant gifts to The Ringling.)
He is the retired president of a flooring company based in Oneida, Tenn., and the couple divides their time between Knoxville and Longboat Key. "We have a large family, and they come when we're there, and they come when we aren't there, and lots of friends come, too," says Janice. "We feel like it's a blessing that we can share it."
The couple had combined two apartments more than 15 years ago to create the 6,000-square-foot Longboat Key residence, with its own private staircase to the beach. But they never were completely satisfied with the place. "It was a bit too sterile for us; I wanted it more homey," says Janice, herself a former designer. They asked Todd Richesin of Todd Richesin Interiors in Knoxville, Tenn., to give it a fresh look.
Richesin had redone their Knoxville home a few years before, and they were delighted with the results. "They saw how pretty it was and wanted the Florida condo to be that pretty again," he says. "Over the years certain things get replaced and certain things get moved and certain things fade. It was not unattractive; it just didn't have the punch any more that they wanted."
After a year-long renovation, they've got punch aplenty now, from the leopard-patterned rug strewn with roses in the family room to the hand-painted gold-leaf ceilings by artist Martha Tippin, who paints special set pieces for the Sarasota Opera. Tippin also painted the doors leading into the five bedrooms, each of which is named for a different rose. "The idea for all the gold leafing and the beautiful living room ceiling [delicate gold-leaf filigree set against two shades of sky blue] came from Howard, who'd brought me a book about Irish country houses, to tie the entrance hall and living room together," says Richesin.
"This is what I would describe as 'no fear' interior design. No fear about color, no fear about pattern, and no fear about cost," he says.  "It was all about doing what was right for the space."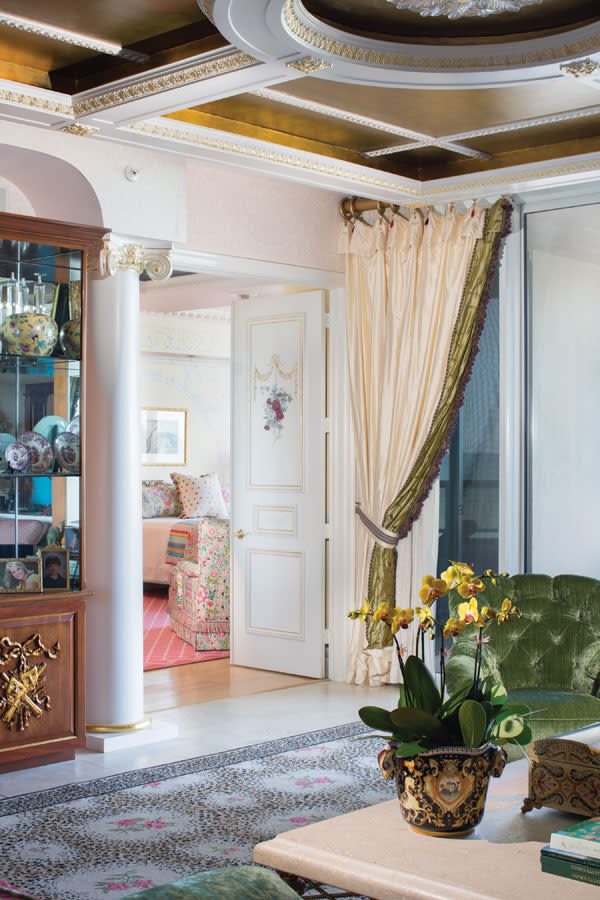 The inviting, pink, green, yellow and blue decorating scheme—set against the richness and warmth of hand-printed, soft pink damask English wallpaper in almost every public room—was inspired by posters in the Tibbals' vast European circus poster collection, much of which they have donated for display at The Ringling. Two of those large-scale posters, framed in gold leaf, occupy center ring in the home's fabulously ornate dining room. (Shades of John and Mable's elegant, Italianate Ca d'Zan mansion, perhaps?)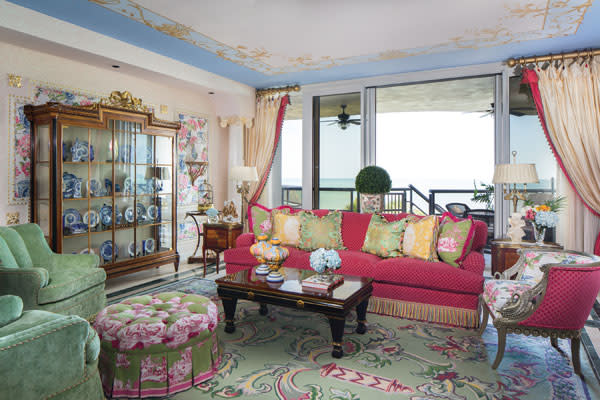 Everywhere the eye alights, a detail pleases. In the living room, a paisley-patterned custom rug in shades of green and pink sets the tone for a vivid Baker sofa in a deep rose Pierre Frey fabric with hand-embroidered Scalamandre pillows. The glass-fronted bookcase is filled with antique blue and white English transferware, cobalt glassware, and a few antique Chinese blue and white pieces.
Sharp eyes will spy two wooden plaques that read "Private" and "Wisconsin": they're test samples of signs that were placed on John Ringling's original railroad car, the Wisconsin Pullman, which has been fully restored and is on display in the circus museum.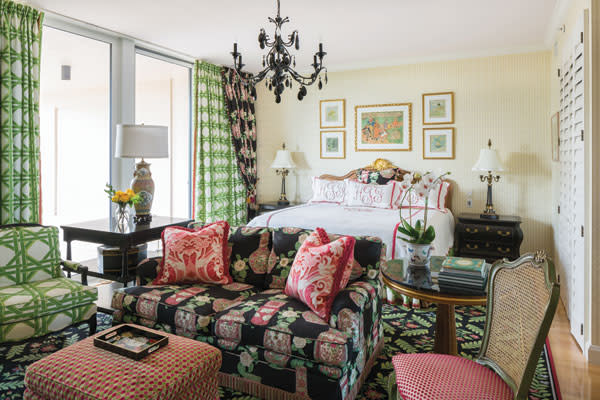 In the master bath, behind the cast-iron claw-foot tub, Richesin added fabric panels upholstered in the same fabric as the bedding in the adjoining master bedroom, "a pretty linen print in bright, happy colors that started the whole color scheme for the house," he says.
"One of Janice's favorite things is the Murano glass chandelier in the kitchen," says Richesin. The yellow and blue cabinets, which were "lacquered to look like the finish on a Rolls-Royce," were inspired by the cornflower-blue La Cornue range.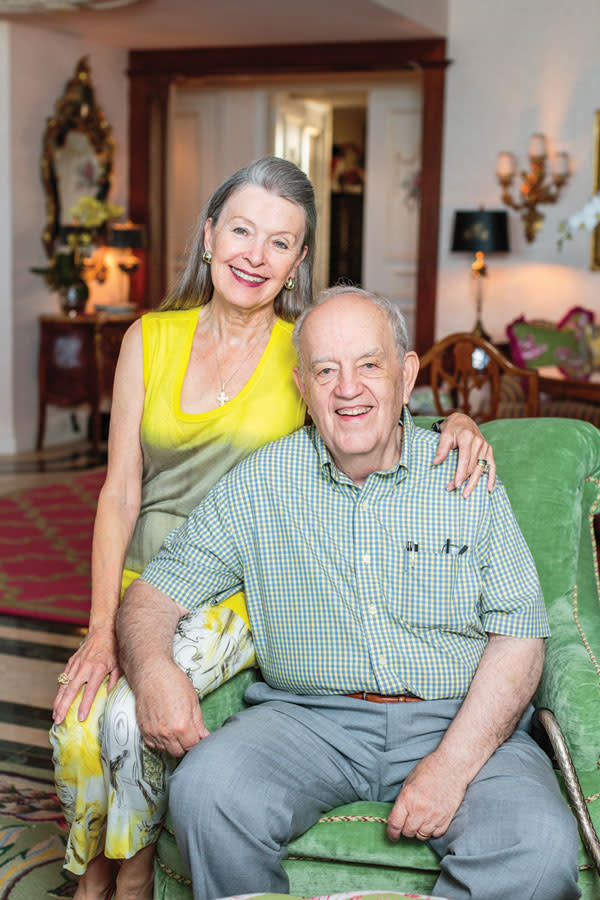 Given that his design philosophy is, "You start with what you love and build from there," this was a dream assignment, Richesin says. "Anytime you have a point of view that is firmly formed, it gives you a great jumping-off point," he says. "I was fortunate to work with a couple who have not only a collection, but an interesting, beautiful and good collection."
For more Sarasota real estate and design news, click here. >>