Article
Home of the Month: Tower Residences at The Ritz-Carlton, Sarasota
This month: Quiet elegance at the Ritz's Tower Residences.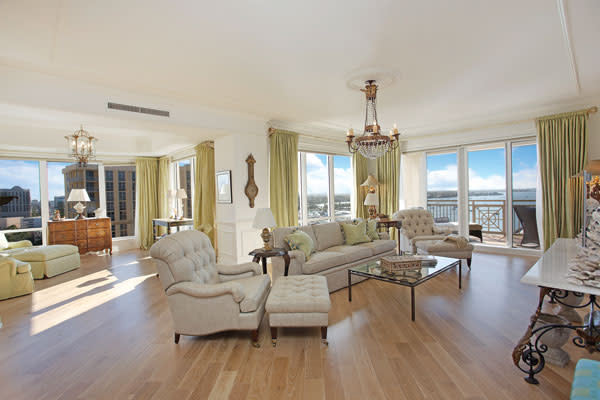 Downtown Sarasota is full of luxury apartment buildings—with even more on the way—but the two managed by The Ritz-Carlton, Sarasota continue to set the standard. The world-famous Ritz service is one reason; access to an unprecedented list of amenities is the other.
This three-bedroom, 3,751-square-foot home is located in the Tower Residences, the 17-story building adjacent to the hotel itself. Over here, things are a bit quieter. The bustle of out-of-town vacationers and locals arriving for social events and dining is largely absent, replaced by an elegant peacefulness that recalls a top-flight luxury building in New York or Los Angeles.
The apartment, currently owned by a retired tennis professional, matches the elegance of the building. With its ceilings almost 10 feet high—and wood floors and custom molding and detailing—it's traditional in feeling. Located at  the southeast corner of the building, it has spectacular views out to Golden Gate Point and the boats at the marina, with the broad expanse of the bay beyond.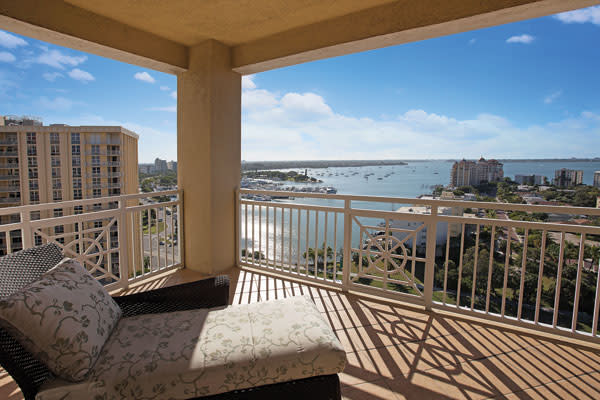 A split plan separates the master suite (complete with an office and an extra-large master bath) from the other bedrooms. Flexibility in the plan allows for the family room to become another bedroom—or office. There are two terraces.
In addition to a third floor entirely devoted to amenities (social rooms, a theater, a gym, pool) and the option of using similar facilities next door at the hotel, Ritz-Carlton offers owners the option of using its other facilities. Besides the spa (shared with the hotel), there's an elaborate beach club out at Lido, complete with dining, plus an 18-hole, 315-acre Tom Fazio-designed golf club. Owners can choose various plans based on their interests.
And although the apartment's kitchen is elaborate and state-of-the-art, it's also unnecessary—there's 24-hour room service available from the hotel. It's a great option for those seeking an elegant getaway in the heart of Sarasota.
Interested? 35 Watergate Drive, #1402 | $3.25 million. Contact Beth Afflebach or Joan Dickinson, (941) 364-8884, Michael Saunders & Company
Click here to read Bob Plunket's Real Estate Junkie blog. >>