Article
Sarasota Real Estate Takes Off Again
In most Sarasota neighborhoods, real estate is booming.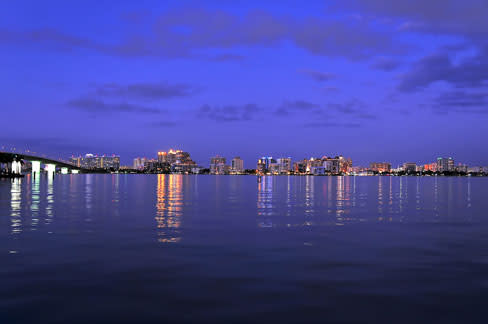 Recent real estate headlines read like they were ripped from the glossy Bravo TV series Million Dollar Listing.
Two Casey Key waterfront mansions were snapped up this summer for $8 million and $6.5 million, both cash deals. A six-bedroom Gulf-front home on Longboat Key sold for $5.75 million, also cash, making it the highest-priced single-family residence on that tony island in 2014. An ultra-contemporary new bayfront home on the tip of Siesta Key's Point Crisp Road sold for $5,675,000 just 18 days after going on the market, only to be topped by another Siesta Key manse at $10.25 million. The $11.45 million sale of a residential compound with 538 feet of Gulf of Mexico frontage in Siesta Key's exclusive Sanderling Club, albeit discounted considerably from its original $22 million price, was the fifth-highest ever residential sale in the history of Sarasota County. And just as on Million Dollar Listing, a celebrity buyer spiced up the region's real estate story—in this case, it was designer-to-the-stars Michael Kors, who paid $6 million for two adjacent vacant Gulf-front lots on Longboat Key. Rumor has it he's bringing in a New York architect to design his getaway digs.
Our luxury market is soaring, fueled by local move-up buyers, Northeasterners looking for second (or third, or fourth) homes, and some international buyers, primarily from England and France, says Sue Wolverton, regional senior vice president at Coldwell Banker. (Canadians are buying, too, but at more varied price points, she says.) In fact, Coldwell Banker Previews this fall released a report ranking Sarasota No. 15 on the list of U.S. cities with the highest number—ours was 365—of active $1-million-and-up luxury home listings.
But what about the rest of the market? It's still going strong, says Peter Crowley, broker and co-owner at Re/Max Alliance Group and immediate past president of the Sarasota Association of Realtors, although he and other real estate pros predict prices will go up more slowly than during  the past couple of years. "It was a very healthy first three quarters of 2014," he said in November. "Last year [2013] was the second-busiest year on record from a transaction standpoint, and we're right on pace with that."
The big stumbling block is a dearth of for-sale signs, with only about four months of inventory on the MLS. (Six months typically represents a balanced market.) Coldwell Banker's Wolverton says that lack of inventory has created "a bit of a roller coaster, up and down and up and down. A lot of pent-up demand has been lost because [potential] buyers can't find what they want." And too many sellers are overly starry-eyed, she says. "They're reading about low inventory and think prices are escalating. We are seeing appreciation, but not so dramatic." Properties that are appropriately priced, both she and Crowley note, are attracting multiple offers nearly every time.
People aren't selling partly because so many who bought in the boom-boom-boom times are still underwater on their mortgages. "They're waiting for those values to come back," says Crowley. And some people aren't buying because of the restrictive lending environment. "Many people don't want to go through the hassle of qualifying for a mortgage," he says. But he sees hope there. "Those guidelines are still very strict," he says, "but we're starting to see signs of loosening."
That leads to what is perhaps the most interesting aspect of our current market. All-cash deals make up some 60 percent of all local real estate transactions right now, versus the national average of 25 to 35 percent. "It amazes me," says Crowley. "And it's not just investors or the lower end of the housing market. People migrate to our market and pour funds from the sales of their homes up North into their purchases here. That's pretty unique to our market."
Or, as Coldwell Banker's Roger Pettingell, listing agent for that $5.75 million Longboat Key home that sold in November—who that same week listed a condo in the Sanctuary for $2.2 million and sold it one day later—says, "You might sweat out a closing on a million-dollar house. But on these [mega] deals, the cash is wired a week in advance. You sell 50,000 of your Apple shares, and there you go."
The lean recession years, he adds, are becoming a distant memory. "The last seven years, we've trained ourselves to wake up every morning and make sure the world hasn't fallen apart," he says. "That's fading a bit. We're feeling a little bit wealthier again and not unhappy to say it."
We all know that real estate is all about location, location, location. So let's take a look at the top transactions and trends this year in each of our major geographic areas.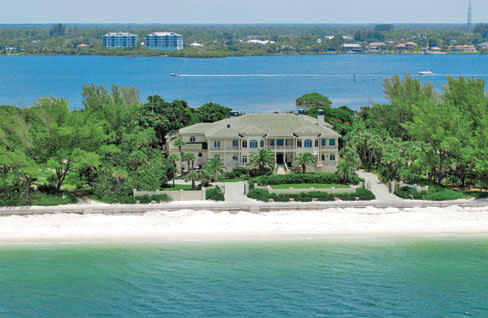 Longboat, Lido and Siesta Keys
Last year's eight-figure sales—almost all of them on the beach—grabbed the headlines, but on Longboat, Lido and Siesta keys, "You have to give it to multifamily bayfront [condos] all day because there are more of them," says Pettingell.
In 2014, he reports, Siesta Key won the volume war, outpacing Longboat and Lido because there were simply more condos for sale there. (Pettingell is referring to properties under $1 million.) Longboat Key, with a greater number of high-end condos (think large floor plans and high ceilings) built since the 1990s than Siesta or Lido, is suffering from the inventory drought. Pettingell cites Longboat's Seaplace, one of the first beachfront condominium communities, built in the 1970s. "Out of 450 units, I always can remember 30 or 40 for sale at any one time," he says. "This summer we had two. It's crazy." (The only people leaving Seaplace, he says delicately, are "moving on up"—as in to heaven.)
No matter which key they're located on, Pettingell says, renovated properties "are far outpacing the ones that [buyers] have to do work on."
What is noteworthy on Longboat—and something to watch for future resales—is the wave of single-family homes under construction. "People are willing to build again," Pettingell says. "They all want that same Gulf-front experience, just what was existing wasn't good enough." Who's building? "Almost always it's a second or a third or more home," he says. "That most recent sale [the $5.75 million one] was a fourth home, sold to a buyer from the Midwest.
"You have to consider how undervalued we are to other areas," he adds. "When these people are shopping in Naples, double our price; Palm Beach, double and triple; in the big cities—New York, Toronto—quadruple. We're so low down on the pricing food chain, the smart money sees the value that's here."
Regardless of the price point, buyers on all three keys tend to be in their late 40s to early 60s, Pettingell says. "They sold a company or inherited money, they are very successful in their careers, they like the tax opportunities that Florida offers them, they don't like to be cold in the winter—but that's a trend that never changes."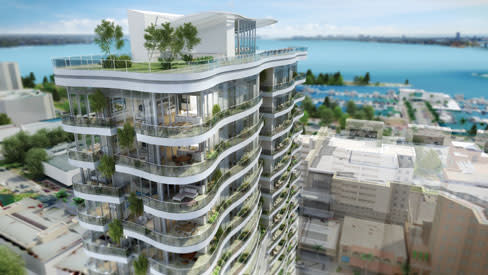 Downtown Sarasota
The energy in downtown Sarasota is palpable, with 13 residential projects either under way or on the drawing boards and four construction cranes dotting the skyline. That's a good thing, says Perry Corneau of Premier Sotheby's International Realty, because demand among boomers for downtown condos is sizzling and supply is sparse.
One hundred thirty-two units were listed in MLS in mid-November; that's 6.6 months of inventory. But only about 20 of those were unsold condos under construction, Corneau explains, "and for those 20 you have to wait two years" until they're completed. "That doesn't leave a whole lot," he says.
Importantly, Corneau notes, of the 247 closed condo sales by Nov. 1, 72 percent were cash sales.
"That's the real story," he says. "That's not speculation; this is the end user, whether it is a full-time or secondary home. You won't see a drop in value at the end of the cycle because they won't be dumping them."
Most in demand: larger units. "If it's a 2,000-square-foot unit it's going in days, and it's going for millions, and you might have just eight of them to look at," he says. "Customers get frustrated because there's nothing to show them."
In September, Corneau sold a 2,200-plus-square-foot unit at 1350 Main, a foreclosure that came on the market for $920,000, for $1,035,000. "It had nine bidders," he says. He sold an identical unit on a lower floor in the same building a month later for $1.2 million. "It was just nine or 10 days to contract," he says.
Corneau, who in late 2014 launched the marketing for the ultra-luxury 33 South Palm (each unit there will have its own car elevator), says, "The existing supply is just not ready to meet the demographics yet. [In the booming mid-2000s] all of the product was being sold to speculators. Today people are coming on down, they want the larger units and nothing's been built for them. I don't see any chance of overdevelopment; we're just talking about a couple hundred new units."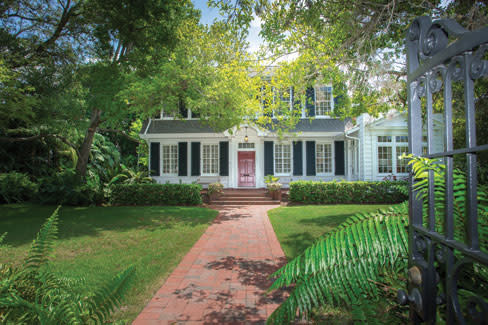 West of Trail
Perennially popular West of Trail—we're defining it here as Mound Street south to Siesta Drive—is seeing a flurry of tear-downs and new construction, especially in the "flower" streets surrounding Southside Village (see "A Village Grows Up," page 92). Susan McLeod of Michael Saunders & Company cites the recent $1,802,000 sale of a big, newish home set lot-line to lot-line at the corner of Osprey and Datura. "It blows my mind that somebody will spend almost $2 million off the water on South Osprey Avenue," she says. "There's a bit of a change in the demand going on."
But luckily for those who treasure them, there is still a market for the eclectic mix of older homes that has long categorized West of Trail neighborhoods like Bungalow Hill and McClellan Park, she says. McLeod cites her listing of a 1916 Dutch Colonial at the corner of South Orange Avenue and Alta Vista that went under contract in mid-November. The buyer was a single woman who doesn't plan to tear it down. "She loves it," McLeod says. An important part of its draw was its detached guesthouse. "There was a real flurry of demand for this property," she says. "That's a testament to its uniqueness and the detached guesthouse; there just aren't many of those on the market."
And the neighborhood's walkability to downtown and the bayfront and its proximity to popular Southside School will never change. "I've lived west of the trail for 16 years, and I don't even think about leaving, because where would you go?" says McLeod. "The essence of real estate is location, location, location, and we've got it. We're right in the middle of it all."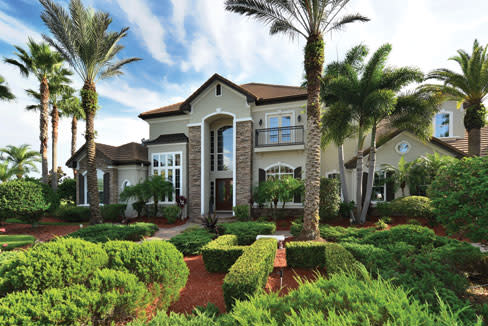 Lakewood Ranch
The 9,000-home-and-growing juggernaut that is Lakewood Ranch slowed in 2014 for one reason, says vice president of sales Jimmy Stewart: a lack of moderately priced product. Through Oct. 31, 392 new homes sold, down 126 from the same time last year. (Stewart defines moderate as $200,000 to $400,000; the average sale price through Oct. 31, 2014, was $505,000.)
"Last year I had Central Park, with 826 units, but that development is winding down, and Belle Isle in Country Club East, with 177 units, was actively selling last year but now it's done," Stewart says.
In the moderately priced pipeline is Mattamy Homes' new Harmony development, with townhomes and villas starting in the $180,000s and single-family homes from the low $200,000s. Models are expected to open sometime in early 2015. And Neal Communities is working on a Central Park replacement called Indigo. Three models starting in the $200,000s should open in March, says Stewart. "It's great to get into that more attainable pricing, for students, for teachers, etc.," he says. And moderately priced properties also appeal to "people who want to try out Florida before they make it permanent," he says; 69 percent of visitors to the Lakewood Ranch info center and builder models in 2014 came from outside of Florida.
At the higher end, Taylor Morrison's new Esplanade Golf & Country Club sold 134 units by Oct. 31, three more than the same time in 2013, Stewart says. And at the top of the market, The Lake Club's year-to-date average sales price grazed $2 million, he says. "They had a couple of really big sales, one for $6 million-plus and a couple for $3 million-plus."
Stewart says it's too early to tell how the new Mall at University Town Center is affecting real estate sales at Lakewood Ranch; but, he adds, "We only view it as a positive, drawing traffic—I have to be careful how I say it—not traffic traffic, traffic to our models."
Palmer Ranch
The other mega master-planned community of Palmer Ranch in central Sarasota County is facing its own issue, says Joel Schemmel of Premier Sotheby's International Realty: It's nearly built out.
With 23 developments ranging from executive single-family homes on the golf course to apartment conversions and everything in between, there were only 175 active listings as of mid-November, says Schemmel. "Lakewood Ranch draws its own orb around it; they're the one place where there's new product left and right," he says. "In Palmer Ranch, our inventory is at an absolute minimum. We don't have as many sales because we don't have as much to sell."
Despite the lack of inventory, there were almost 600 closed sales in 2014, Schemmel says, to a diverse group of buyers, from families attracted to the A-rated schools and nearby Pine View School for the Gifted to retirees new to the region. Several Palmer Ranch developments date from the late 1980s and early 1990s, and interior updates are in order, but that is not deterring buyers, he says, "Families are coming in, investing in the older homes in Deer Creek and Prestancia and renovating them," he says. "All the property values support it."
A couple of new communities are coming to the Ranch. Taylor Morrison is building single-family homes in Arbor Lakes on Palmer Ranch off Honore Avenue, and will soon launch Cobblestone on McIntosh and Sawyer Loop roads. And DiVosta is building the single-family Sandhill Preserve off Central Sarasota Parkway.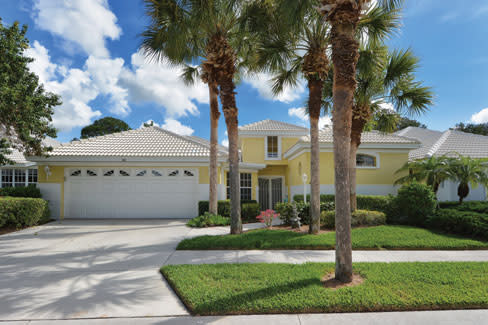 Venice
With its myriad small-town charms, the Venice market "is stronger than it's ever been," says Cindy Esselburn, the newly installed president of the Venice Area Board of Realtors and a sales associate with Medway Realty. "We've been on an upswing the entire year of 2014, and we see no signs of slowing down. Depending on the neighborhood, we've seen values increase 15 to 20 percent."
Most in demand? Amenity-rich gated communities, she says. "Let's face it, Venice is a senior community, and a lot of these neighborhoods cater to them. They don't have to mow their grass or maintain landscaping, and they have wonderful activities with a ready-made group of friends."
Esselburn cites Del Webb's newish 55-and-older "active adult" community Venetian Falls, about 15 minutes east of U.S. 41 off Center Road, as particularly strong. "Talk about values increasing," she says. "Single-family homes there are reaching the high $300,000s, up a hundred thousand in one year. I have buyers dying to get in, but there just aren't many listings."
Off South Tamiami Trail, three new mega-communities that went dormant in the Great Recession—WCI Communities' Sarasota National, Lennar's Gran Paradiso and DiVosta's Island Walk (the latter two have Venice addresses but are actually are in the city of North Port)—are "flourishing again," she says. "New construction is alive and well in Venice."
And the Island of Venice, a quick stroll from both beaches and the lively downtown Venice restaurant, boutique and arts scene? "It is and always will be the most desirable location when our snowbirds come to town," she says, "but there's not a lot to sell there. The first thing they do is look at properties on or near the beach. Then they find out they can't afford them, and look elsewhere."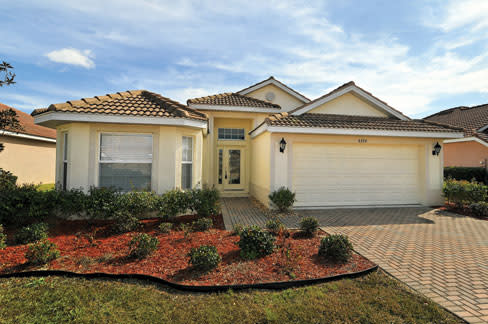 North Port
"North Port is coming to life," says Bruce Henry of Keller Williams Realty, a longtime North Port resident and board member of the Punta Gorda/Port Charlotte/North Port Board of Realtors. In 2014, year-over-year closed sales were up 13.5 percent, he says, and prices have gone up, too—as of Sept. 30, the average sale price was $135,901, and properties were selling at an average 97 percent of asking price.
Demand is strongest, he says, in Island Walk and Gran Paradiso, located in the city limits even though they have Venice addresses. New construction like that is good, he says, because the city desperately needs inventory. "Four or five years ago, we carried about 1,600 listings," he says. "Right now we're a little over 400 single-family homes for sale."
Don't forget, he says: "North Port is 104 square miles and it's only 25 percent built out. With the widening of Sumter Boulevard about to be finished, we're going to see huge growth."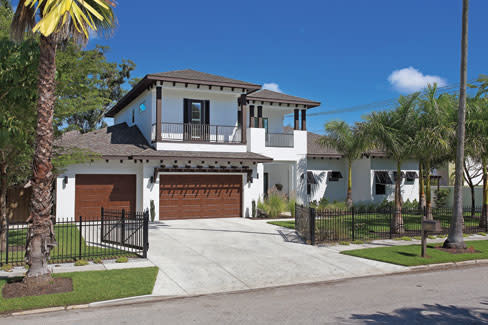 A Village Grows Up
A new breed of homes is transforming low-key Southside Village. By Robert Plunket
This big, brand-new home at 1971 Datura, priced at $1.695 million, is typical of the new residences that are quickly replacing older, smaller homes in Southside Village.
Thirty years ago, Southside Village was looking a little shabby. For generations, it had housed the backbone of Sarasota's middle class—teachers at the high school, nurses at the hospital, some of the more prosperous circus families. But as the town spread eastward, its modest bungalows and 1950s ranches fell out of favor.
The real estate boom in the mid-2000s changed all that. Southside Village's homes became highly desirable once again. Property values soared, the old homes were remodeled, and the village was suddenly the hippest place in town. Now Southside Village is undergoing another transformation, its most dramatic yet. The old houses—even the remodeled ones—that gave the neighborhood its character are disappearing fast, being torn down and replaced with much larger, more expensive brand-new homes that are virtually indistinguishable from builders' models in gated communities out east. In fact, most of them are builders' models.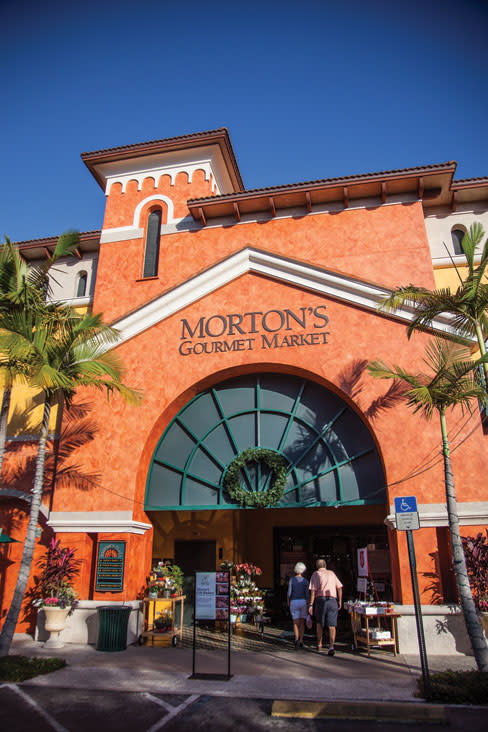 Southside Village has become a victim of its success. The location, just five minutes from downtown, is just too good, with great shopping and restaurants, and the tree-lined streets are just too charming. And while many of the old houses were viable renovation projects, many were not. Too small, too ordinary, too dilapidated. Their replacements are being snapped up by buyers who value the space and comfort of a big, brand-new home more than the quaint authenticity of the past.
What are these new homes like? They are, for the most part, large, well-designed family homes that range from 2,500 up to 4,000 square feet. The smaller ones are priced starting around $800,000; the larger ones can top out at around $2 million. Style-wise they run a narrow gamut, from the Mediterranean Revival look of the millennium to the newer "coastal" look currently popular, with a few modernist examples that take their design cues from the Sarasota School of Architecture of the 1950s.
It's easy to see why these new homes are so popular. The key word here is "livability."
They have everything on a typical buyer's wish list. Let's take a closer look at one of them, at 1971 Datura St., built by Darla and Pat Cook of Green Life Luxury Homes.
With a price tag of $1,695,000 and an extra-large 150-foot-wide lot, it's toward the higher end of the spectrum. The exterior might best be described as West Indian Coastal, with plain white walls and trim in dark wood. The home has two stories and a three-car garage.
The interior represents the triumph of the open plan. Gone are the old-fashioned separate living room, dining room and kitchen. Now they are all blended into one enormous space, made even larger by 12-foot ceilings. The ground floor also contains the obligatory luxury of an elaborate master suite, with extra-large his and her closets, an office with room for two desks, and a dramatic bathroom with stand-alone tub, separate shower, and spa-like atmosphere. Check out the vanity counter top—rounded river stones covered by plate glass. You'll also find a separate game room and a guest bedroom with bath. Upstairs are two more bedrooms, each with a bath, and a loft area/playroom.
The livability factor is increased by all sorts of extra touches—unexpected storage areas tucked away here and there, a state-of-the-art laundry room, and an outdoor living area with a summer kitchen and a "spool"—a combination pool and spa that's a little too small for swimming laps but perfect for cooling off and splashing around. A pergola situated over the spool offers a waterfall effect that adds to the fun and helps mask traffic noise from the nearby Trail.
It's no secret that local builders are tracking each home in Southside Village that comes on the market and jumping on the ones they can tear down, replace, and make a profit on. Reaction from longtime residents is mixed.
Many abhor the practice and lament the loss of the charming, quirky old homes that gave the neighborhood its character. Others welcome the newcomers, saying it adds new blood and vitality. "At least the new homes aren't ostentatious," one old-timer says; and indeed, they are not the McMansions of the past decade, but nice upper-middle-class suburban homes that radiate family values and good neighborliness.
But everyone admits that something irreplaceable is being lost. Even the dappled light and shade are disappearing, as the developers level the lots and replace the old oaks with skinny palms. One small consolation is the sudden interest in house-moving. An old cottage at the corner of Citrus and Alta Vista was moved to a new location in Gillespie Park, and another 1926 home on Pomelo is being offered for $1 to anyone who will move it.
It's a great house, too—2,300 square feet, nicely renovated, with the historical cachet of being built by Sarasota's first postmaster. Estimates for moving it (it would have to be cut in half) come in at around $130,000.
If you're interested, call Barbara May of Michael Saunders at (941) 312-1302. But please—hurry.
Continued Growth, Less Drama?
By Jack McCabe
The last three years have been dramatic for Sarasota real estate, with big increases in sales and prices, the invasion of hedge-fund buyers, a huge percentage of all-cash sales and, in 2014, the return of construction cranes downtown. We'll see a different, quieter story in 2015, with slower growth, easier financing and fewer corporate buyers. But a new wave of hucksters could provide some drama, and by year-end, a crisis in flood insurance could threaten the recovery. Let's take a look.
Prices will continue to rise, but at a slower pace, as hedge-fund buyers exit the market.
In 2013, single-family home median price rose by 21 percent and median condominium prices increased 17 percent in Sarasota. (Residential prices appreciate by 3 to 3 ½ percent in a typical year.) That's a dramatic increase, similar to the boom years of 2004-2005. But it wasn't driven by buyers purchasing homes to live in. Instead, starting in 2011, hedge funds, private equity firms and institutional investors snapped up single-family homes in a feeding frenzy. In Sarasota and other Florida population centers, Blackstone and Colony Capital—and hundreds of other private equity funds large and small—bought 30 to 40 percent of all properties that changed hands during the last three years. Blackstone has bought more than 40,000 single-family homes for more than $8.2 billion in key markets around the country and spent a bundle on Sarasota/Manatee homes.
For most of that time, the funds bought foreclosed homes at bargain-basement prices—discounted 50 to 75 percent from the 2006 highs. But in 2013, they acquired homes through Multiple Listing Services, frequently paying 25 percent above comparable values. In my opinion, such corporate buyers have significantly and artificially inflated sales prices, which have risen by over 50 percent since 2011. They outbid many buyers, and, coupled with limited mortgage availability, effectively shut out many first-time and move-up buyers from purchasing homes.
But in 2014, distressed property sales declined 11 percent, and the funds slowed their buying. As a result, the median home price for single-family homes increased only 4 percent, and condominium prices were flat. Now the funds are moving on to secondary markets in Florida and elsewhere where residential prices have stayed relatively low. Look for hedge-fund activity to dissipate in Sarasota but continue in North Port and Port Charlotte.
It's my forecast that in 2015, single-family homes in Sarasota and Manatee counties will continue the four-year trend of increasing in value, but by only 3-4 percent.
Open foreclosure cases will continue to decrease.
Since the real estate crash began in Florida in 2006 and spread across the country, the Sunshine State has consistently been in the top three states for foreclosures. The high number of toxic adjustable-rate mortgages and home-equity lines of credit, coupled with massive speculation and over-construction—the causes of the Great Recession and high unemployment—have fueled a steady stream of foreclosures. Over the last three years, Florida has had 25 percent of all foreclosures in the United States.
With logjams in the civil courts making it take an average of 842 days to adjudicate a foreclosure case, the Florida Legislature in 2013 passed HB 87 to expedite the process. It also set aside $6.2 million to re-hire retired judges to hold "rocket dockets" to further speed up the foreclosure process. Result: Florida's open foreclosure cases dropped from 377,000 at the end of 2012 to 177,000 at the end of October 2014. Although Florida still leads the nation in open foreclosure cases, we can expect continued progress in reducing the backlog in the year ahead.
Mortgages will become more available.
Until recently, construction financing for condominium projects and speculatively built single-family homes was unavailable. As a result, builders have funded the projects by requiring buyers to pay 40 to 100 percent of the purchase price at different intervals during construction.
For buyers, conventional financing for single-family homes has been limited by highly restrictive qualifying criteria, and mortgages for new condominiums have been nonexistent. Until recently, only the most affluent home buyers or top wage earners could qualify for mortgage financing. Only people who didn't need money could borrow to buy a home.
In 2014, more than 58 percent of residential sales in Sarasota were all cash without a mortgage loan.
Since mid-2013, a few hedge funds, pension funds and major insurance companies have announced that they are raising capital for mortgage financing. The FHA and private lenders also recently announced they will ease credit requirements and shorten the time to qualify for a mortgage for borrowers who lost homes to foreclosure since 2009. In December, the FHA announced it would require only a 3 percent down payment on mortgages.
I expect criteria for mortgage qualification to continue to ease in 2015. I also expect that larger pools of mortgage money will become available as investment banks, institutional investors and global private-equity firms provide mortgages to fill the void.
That's the good news. The bad news: Interest rates and fees associated with acquiring a mortgage will likely increase. We could see several changes to increase interest rates by the Federal Reserve as our economy continues to recover.
Flood insurance could sink the local real estate market.
The Biggert Waters Act was one of the few bills our Congress could agree to pass in 2013. The bill requires property owners to pay their fair share of insurance determined by the age and type of construction, proximity to flood plains, foundation height above sea or flood level, and other factors.
The bill's consequences could be severe and maybe even catastrophic to Sarasota and Manatee residents, especially those in older homes in flood-plain-designated areas. Second-home owners and commercial property owners' rates are increasing now, with primary owner-occupiers to get hit with the new rates in October.
Some property owners are getting flood insurance increases of 400 to 700 percent. Imagine seeing your bill go from $3,000 to $21,000 overnight. It's happening. Banks require people with mortgages to purchase flood insurance, and people who can't afford the new rates could be forced to sell their homes—probably at discounted prices, because buyers will also have to pay the new rates. And even people without mortgages may struggle to afford the new rates; some will "go naked," leaving them vulnerable to massive losses in a flood event.
Millions of Americans and our elected representatives thought this was a good idea and a fairer sharing of risk. The common assumption was that only coastal residents would get hit with increases and those who live inland would see their bills decrease. But guess what? Flooding doesn't happen only next to the ocean. People who live along rivers and other inland waterways or in flood-prone areas will also be seeing big increases and may be faced with paying off mortgages immediately or losing their homes.
I believe that this ridiculous piece of legislation should be terminated immediately, and a National Disaster Insurance covering all types of natural disasters for everyone, paid and shared by everyone, should be enacted.
Population growth will keep sales strong.
According to the Sarasota and Manatee Realtors Association (which merged in 2014) total residential sales in Sarasota County (through the end of October) reached 9,775, a torrid pace that was expected to set a new record by the year's end. Total sales in 2014 year were expected to be up 13 percent over 2013.
While corporate buying of residential units has slowed, affluent baby boomers from the eastern United States and Canada have more than made up the difference. Sarasota is now attracting buyers from Europe, and Asian buyers have begun making residential purchases in the Sunshine State.
In Florida, the unsustainable price increases have reduced the number of underwater homeowners (those owing more than the current market value of their homes) from 48 percent to 22 percent, enabling more of those homeowners to become sellers—and subsequently, buyers.
According to Census Bureau and American Home Survey data, Florida's population was set to increase by 225,000 last year, following a near 200,000 gain in 2013. I predicted the number would be closer to 250,000. Some more optimistic analysts were predicting 360,000 new residents in 2014 and a similar number each year for the rest of the decade.
Without a doubt, the massive baby boomer generation has begun a long-predicted trend of retiring and choosing Florida for full- and part-time residency. The baby boomers are the most affluent generation ever, in the United States and abroad.
Along with population growth, job growth can also increase real estate values, but that won't be so true in Florida. Although Florida unemployment has plummeted from a high of 13.6 in 2011 to 5.8 at the end of 2014, most jobs in the state are low-paying. The wages of most Floridians do not support the cost of housing (and non-housing) expenses.
I predict sales will continue to be strong in 2015, primarily fueled by population growth.
Hucksters, self-promoters and cattle call bus tours are back
Déjà vu 2005 all over again may best describe at least some of Florida's real estate markets in 2015. The unreal real estate reality show stars are back, giving lessons on how to become rich using other people's money. Realtors and cocktail party experts are again hyping the market (although many hyped the market all through the bust). In some areas of the state, bus tours of foreclosed properties have given way to bus tours of new condominium projects, single-family-home neighborhoods and retail centers.
The grandiose sales parties, celebrities and real estate magnate wannabes are back, too. So are the developers that cut the financial legs out from under buyers in the last boom by slashing prices on their unsold units. More than ever, buyer beware!
Jack McCabe of Deerfield Beach's McCabe Research and Consulting is an independent analyst whose views have been featured in the Wall Street Journal, New York Times and many other print media; he's also been a commentator for NBC, CNN, CNBC and other national broadcast networks.
Click here to read our Real Estate Junkie blog. >>
This article appears in the January 2015 issue of Sarasota Magazine. Click here to subscribe. >>