Article
Sarasota Real Estate News, November 2014
Notes from the top of the market and other Sarasota real estate news.

Condomania
The construction crane is back, and with it comes a flurry of new projects.
If you're just getting back to town for the season, you'll quickly spy another species of snowbird that also has returned after a several-year absence. It's the construction crane, of course, and its presence portends a mini residential building boom in and around downtown Sarasota. Here's what's under construction at press time.
Ground was cleared this summer for The Vue Sarasota Bay at the prime northwest corner of Gulfstream Avenue and Tamiami Trail near The Ritz-Carlton complex. Its twin 18-story towers will house 141 condos priced from $800,000 to $3.4 million. A 255-room Westin Hotel on the property broke ground in September. Winter 2016 is the target date for completion. The developer is West Palm Beach-based The Kolter Group.
A 139-room Aloft Hotel, cool younger cousin of the Westin and other Starwood hotels, is rising at the corner of Ringling Boulevard and South Palm Avenue as part of the One Palm complex. A 10-story, 141-apartment building is also under way, although a spokesman for developer JWM Management has said they may convert to condos if market conditions warrant it. Completion is expected next fall.
The Jewel, a luxury high-rise at Main Street and Gulfstream Avenue, broke ground at the end of April. All 19 residential condos have been purchased at prices that ranged up to $3 million-plus, says developer Tom Mannausa of Main Street J Development Co. A majority of the six commercial condos are also taken, most notably by McCarver & Moser Jewelers and Café Epicure. Completion of The Jewel is expected by next fall.
Q Sarasota is not a high-rise, but rather a community of 40 two- and three-story townhomes on Ringling Boulevard
opposite the post office being developed by Jebco Ventures. Prices range from $470,000 to $696,000. It's the project nearest to completion; target date is March 2015.
On Golden Gate Point, One88 broke ground in July. Just eight 3,000-square-foot-plus condominiums, priced from $2.59 million, make up this luxury five-story building. All eight have westward-facing views of Sarasota Bay and the John Ringling Bridge. Vandyk Group, an Ontario, Canada company, is the developer. August 2015 is the target completion date.
Meanwhile, groundbreaking was expected to take place in mid-October at The Park Residences of Lido Key at 129 Taft Drive, the last developable empty lot on Lido Key, opposite The Ritz-Carlton Beach Club and Residences. Eighteen 2,458-square-foot condos, including six penthouses with spacious 2,250-square-foot rooftop terraces, encompass the project, which was designed in a contemporary style by architect Mark Sultana. Prices range from $1,099,000 to $1,475,000. Developer Patrick DiPinto of Seaward Development LLC says construction will take 13 months, and as of early September, eight reservations were already in hand.
Test of Time
Architect Carl Abbott has won yet another Test of Time Award from the American Institute of Architects Florida-Caribbean chapter, this time for Villa Cedro, a 9,000-square-foot residence he designed in east Sarasota County. Abbott last won a Test of Time Award in 2009 for his Casa del Cielo, a glass-walled Siesta Key beach house built in 1983. A home must be 25 years old or older to qualify for this award, and, according to the AIA, it recognizes works that, "by the timelessness of their design, have influenced that building or building type."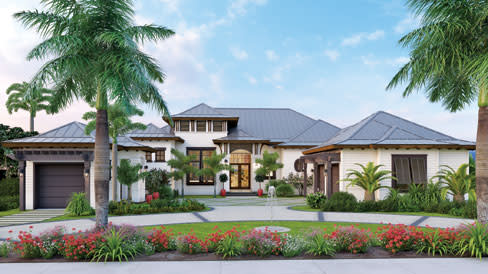 Super Models
With the high-end home building market heating up, some of the area's top luxury home builders are debuting eye-popping new super models.
Murray Homes is now the exclusive builder in Staysail Court, an enclave of nine residences planned for The Lake Club at Lakewood Ranch, and is building its first luxury model there. The three-bedroom, four-bath British West Indies-style home, above, named the Resolute in tribute to the 106-foot racing yacht that sailed to victory in the 1920 America's Cup, is expected to be open for viewing in February. It will have nearly 4,000 square feet under air, plus more than 1,000 square feet of outdoor living space.
Nelson Homes has opened two model homes, each valued at more than $2 million. The Ravenna has 6,500 square feet of living space, including four bedrooms, four-and-a-half baths, den and clubroom with wet bar. It's located on an estate-sized lot with panoramic lake views in The Lake Club. At the nearby Concession, it has unveiled the Modena model, a 4,228-square-foot home with an optional 1,261-square-foot casita, a home management center and a putting green.
"The unveiling of these models is a direct response to the uptick of the luxury custom home market," says builder Derek Nelson, who owns Nelson Homes, this area's independently owned Arthur Rutenberg Homes franchise.
And Neal Signature Homes, an affiliate of Neal Communities, has opened The Dominica II model (above) in The Concession. Priced from $1 million, the three-bedroom home has 3,873 square feet of living space with a den, mud room, club room, large outdoor entertaining area and spacious three-car garage.
Home Tours
Mark your calendars for these home and garden events.
Starting Nov. 21, 2014 Bayfront Gardens Tours at The Ringling. This fascinating 90-minute, docent-led walking tour delves into the "living collections" on the Ringling grounds: its key botanical specimens. Fridays and Saturdays at 10:30 a.m. ringling.org/events/bayfront-gardens-tour
Jan. 18-Feb. 15, 2015 Jewels on the Bay Designer Showhouse, to benefit the Boys & Girls Clubs of Sarasota County. Top designers transform a home at 8319 Midnight Pass Road on Siesta Key. designershowhousesarasota.com
Feb. 21-March 8, 2015 Parade of Homes, sponsored by the Manatee Sarasota Building Industry Association. See the newest trends and decorator finishes when the region's leading builders pull out all the stops for this model home tour throughout Sarasota and Manatee counties. paradeofhomesinfo.com
March 13-14, 2015 Creators & Collectors Tour, presented by the Fine Arts Society of Sarasota. A chance for you to take a peek inside the studios of some of Sarasota's most notable working artists. fineartssarasota.com/creators-collectors-tour
March 13-14, 2015 Venice Area Garden Club 26th Annual Home Tour takes you inside some of Venice's prettiest residences. vagc-florida.org/home_tour.html
March 21, 2015 Gardens in Paradise, sponsored by the Sarasota Garden Club. Tour 14 of the area's loveliest private residential gardens to gather inspiration for your own. gardensinparadise.com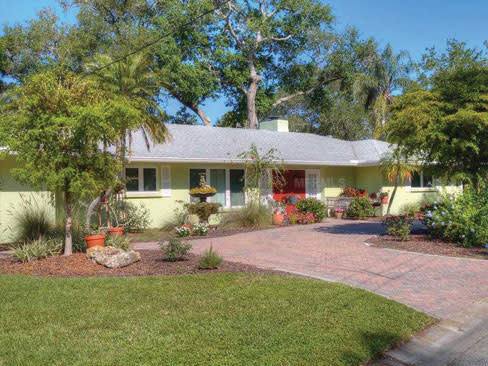 Neighborhood Watch: Paradise Shores
Stats
Number of Paradise Shores properties: 35
Number of sales from August 2013-August 2014:  2
Sale prices: $575,000 and $929,200. "Both sold for the land value," says real estate agent Mary Hale.
Square footage: 2,688 and 3,317 square feet
Never heard of Paradise Shores, the tiny West of Trail neighborhood along Sarasota Bay just south of Harbor Acres, west of McClellan Park and north of Bayview Heights? You're not alone. That's because homes on the scenic "bird" streets—Oriole Drive, Sandpiper Lane, Blue Heron Drive, Sparrow Court and Mallard Lane—just don't come on the market very often.
"It's a well-kept secret because people don't leave," says Mary Hale, a Coldwell Banker Real Estate agent who, at press time, had one of just two Paradise Shores listings, an 1,861-square-foot ranch at 2120 Oriole with a "knock-your-socks-off kitchen." Built in 1961, it was featured last summer in Romantic Country magazine. "My clients bought it from a doctor who stayed in the neighborhood; he bought a home on Sparrow right on the waterfront," Hale says to illustrate her point.
Developed in the 1950s and early '60s, Paradise Shores has 35 homes, 27 of them on canals or on the bay. "Even the few nonwaterfront homes in most cases have a water view, or when they get built up, will have a water view," Hale says. Some original homes remain, but many were torn down in the 1980s and '90s and replaced with larger residences. "Thirteen Paradise Shores homes are valued at over $1 million, some way more," says Hale. "And tax rolls indicate many of them were built in this time frame, so you know they were expanded since then to be so expensive today." One of this year's two sales, a 3,317-square-foot residence at 1545 Mallard Lane, has already been torn down, and a mega-mansion is rising in its place.
"There are lots of families, and a lot of walkers, joggers, bicyclists," says Hale. "It's very inviting to be outdoors here because of the canopy trees." And its adjacency to Southside Village and Sarasota Memorial Hospital is a plus. "An uncommon number of doctors live here," she says, "because of the convenience of getting to work."

Top Sale: 2016 Casey Key Road, Nokomis
A Gulf-to-bay Casey Key estate that sold for $6.2 million at the end of August was the highest residential sale on that swanky barrier island in three years. The nearly 8,000-square-foot home at 2016 Casey Key Road is a boater's dream, with 230 feet of Gulf frontage and 114 feet of bay frontage, a beach cabana with rooftop deck, boathouse and private dock for a large vessel. It's known as Casa Al Mare. Deborah Beacham was the listing agent; Mark McCann and Camille Schwabe were the selling agents; all three are with Michael Saunders & Company.
McCann says the buyers spent a year surveying waterfront properties on Florida's east and west coasts before settling on this one. "They ultimately chose Casey Key as it afforded them the privacy and natural beauty they wanted, plus close proximity to Sarasota's restaurants, cultural events, and easy fly-in, fly-out convenience," he says.
An all-cash sale, "It went from contract to closing in two weeks," says Beacham. The property last sold in 2001 for $2.7 million, before the new home was built.
For more Sarasota real estate news, click here to read our Real Estate Junkie blog. >>
This article appears in the November 2014 issue of Sarasota Magazine. Click here to subscribe. >>