Article
Home of the Month: 1930s Indian Beach Estate
History and opportunities in Old Oaks, an Indian Beach estate.
Another one of the great old homes of Sarasota has come on the market, and this one is a stunner. Known as Old Oaks, it was one of the grand local showplaces back in the 1930s through 1960s, when a couple named McLeod entertained the town's elite. Before that, the property was home to the famous Tarpon Club—later the Palm Hotel—one of Sarasota's earliest hotels, a rambling Victorian structure that burned to the ground in 1928. And before that it was prime hunting and fishing grounds for the Caloosa tribe, as evidenced by the heaped shell middens that give the property its high elevation.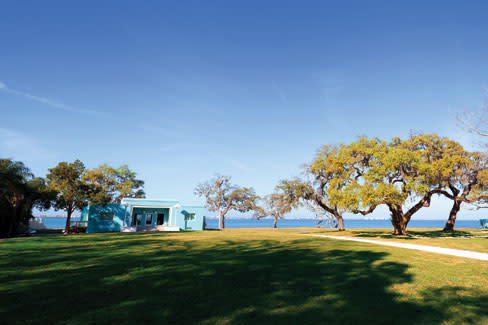 The house itself is unlike any other in town. Originally built in 1935 as a Tara-esque Southern Colonial with Art Moderne detailing, it has since been given a postmodern renovation, with an unusual color scheme and hardly a hint of its old-fashioned past. A few original details are still present, though—the gum wood paneling in the living room, now painted a deep dusty blue, and the old bank vault door in the basement—yes, it has a basement—which leads to a store room.
The home has over 3,200 square feet, with three bedrooms and two baths, and there is an additional home on the property. The entire estate comprises approximately five acres, with 600 feet of prime Indian Beach bayfront providing sweeping views over the water to Longboat Key. Sunsets are spectacular, and downtown is 10 minutes away.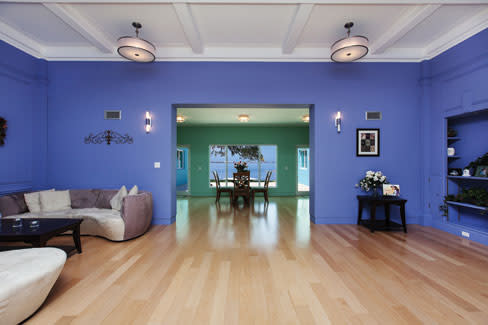 If there were ever a property with "possibilities," this is it. The home can be purchased by itself with 1.15 acres for $2,895,000. You can buy the whole package for $9,975,000, tear the home down and build your own estate. Or you can subdivide the parcel in several different ways. No matter what happens, with its premium location and unique history, Old Oaks will doubtless dazzle in its new incarnation, whatever that may be.—Bob Plunket
Interested? 916 Indian Beach Drive. Contact Joel Schemmel, (941) 587-4894, Premier Sotheby's.
Click here to read Bob Plunket's Real Estate Junkie blog. >>
This article appears in the November 2014 issue of Sarasota Magazine. Click here to subscribe. >>