Article
For Sale: 1916 Dutch Colonial in Downtown Sarasota's Bungalow Hill
An architect's own home successfully blends old and new.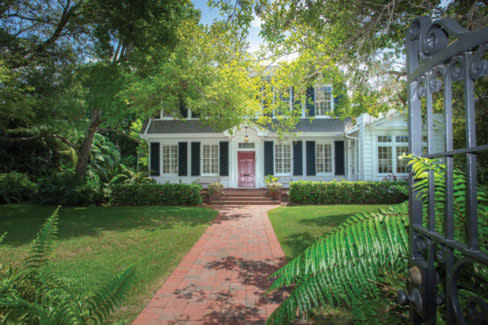 Architect Clifford Scholz is responsible for some of the most beautiful homes in Sarasota. His designs take the best of the past—elegant proportions and classic detailing—and update them with a generous dose of unabashed luxury, often on a grand scale.
But in his own house in Bungalow Hill, the past is even more evident and the scale much more intimate. Built in 1916, the Scholz residence is a crisp white Dutch Colonial with an eye-popping bright-red front door.  And though it's a fine example of American vernacular architecture, a cousin of countless examples that dot the country, it has a finely polished flair that puts it in a rarified category.
Located on almost half an acre of land, the home offers three bedrooms, three-and-a half baths, plus a guest studio over the detached two-car garage. Charming, old-fashioned touches are everywhere, from the casement windows in the sunroom to the butler's pantry to the cheerful breakfast nook, just like Grandma's.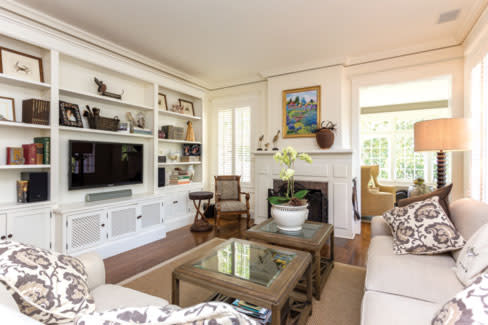 But chances are Grandma's house wasn't this sophisticated. The attention to detail is impressive, with custom molding and built-ins, the original wood floors, and a wood-burning fireplace in the living room. The master bath is a Ritz Carlton-like sanctuary of Carrara marble and beveled mirrors.
Though the house is located on busy Orange Avenue, the mature vegetation and perimeter wall make it remarkably quiet. Outside, the swimming pool has an old-time look—a classic rectangle, surrounded by grass rather than a ubiquitous pool polypebble pool deck. Even though it looks old, it was installed just a few years ago.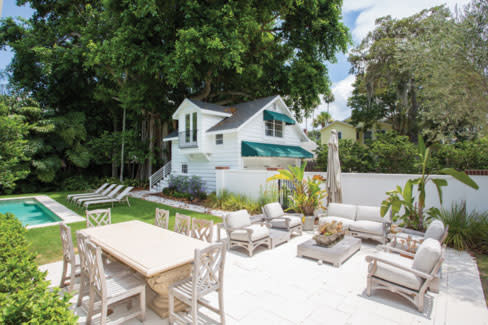 And check out the giant banyan tree over by the guest house. Look carefully and you'll find the outdoor shower. It's the perfect touch for this new/old house about to celebrate its 100th birthday.
Interested? 993 S. Orange Ave., $1.6 million. Contact Susan McLeod, (941) 928-4445, Michael Saunders & Co.
Click here to read Bob Plunket's Real Estate Junkie blog. >>
This article appears in the October 2014 issue of Sarasota Magazine. Click here to subscribe. >>