Article
For Sale: Mid-Century Beauty in Forest Lakes
Bob Plunket finds a mid-century modern home for sale in Sarasota's Forest Lakes neighborhood.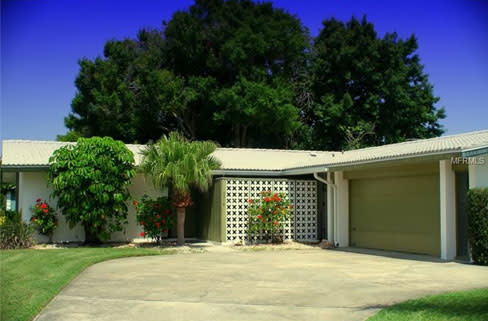 If you're looking for a mid-century modern home with good bones and lots of period touches that doesn't need too much work, you may want to check out this home in Forest Lakes. The exterior is rather non-committal—except for that wonderful wall of pierced concrete block—but the interior has real possibilities.
[caption id="attachment_1522" align="alignnone" width="488"]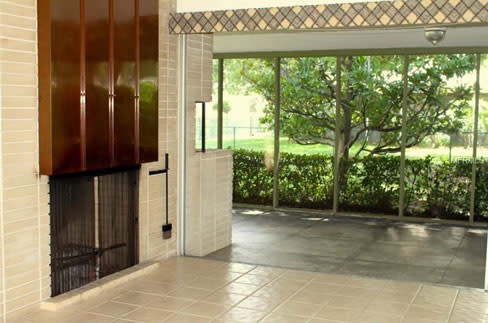 Living room[/caption]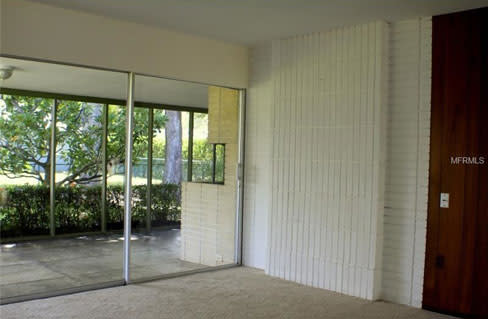 [caption id="attachment_1523" align="alignnone" width="488"]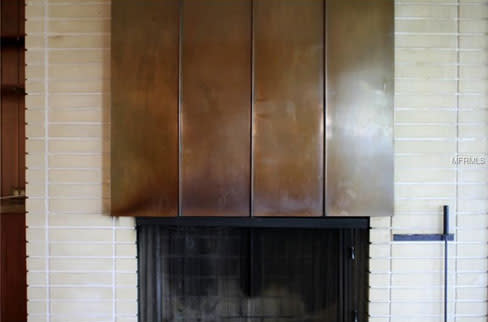 Fireplace[/caption]
It's got three bedrooms, two baths, in just over 1,800 square feet. The living room is relatively large and high-ceilinged, and has an adjacent dining room facing an atrium. One wall has some Ocala brick detailing that is pure mid-century. There is also a large family room with the same brick, plus a fireplace with a wonderful metal over-mantel. The Ocala brick motif continues out onto the lanai, where there's a barbecue grill.
[caption id="attachment_1520" align="alignnone" width="488"]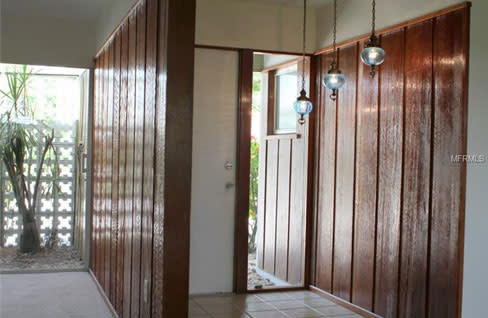 Entry[/caption]
Also check out the entrance, with its wood paneled walls (they continue outdoors) and some great period hanging lights. Several of the other rooms also have this paneling. The kitchen is not period but has been remodeled recently and seems in very good shape. In fact, the whole interior looks pretty good, though the exterior does need refreshing.
[caption id="attachment_1524" align="alignnone" width="488"]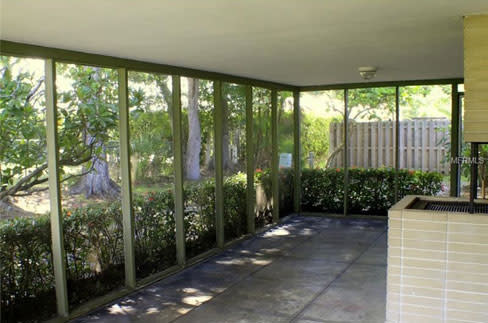 Lanai[/caption]
Forest Lakes is just east of Southgate, with the same sort of homes (1950s and '60s ranches). But it was built later, so the houses are larger and newer and more expensive. What used to be a very nice golf course ran through it but the course was abandoned during the recession and now just sits there, a little overgrown and unused. Still, it's a great neighborhood with a terrific location.
2216 Brookhaven Dr. is priced at $249,900—about the going rate for such a home that needs updating. For more information call Gary Dale of Bright Realty at (941) 552-6036.
Click here to see Bob Plunket's Home of the Month in our July issue. >>