Article
Home of the Month: Tuscan Style with a Downtown Sarasota View
This month, Bob Plunket gives us a peek into one of downtown Sarasota's hottest pieces of real estate: A Tuscan-style bayfront home.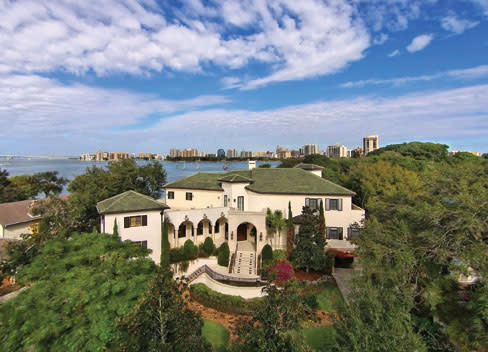 In Sarasota, they say it's all about the view, a point this 8,500-square-foot home on prestigious Bay Point Drive proves once and for all. Step into the two-story living area and there it is—the downtown skyline, surprisingly close, with the perfect arch of the Ringling Bridge to your left and the tropical greenery of Selby Gardens to your right.
In a word, breathtaking.
The home, designed by Sarasota architect Yehuda Inbar, presents a Tuscan-inspired façade to the world, with a grand exterior staircase complete with a pond, and a columned loggia overlooking manicured gardens—perhaps the nicest on a street known for its gardens. Once inside, the main living area rises more than 20 feet in height, culminating with a wooden ceiling. Floors are also wood, with marble and tile insets. French doors lead out to a terrace overlooking an infinity-edged lap pool and that incredible view. You and your guests can also admire it from an outdoor gazebo, complete with fireplace, or from the deep-water dock.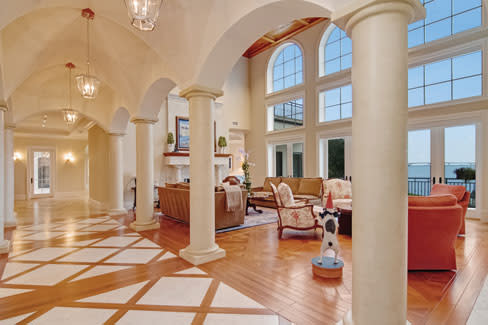 If the exterior of the home suggests Italy, the interior is a more contemporary mix of traditional styles.  The kitchen is particularly elegant. Tucked away at one end of the living area, it features a semicircular dining booth for informal meals and an array of high-end appliances. There seems to be two or three of everything, all clad in walnut paneling. An antique butcher block counter top adds an old-fashioned touch.
The master bedroom (complete with kitchenette) is located on the main level, as is the wood-paneled office, from which a circular stairway leads up to a very private library. There are three more bedrooms on the upper level, each with its own bath and a shared gathering area, perfect for visiting grandchildren. The lower level contains parking for eight cars and extensive storage.
It is often said that Harbor Acres is the best area in town. Not so. That honor goes to the small peninsula to the north, where our Home of the Month is located. Here you'll find serious Old Florida money, including the Lindsay family of Herald-Tribune fame and our former Congresswoman, Katherine Harris. This home more than holds its own with the neighbors—opulent yet discreet, a real Sarasota classic.
Interested?
1459 Bay Point Drive, $7,995,000. Contact Kim Ogilvie, (941) 376-1717, Michael Saunders & Co.
Click here to read Bob Plunket's "Real Estate Junkie blog. >>
This article appears in the August 2014 issue of Sarasota Magazine. Click here to subscribe. >>