Article
Home of the Month: Super-Private Home on Jewfish Key
This month, Bob Plunket takes us inside a super-private home with incredible views on Jewfish Key.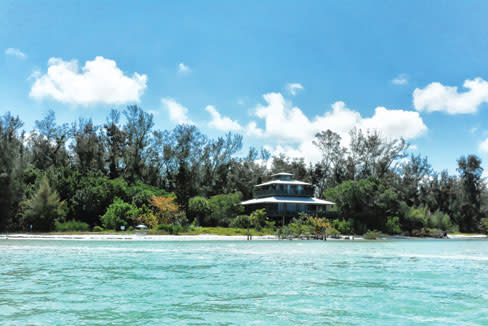 If your real estate fantasy involves a private island covered with trees and ringed by white sand beaches, this home on Jewfish Key—the northernmost island in Sarasota Bay—may be calling to you. It's accessible only by boat, but all the creature comforts are there and the location couldn't be more convenient. You can be at the airport in 45 minutes, providing you row real fast.
The 2,400-square-foot home shares the 38-acre island with six other houses. It's tucked away among the Australian pines at the northwest tip, with views up the Intracoastal to the village of Cortez and out through Longboat Pass to the Gulf of Mexico. And since half the island is a nature preserve, you'll be sharing it with ospreys, great horned owls and even a family of wild parrots.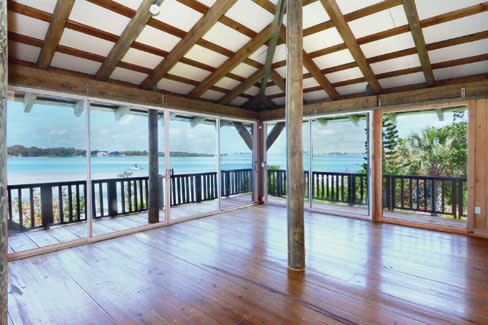 The home itself was updated in 2011 and is a classic beach house—elevated, with walls of glass looking out to incredible water views. You'll find decks for sunning, vaulted and beamed ceilings, and plenty of wood for a cozy feeling. There's a stylish West Indian cupola topping things off. You have regular electricity, provided by FPL, and the cell phone reception is better than Longboat's.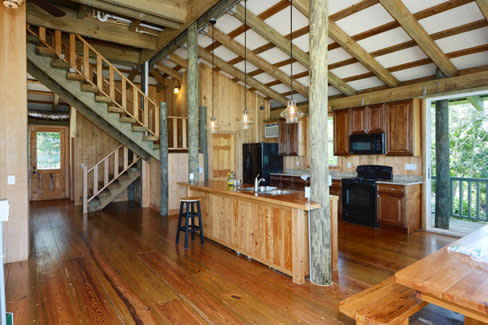 Simple pleasures work best here. The private beach is calm and shallow, perfect for kids. There are no roads, just a footpath down the middle of the island. The boating is ideal, and residents often head to local restaurants by boat. And yes, you can even order a pizza, delivered right to your dock.
About that name: No one is sure why a jewfish is called a jewfish, but in 2012 the official committee in charge of naming fish changed it to the more politically correct "goliath grouper." But the island still retains its original name, a quaint reminder of the old days when the world didn't worry about such things.
7155 La Lenaire Drive, Longboat Key/$1,699,000. Contact Tina Rudek, (941) 920-0303, Engel & Volkers Longboat Key Realty.
Click here to read Bob Plunket's Real Estate Junkie blog. >>
This article appears in the July 2014 issue of Sarasota Magazine. Like what you read? Click here to subscribe. >>