Article
Sarasota Real Estate News: July 2014
News and notes from the top of the market.

Quite a Vue
At that long-vacant prime corner at Gulfstream Boulevard and U.S. 41 in downtown Sarasota—old-timers will remember it as the site of a demolished Holiday Inn motel—The Vue Sarasota Bay will soon be rising.
The luxury condominium complex will have 141 two-to-four-bedroom residences in a contemporary tower designed by Nichols Brosch Wurst Wolfe & Associates of Coral Gables, the architectural firm responsible for the recent $1-billion renovation and expansion of the Fontainebleau Hotel on Miami Beach. Residences are priced from the $700,000s, with six penthouses starting at $2,283,000. A separate tower housing a Westin Hotel is also part of the complex. Completion is expected in late 2016. Michael Saunders & Company is the exclusive real estate broker, and a sales gallery has opened in the MS&C offices at 100 S. Washington Blvd.
The developer is Palm Beach-based The Kolter Group, which purchased the property for a record-breaking $40 million in 2005, at the frothy height of last decade's real estate boom. At that time, Kolter announced it would build a project in the Med Rev style called the Grande Sarasotan, with condos priced from $1 million to $1.8 million and penthouses in the $4 million range. The economic downturn halted that project before it ever began.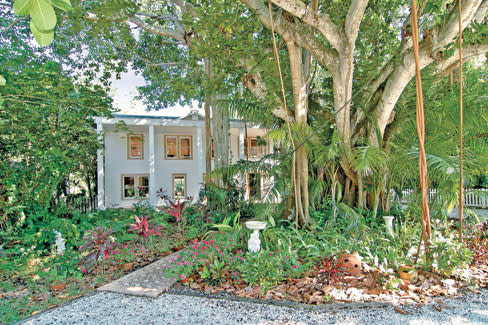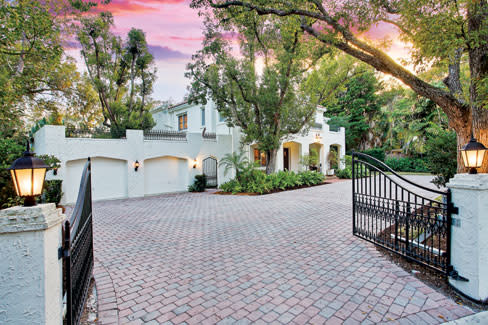 This Old House
If you're in the market for what the folks on HGTV call a "heritage house," the Sarasota History Alive website has a nifty section on area historic homes for sale.
A recent check showed 10 properties—everything from a 1950s-era cottage on Floyd Street listed at $450,000 to a five-bedroom, 4,800-square-foot Higel Avenue home built in 1929 on a deep sailboat water lot listed at $2,395,000.
"Historic homes are more of a challenge to sell," says Nancie Kalin of Michael Saunders & Company, who is currently listing one of those properties, a three-bedroom, four-bath Colonial home on Bay Shore Road, built in 1930 and renovated in 2007.  "The challenge is generally size, potential condition and, of course, location."
Kalin says historic homes in the museum area tend to take a year to sell, while newer properties take three months or so. "West of the Trail 1920s and Burns Court 1920s homes sell best," she says. The buyers are typically "older money, artists, people from the universities, affluent younger couples without children."
If that sounds like you, check out sarasotahistoryalive.com/vintage-properties.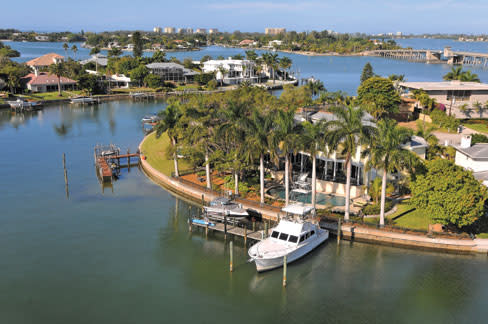 Neighborhood Watch: San Remo Estates
Number of San Remo Estates properties: 68
Number of sales from February 2013-February 2014: 8
Range of sale prices: $400,000 to $3,725,000
Range of square footage: 2,073 to 5,040
"When you're talking about San Remo Estates, that old axiom holds true," says Peg Davant of Premier Sotheby's International Realty. "Location, location, location."
Set on the mainland between Osprey Avenue and the north Siesta Key Bridge on a series of deep-water canals, the neighborhood gives you "the benefit of waterfront living without having to think about bridge traffic," says Davant, who closed out 2013 by selling a Carl Abbott-designed residence on San Remo Terrace. "Plus you're less than a mile to Southside School, a mile and a half to Southgate Mall, Red Rock Park is nearby, and it's just seven and a half miles to the airport."
Davant says residents are also drawn to San Remo Estates' eclectic, not overly pretentious architecture. The community association's own height restriction helps here; 30 feet is the highest you can build a single-family home, versus the city of Sarasota's more lenient 35 feet.
In the last 10 years, there's been more renovation of existing homes than tear-downs, and turnover in properties is not particularly rampant. "People tend to raise their families there and stay," Davant says. "It's very much a family neighborhood. Ninety percent of the residents are there full time, and there are lots of families, professionals and retirees who aren't ready to give up that waterfront lifestyle."
And, of course, there's all that great boating water. Even the handful of homes that are landlocked have water access thanks to a community kayak launch. "It's one of the few communities where most of the docks are really utilized," says Davant. "Residents love how easily accessible it is, yet it has water right at your doorstep."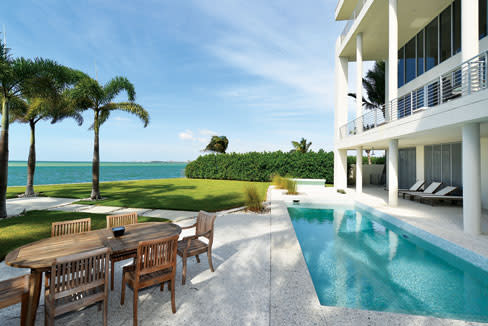 Top Sale: 156 Givens St., Siesta Key
A Guy Peterson-designed modern home with panoramic Gulf views on Siesta Key sold for $4.25 million after an original list price of $4.75 million, making it the highest-selling residential property in Sarasota County in March. The 4,946-square-foot, three-story home, just north of Siesta Village at 156 Givens St., has four bedrooms, four baths and abundant luxury features. Barbara Dumbaugh of Michael Saunders & Company was the listing agent; Dan Miller of Re/Max Tropical Sands was the selling agent. It previously sold for $4.1 million in September 2008.
For more Sarasota real estate news, click here to read Bob Plunket's Real Estate Junkie blog. >>
This article appears in the June 2014 issue of Sarasota Magazine. Like what you read? Click here to subscribe. >>