Article
Home Trends
Our experts spot what's new and now in the housing industry.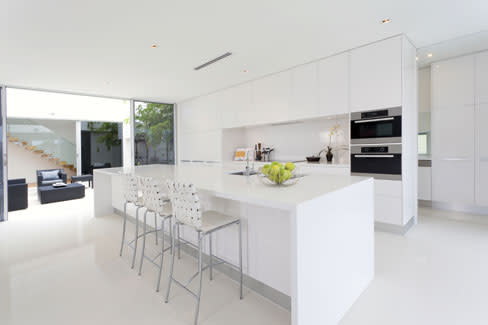 In the go-go years of the last decade, lots of home buyers accepted less than they really wanted. Homes were pricey, inventory was limited and no one was eager to be left behind when it seemed that a home—almost any home, really—was thought to be your best investment. Now, many of those buyers find themselves stuck in homes that may be worth less than they owe.
Yet for most of us, home ownership remains the American dream. People still want to buy. But they're no longer willing to overspend, and they are less willing to settle for a home that doesn't measure up to their expectations. Smart builders are more sensitive than ever to changing expectations and skittish attitudes. They are, after all, now required to satisfy a far more discerning market. Consequently, those who make their living designing, building and decorating homes spend considerable time and resources trying to figure out what buyers want, and how to deliver it at an acceptable price.
We discussed the latest new-home trends with local industry pros, national experts and trend-spotters. Here's what they had to say.
NEIGHBORHOODS FOR ACTIVE LIVING
Today's buyers seek an active lifestyle, and neighborhood amenities are very important. Resort-style water parks, dog parks, playgrounds and tot lots, hiking and biking trails, community clubhouses, wellness centers and sports fields are bigger selling points than ever.
Buyers are attracted to safe, walkable neighborhoods with sidewalks and plenty of open space, and nearby town centers that offer retail and professional services. That's why master-planned communities like Lakewood Ranch and Palmer Ranch are so popular. One good example in Palmer Ranch: Taylor Morrison just premiered Arbor Lakes, a community of 267 homes with amenities like a resort-style pool with kids' splash zone, adventure playground, basketball and volleyball courts, pet park, fire pit, events lawn and pavilion.
And whether the target market is Generation X, Generation Y or a mix of baby boomers and younger first-time home buyers, the most appealing communities are conveniently located and offer a variety of housing types.
Infill development, in established residential neighborhoods or gentrified urban areas, remains popular. One reason: Close-in projects are likely already near such conveniences as parks, shopping, schools and medical facilities, as well as entertainment venues and employment centers.
EXTERIORS WITH PERSONALITY
Curb appeal matters. Today's popular uncluttered facades are not only cleaner and more visually appealing, they're also less expensive to build. That doesn't translate to a plain white box, however.
"We're seeing a shift away from ostentatious designs toward a more pure architectural design with special touches to provide for personality, individualism and contemporary styling," says sales and marketing manager Joe Holes at D.R. Horton, which is building in Red Hawk Reserve. Unique features like rotundas are in vogue, he says. "They add movement and shadows to the look of the home without making them look excessively palatial."
Clay-based exterior colors still win Most Popular awards, along with multiple trim colors and color-coordinated fascia. And, whenever possible, buyers are selecting natural elements to enhance the look of their new homes.
"They're asking for more stone than we've seen in years—river stone, stacked stone, flagstone, a dozen different styles," sales Medallion Home sales and marketing director Gregg Glasser, whose company is building in The Enclave at Country Meadows, Gamble Creek Estates & Preserve and other Manatee County communities.
"Our buyers have tired of the plain Jane elevation," says Glasser. "Now that homes are more affordable, they want to dress them up to add a sense of warmth and a sense of arrival. We got so many requests for a French country elevation that we actually changed the entire exterior of our new Cacaos model in Twin Rivers to it."
OPEN, CASUAL FLOOR PLANS
Hands down, today's most popular floor plan is open and casual, whether it's a 1,500-square-foot home or one that's double or even triple the size. The trend is shifting away from vast expanses of square footage that have no practical use and toward maximizing every single square inch. And with today's high-efficiency heating and cooling systems, people can afford that open feeling without spending a ton of money on electric bills.
"Nobody's dollar goes as far as it used to; everybody is conscious of value, and people want to see an efficient use of space," says David Hunihan, director of sales at Neal Communities. Replacing hallways are living spaces that merge into one another. Formal dining rooms are being replaced with one big eating area flowing from the kitchen—a trend that appeals to all ages and price points, Hunihansays.
"We used to offer a small percentage of great-room plans a few years ago," says Hunihan, "but now it's completely flip-flopped; 75 percent to 80 percent of our buyers want great rooms."
And outdoor living rooms are still of great interest, especially with buyers at higher price points who want to take advantage of the Florida weather. If you want an outdoor kitchen, be willing to pay, cautions Hunihan. "They're expensive, especially if you want something to withstand the elements."
CLEAN-LINED KITCHENS
Traditional kitchens so in vogue a few years ago, with their raised-panel, solid-wood cabinets, scrollwork flourishes and Tuscan-themed stone backsplashes, are losing ground to a cleaner-lined contemporary look, say local experts.
"Contemporary kitchens are hot," says Ron Cook of Cook's Custom Cabinetry, who has designed some of the area's best kitchens for 45 years. That means flush cabinet doors that hide their hinges and flat, instead of cylindrical, polished chrome drawer pulls. Busy granite patterns are giving way to sleek Silestone and Caesarstone. "They're a more subtle look," says Cook. "You don't want your countertop to be so busy that your eye goes right to it."
Taupe-gray, white and light beige are today's most popular kitchen colors, says Cook, often with subtle green accents used in countertops and backsplashes. For those backsplashes, buyers are opting for what Cook calls, "vertical latitude tiles," in a mixture of glass and ceramics. Wood floors are hot, hot, hot, too, he says. "Maple with a russet stain goes perfectly with the contemporary look," he says.
Islands that allow family and friends to gather comfortably—oftentimes manufactured in contrasting colors to the other kitchen cabinets—are essential, he says. And he's even produced a few thick-glass island countertops to make a "wow" statement.
As for lighting, LEDs are more expensive than traditional bulbs at the outset, but they're more efficient and energy-saving in the long run. "LEDs last five times as long as traditional bulbs," says Cook. "They produce a clean light, and you can choose between warm bulbs if you're using grays, and cool if you're using bright colors."
But not all LED lighting is alike, cautions Andrew Guenther of Advanced Electronic Systems Integrators. "There are a hundred kinds and not all work the way you want them to," he says. "Some can't be dimmed, some can't be put on control systems. That's why it's important to work with a certified lighting designer who understands LED."
BATHROOMS GET MODERN
Just as in kitchens, the clean, contemporary look is taking over bathroom design, says Dreama Wren, showroom manager at Gorman's Bath Gallery. Wren says chrome plumbing fixtures and hardware have come back in a big way—say good-bye to brushed nickel—and freestanding tubs have replaced the big soaker tubs of yore. And in the shower, forget spa jets and body sprays, Wren says; everybody is doing handheld shower heads.
Large master baths are still an area where people want to indulge themselves, Hunihan adds: "But we don't see as many tubs as we used to in master baths. That goes along with our active lifestyle."
GREENER BUILDING
Like "all-natural" in the food industry, the terms "green" and "eco-friendly" have been used quite a bit in marketing materials. Consequently, certifying organizations have been formed to set standards and help consumers separate reality from hype.
The Florida Green Building Coalition has developed green certification programs that apply to homes as well as commercial buildings, land development and even local governments. In addition, NAHB offers a Certified Green Professional (CGP) designation, which recognizes builders, remodelers and other industry pros who incorporate green building principles into homes. You can find a directory of CGP designees online at nahb.org.
Drew Smith of Sarasota-based Two Trails Green Consulting says the main eco-friendly focus for home buyers today is energy efficiency. That means upgraded insulation, choosing the most efficient air-conditioning units and using radiant barrier on their roofs. "Homeowners want the home's envelope to be as tight and efficient as possible," he says. "It's all about saving money."
It also means choosing LED lighting, efficient variable-speed pool pumps, and landscaping with Florida-friendly, drought-tolerant plants that are indigenous to our area to minimize care and water. "That goes back to cost savings," Smith says.
And a strong new design trend that brings green benefits, he says, is opting for hardwood floors over carpet. "Besides the reduction in off-gassing from bad carpet pads," Smith says, "hardwood floors minimize dust, and that helps improve indoor air quality." Now that's a green feature we can all live with.
SMART HOUSE TECHNOLOGY
Today's tech-savvy house lets you monitor and control security systems and home mechanical systems—everything from audio and video to window shades and air-conditioners—from a PC or a smart phone anywhere in the world.
What's really taken off, says Advanced Electronic Systems Integrators' Andrew Guenther, is housing your audio and video distribution equipment in a linen-closet sized cabinet and distributing it via your smart phone or tablet to every television in the home. They take the place of cable boxes and Blu-ray players throughout the house.
Guenther notes that local homeowners are starting to build media rooms again.  "There have been huge advancements in picture quality in today's projection systems and the cost has gone down," he says. "A video projector that cost $100,000 10 years ago now costs one quarter that." And for some customers, he's creating family-room style theater rooms, with a 150-inch screen that drops down out of the ceiling.