Article
Home Tour: Atomic Mod Ranch House in Laurel Park
A Laurel Park couple gives the classic ranch house a decidedly modern twist.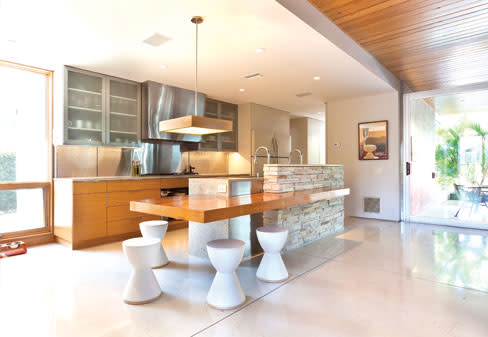 Visitors loved the charming 1920s-era Med-Rev cottages on the recent Sarasota Historic Homes Tour in Laurel Park, but the hands-down hit was a brand-new, two-story, 2,500-square-foot "atomic modern" ranch home.
Tour-goers oohed and aahed over the handsome, clean-lined, stucco and stacked brick home with wide overhangs and warm colors, designed and built by its owners, master carpenter and interior decorator Paul and Martha Hafner.
It's not as if the Hafners don't respect Laurel Park's aesthetic. (The neighborhood is on the National Register of Historic Places.) They lived right next door to their new home for 13 years, where they rehabbed a rambling Dutch Colonial built in the 1920s and moved by barge to the site by a pioneering Sarasota family, Judge John L. and Maebelle Early. What's more, Paul's family had owned the tiny 1925 cottage directly across Madison Court, where Paul lived right after college in 1985 when he taught math at Sarasota High.
It's just that, "Ever since I moved to Sarasota and got interested in the Sarasota School of Architecture, I wanted to build a modern house," says Paul. Not "cold steel and glass," adds Martha, but a home that would be warm and livable for a family with two busy teenagers and a dog. Martha's grandparents had built the first split-level atomic ranch house in North Berwick, Maine, in the 1970s. And Paul, who has done master carpentry work for some of the area's leading custom builders, worked on several old Ralph Twitchell houses over the years.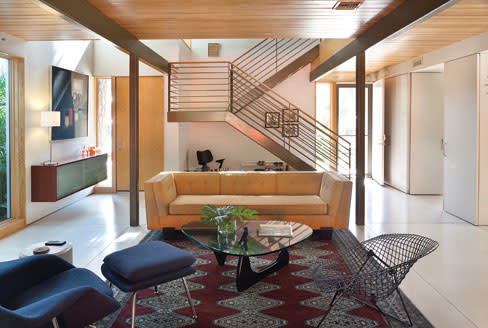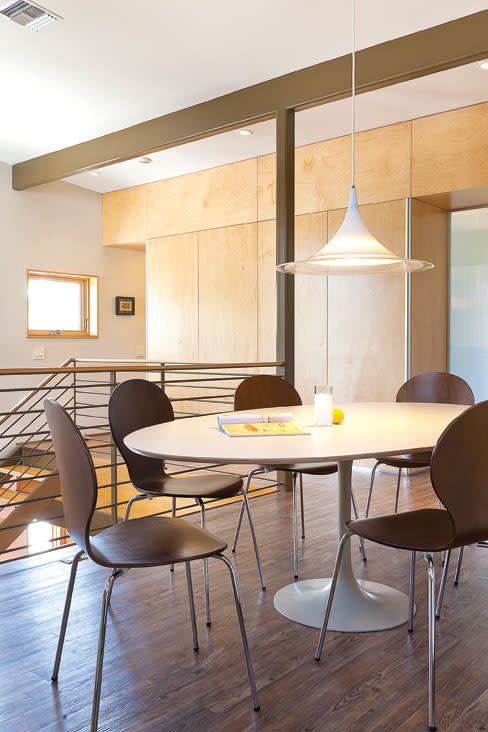 Atomic modern homes take classic ranch-house elements and adapt them to modern living, according to Michelle Gringeri-Brown, author of the book Atomic Ranch Midcentury Interiors. There's even a quarterly magazine, Atomic Ranch Interiors, devoted to the movement; Gringeri-Brown is its editor.
While atomic ranches aren't typically two-story, the Hafners added their second floor to provide bedrooms, a laundry room and a central hangout/homework area for their kids. The couple bounced design and floor plan ideas off their good friend and neighbor, Terry Rowe, a longtime Sarasota interior designer who had collaborated with Sarasota School of Architecture architect Jack West. (Rowe passed away in 2013.) It was Rowe who suggested the brown, green and yellow color palette, drawn from a towering pine tree in the front yard.
A limited budget only made the couple more resourceful in seeking out stylish, low-cost design solutions—white polished concrete on the downstairs floors instead of more expensive terrazzo, vinyl floors upstairs that mimic real wood planks, high-gloss thermo-foil cabinet faces instead of lacquer, and generic appliances (including two Frigidaire refrigerators painted and placed side by side). They've collected their mid-century mod furnishings over decades at estate sales and secondhand stores. They put their money into design elements they deemed important, like the handsome cypress-trimmed windows.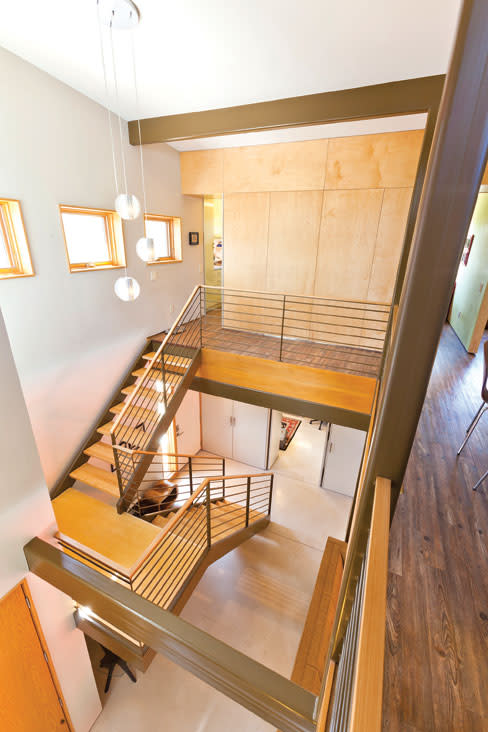 And if the living room's cypress-clad ceiling and various kitchen and bathroom countertops look like they've been there forever, it's because they're recycled siding and framing from the 1930s garage that had been on the property, which Paul took apart, piece by piece.
"In a moment of craziness," says Martha, the couple decided to aim for Gold LEED certification from the U.S. Green Building Council. They provided to tour-goers a two-page list of energy efficiency measures they built into the house, everything from solar roof panels to low-flow plumbing fixtures and a 1,700-gallon rainwater collection cistern that irrigates plants and fills the swimming pool. Windows, sliding-glass doors and overhangs were carefully placed to allow natural light and breezes to spill into the house. "We get well into June without turning on the air," says Paul.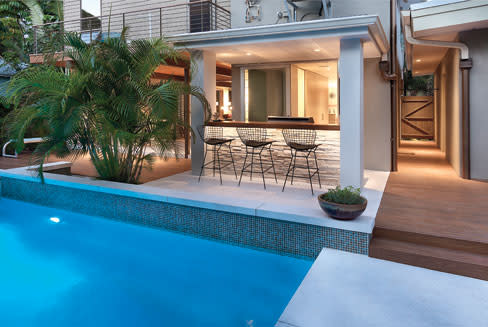 Martha concedes that some people initially made a flap over including their new home on the Sarasota Historic Homes Tour. "History," she told them, "doesn't stop at a certain point."
For more Sarasota real estate news, click here to read Bob Plunket's Real Estate Junkie blog. >>
This article appears in the June 2014 issue of Sarasota Magazine. Like what you read? Click here to subscribe. >>