Article
Academic Achievers: An Overview of Sarasota-Manatee Schools
Sarasota-Manatee schools offer top-flight education.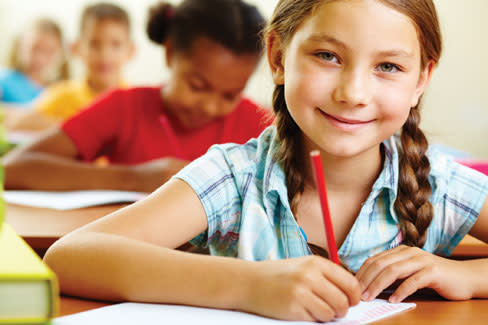 Local public school districts continue to make the region proud with their scholastic excellence and high-ranking curricular programs.
Sarasota County  
The Florida Department of Education has named Sarasota County an "A" school district—a distinction only four of the state's 67 districts earned in 2013. Ninety percent of the county's public elementary and middle schools earned "A" or "B" grades in 2013. Sarasota County students consistently outperform their peers in the state and nation on formal assessments, including college placement tests. Scholastic Aptitude Test (SAT) and American College Testing (ACT) scores regularly exceed state and national averages.
All Sarasota County classrooms feature state-of-the-art ActivBoard instructional technology. These large, high-tech screens enable teachers to project everything from written notes to computer screens, video clips, interactive exercises, maps and lesson plans prepared by global master teachers. Handheld student devices allow teachers to verify learning and to determine which students may require further support.
The district offers several school choice and magnet programs, including the International Baccalaureate, Cambridge's Advanced International Certificate of Education, the Young Marines program (the first of its kind in the United States), and visual and performing arts programs. Ten public charter schools provide parents and students with additional educational options.
Full-time programs for intellectually advanced students are available throughout the district and at Pine View School (a specialty school for gifted students in grades two through 12). U.S. News & World Report ranked Pine View the sixth best high school in the nation in 2013.
Career and technical classes prepare students for higher education and the 21st-century workforce. Middle schools offer exploratory courses to introduce students to future career options. High school students can earn college credit, industry certifications and the Florida Ready to Work credential.
Suncoast Polytechnical High School, a technology magnet school that opened in 2011, boasts a rigorous curriculum to prepare students for college and careers. Sarasota County Technical Institute provides specialized training to high school students and adults, and many of its programs are developed using input from area business leaders.
The John F. Kennedy Center for the Performing Arts and the National School Boards Association have recognized Sarasota County's outstanding arts education programs. Sarasota County is the sixth school district in the nation to partner with the Kennedy Center on Any Given Child, an initiative that works with schools to create a long-range arts education plan for all students.
More than 10,000 students, parents and other Sarasota County residents participate in volunteer and business partner programs. Team Up!, a web-based resource at teamupscs.org, makes it easy for businesses to partner with schools. Edexploresrq.com links arts and science organizations with schools to enrich student experiences.
The Education Foundation, Community Foundation of Sarasota County, Gulf Coast Community Foundation and Patterson Foundation are among the many not-for-profit organizations that support the district. Importantly, voters have approved an additional $1-million in property taxes for local schools every four years since 2002.
"We are grateful for the support of so many individuals and organizations," says Lori White, Sarasota County superintendent of schools. "Our schools excel because of the dedication of our teachers, administrators and support staff, and the ongoing commitment of our community."
Manatee County
The School District of Manatee County is home to more than 46,000 students and 5,000 employees, making it Manatee County's largest employer. There are 52 traditional public schools in the system (34 elementary schools, 11 middle schools and seven high schools), as well as 11 charter schools. Manatee Technical Institute (MTI) is the district's nationally acclaimed technical school.
During the 2012-2013 school year, the School Board of Manatee County chose a dynamic, diverse team to lead the district, headed by Superintendent Rick W. Mills. Mills spent 24 years in the United States Army, where his assignments included teaching at the U.S. Military Academy at West Point, commanding a cavalry squadron and serving in the Middle East. After leaving the military, Mills took leadership roles in Chicago's public school system before becoming chief executive officer of Minneapolis Public Schools in July 2011.
Students in the Manatee County School District have excelled academically. In November 2013, a team of students representing Manatee high schools placed second in the F-1 in Schools international competition (an event in which students from 36 countries used scientific, engineering and technological skills to build and race Co2-powered balsa wood cars).
In July 2013, students from MTI won more medals than those from any other school in the nation for the 10th consecutive year at the annual SkillsUSA Championships in Kansas City, Kan. That same month, Manatee students dominated the National Technology Student Association Conference competition in Orlando. Braden River High School scored the most points in the nation among high schools for the second year in a row, and R. Dan Nolan Middle School earned the equivalent for middle schools.
Higher Education
Sarasota and Manatee counties are home to several highly regarded public and private institutions of higher learning.
The University of South Florida Sarasota-Manatee offers more than 40 bachelor's degree, master's degree and certificate programs in four colleges: Arts & Sciences, Business, Education, and Hospitality and Technology Leadership.
New College of Florida, the state's honors college, has repeatedly been named one of the nation's best public liberal arts colleges by U.S. News & World Report and Princeton Review.
Ringling College of Art and Design draws talented students from across the world to its state-of-the-art campus. State College of Florida offers a wealth of associate and bachelor's degree programs on three campuses in nursing, early childhood education technology, engineering and more.
In addition, Argosy, Keiser, Webster and Everglades universities offer a wide variety of degrees at their local campuses. And St. Petersburg-based Eckerd College offers bachelor's degrees through its local Program for Experienced Learners.
Click here to see a comprehensive list of school grades in the state of Florida. >>