Article
Sarasota Real Estate News: March 2014
News and notes from the top of the market.
Top Sales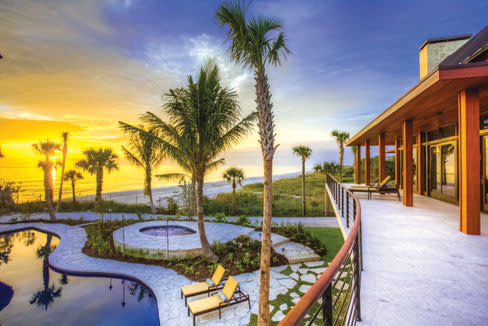 At $22 million, this Longboat Key Home is on the record 
At a price tag of $22 million, a Longboat Key beachfront compound at 6633 Gulf of Mexico Drive has set the record for the highest-priced residential listing in Sarasota-Manatee history.
Named Ohana, the Hawaiian word for "family," the nearly three-acre property has a Polynesian feel, with enough indoor and outdoor space to accommodate a crowd. Three mahogany-clad main, guest and master pavilions with a combined 10,000 square feet of living space are bordered by a large, free-form swimming pool with a swim-up sun shelf and palm-thatched pool pavilion. A separate beachfront guest house, motor court and tennis court are also on the property.
"The likely buyer will be a couple with extended family who desire a resort-style compound with amenities to keep them occupied as if living on an island retreat," says listing agent Deborah Beacham of Michael Saunders & Company, "or it might be someone in the public eye who wants to experience privacy while surrounded by exotic gardens and miles of quiet beachfront."
Beacham is marketing Ohana through Saunders' partnerships with Christies International Real Estate and Luxury Portfolio, a division of Leading Real Estate Companies of the World. She says Saunders' London representative, Mayfair International Realty, has toured the property and is marketing it in Europe. And a new website, ohanalbk.com, includes video interviews with architect Guy Peterson and builder Michael Walker.
Center for Architecture Sarasota Event
The Center for Architecture Sarasota announces its new Sarasota Magazine Architectural Lecture Series. On March 18 at 5:30 p.m. at the Sarasota Herald-Tribune auditorium, CFAS will present the award-winning Felipe Mesa of the Colombian architectural firm, Plan: B Arquitectos. Details at cfasrq.org.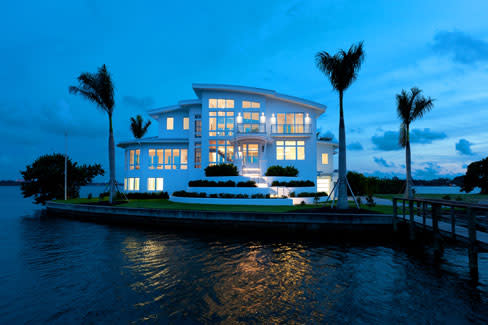 Top Sale: 1456 Point Crisp Road
After just 18 days on the market, a dramatic, new modern home at 1456 Point Crisp Road and the adjacent lot sold together for $5,675,000 in late December, making it the highest-priced residential sale at year's end. The original list price was $5,494,000 for the house only. With its spectacular setting jutting out into the bay at the end of the private road on south Siesta Key, the 4,867-square-foot home was designed by architect Mark Sultana to capture water views from every room. Joel Schemmel of Premier Sotheby's International Realty was the listing agent; Michael Holderness of Sarabay Real Estate was the selling agent. Schemmel says the buyer is a South Dakota entrepreneur who wants to make Sarasota his more permanent home. "It's a fabulous home," says Schemmel. "We could sell it over and over again."
Schemmel represented the buyer in another big December sale: an Italianate mansion at 1384 Harbor Drive that sold for $4.15 million. Peter Laughlin, also of Premier Sotheby's, was the listing agent. The five-bedroom, six-bath and two-half-bath Harbor Acres home has 170 feet on the harbor, with an oversized custom teak deck and two lifts that can accommodate a 100-foot yacht.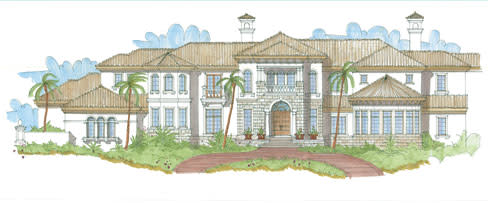 Big, Bigger, Biggest in the Lake Club
Anchorage Place, a gated enclave within The Lake Club at Lakewood Ranch, may be the hop-pingest high-end street in town. London Bay Homes is building not one, but four luxury mega-homes that all together total more than 63,000 square feet—including a custom residence that's a whopping 28,534 square feet.
The smallest, if you can call it that at 9,954 total square feet under roof, is the company's four-bedroom, five-and-a-half-bath Brighton model. The other three are custom homes that already have buyers, one new to Lakewood Ranch, and the other two Ranchers who are moving up to bigger residences. London Bay Homes president Mark Wilson says the 28,000-plus-square-foot home is for a family with teens. It includes a game room, indoor and outdoor swimming pools and an indoor half-court for basketball. Wilson expects the home to be completed in mid-2015.
What does this say about the luxury real estate market? "It's good and getting better," says Wilson. "With the stock market above 16,000, the GDP hopping along, the Fed having the confidence to start the easing, and our clients' businesses doing very well, it bodes well. You've had wealthy clients putting off their decisions for five years; there's a lot of pent-up demand."
But Wilson cautions that this boom is different from the "irrational exuberance" of 10 years ago. "At the top of the market, when it got very frothy, money was easy to come by, therefore people were reasonably relaxed with their budgets," he says. Today, "The banks are not lending like they used to, and value is very important to these buyers; they are prepared to spend the money when they see the value in it."

Neighborhood Watch: Sanderling Club
The region's only gated beachfront community, the Sanderling Club is home to some of Sarasota's most glamorous—and pricey—beachfront real estate, set in a riot of mature tropical vegetation. (Don't look here if you're seeking polite, manicured grass lawns.)
Founded in the 1940s on south Siesta Key as a colony of winter beach cottages, the neighborhood's most unusual draw is its Gulf-front clubhouse with 25 iconic mid-century modern cabanas designed by none other than superstar architect Paul Rudolph, father of the Sarasota School of Architecture. It's on the National Register of Historic Places. For their required club membership, Sanderling Club residents get use of the landmark clubhouse plus 24-hour gated security, beach access and three tennis courts. Kelly Quigley of Michael Saunders & Company, who has a few Sanderling Club listings along with her partner, Linda Roe Dickinson, says the Rudolph-designed beach cabanas as well as 15 boat docks in a sheltered marina just south of the Stickney Point Bridge are also available to residents for annual rental on a first-come, first-served basis.
"The majority of residents are full-time, with many younger families joining the neighborhood in the last few years," Quigley says. At press time, Quigley reports eight active listings ranging from $895,000 to $11.5 million; the latter is her and Dickinson's listing at 8250 Sanderling Road, a Guy Peterson-designed modern home on more than 1.5 beachfront acres.
Stats
Number of Sanderling Club properties: 106
Number of sales in 2013: 3
Range of sale prices: $640,000 to $1.6 million
Range of square footage: 1,128 to 3,158
For more Sarasota real estate news, click here to read Bob Plunket's Real Estate Junkie blog. >>
This article appears in the March 2014 issue of Sarasota Magazine. Like what you read? Click here to subscribe. >>