Article
Sarasota Real Estate News: January 2014
Rosie O'Donnell buys a home on Casey Key, plus more news and notes from the top of the market.

Top Sale
Actress, comedian and talk show host Rosie O'Donnell and her wife, Michelle Rounds, purchased a Key West-style home on Casey Key Road for $5 million, making it the highest priced—and certainly most buzzworthy—Sarasota County residential sale in October. Renovated in 2009, the 4,647-square-foot home has four bedrooms and six baths, an open floor plan with French doors looking out to the Gulf of Mexico, and a big outdoor kitchen and pool. Charlotte and Tom Hedge of Premier Sotheby's International Realty were the listing agents; the selling agent was Jill Fried-man of Coldwell Banker Residential Real Estate. Sales information provided by Kim Ogilvie of Michael Saunders & Company. Previous sale: $4.6 million in 2005.
The British are Coming
As blustery weather descends on Great Britain, thoughts drift to sunny Florida, and area realtors flock to real estate expos to entice would-be buyers.
Attendance was up 20 percent to a total of 6,000 expo-goers at the annual A Place in the Sun in Birmingham, England, in October, says Teresa Witte, global new homes division manager of Re/Max Platinum Realty, who participated along with agency co-owner Cheri Guentner.
"We got 60 leads, including four people interested in buying a business here," says Witte, who pitched Sarasota's beaches, theaters, shopping, good restaurants and the Ringling Museum.
Re/Max Platinum broker-owner Bryan Guentner says foreign buyers who want an investment or holiday residence are generally looking in the $200,000 to $600,000 price range. "Those buyers looking to live here, however," he says, "are looking in higher price ranges—half a million to $1.5 million or an ultra-luxury waterfront home from $2.5 million and up."
"I was part of a Florida discussion panel, and a lot of people knew already where Sarasota was," says Witte. "They very well knew the names Siesta Key, Lido, St. Armands Circle. A big help was Siesta Beach being named No. 1 in America."
Michael Saunders & Company was represented at the International Luxury Property Show at London's exclusive Hurlingham Club in late October by Mayfair International Realty's Annette Reeve. Reeve says the show was, "the busiest we've ever seen it, a constant round of people, and more Chinese people than I've ever seen before.
"A lot of Brits are more confident about buying overseas," she says. "British people are very, very conservative by nature, and everybody heard terrible stories about people buying properties and losing lots of money. Now they're monitoring the websites and seeing properties are being snapped up quickly. A guy came to the stand today representing our top footballers; he was sent here by clients to gather ideas."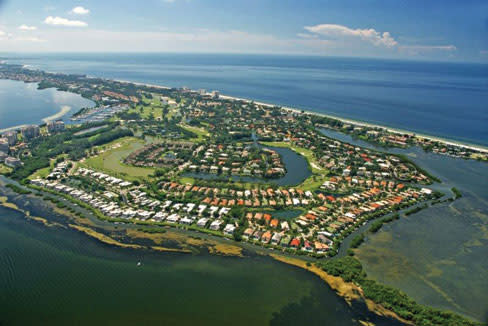 Neighborhood Watch: Bay Isles
Number of Bay Isles properties: 1,281 single-family homes and condos, plus 291 boat slips
Number of single-family home sales from September 2012-September 2013: 25, from $585,000-$4.75 million, sized from 2,300-5,100 square feet; number of condo sales: 70, from $289,500-$2,970,000, sized from 1,192-4,413 square feet
Why are residents so loyal to Bay Isles, the sprawling 40-acre community behind the Longboat Key Club's bayside gates? The varied architecture and mix of single-family and condominium living matter, says Linda Weber of Coldwell Banker Residential Real Estate, herself a 30-year resident. "It's [also] one of the only neighborhoods on the island with underground utilities, so it has a clean and uncluttered feel," she says.
Then there are the many designated green spaces ("Everything's not on top of each other," says Weber), the Harbourside Golf Course and Tennis Gardens complex, and the plethora of sidewalks and streetlights. "You'll find people walking around after dark without any hesitation," she says.
Bay Isles, which started development in 1978, is mostly built out, although a couple of vacant lots remain. The single-family homes—more than half of them on protected water—are custom and eclectic. Many of the older homes have been remodeled, and there have been a few tear-downs.
Who lives there? "It's a total mix of snowbirds, mostly in the condos, and a lot of full-time resi-dents who are still working," says Weber. "It tends not to turn over much. Once they buy in there they may move, but they like to stay within Bay Isles."
And the kicker, she says, is that all residents are members in the private, gated Bay Isles Beach Club across Gulf of Mexico Drive on the Gulf, with a nice cabana, restrooms, picnic tables, grills, icemakers—"a huge amenity."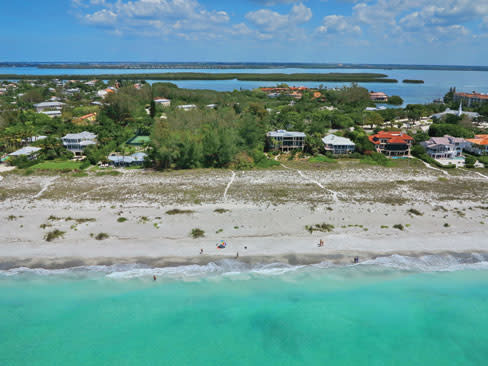 The Boom is Back
The boom is back, judging from the sale in early November of a 2.25-acre vacant parcel at 6271 and 6281 Gulf of Mexico Drive on Longboat Key. At its full asking price of $6 million, it was the most expensive vacant Gulf-front parcel sold in Southwest Florida since 2004, when a 12.7-acre parcel on Manasota Key sold for $7.25 million, according to Michael Saunders. All three listing and selling agents, Michael Moulton, Deborah Beacham and Beverly Alter, work for Michael Saunders & Company.
"Parcels of this size that inhabit premier Gulf-front locations are an increasingly rare commodity throughout Southwest Florida, much less on Longboat Key," says Saunders. "They attract the scrutiny of high net-worth buyers, whose wealth has recovered from the Great Recession [and want] to build a luxury waterfront home to their exact specifications."