Article
James Carville and Mary Matalin Purchase Homes in Sarasota
A new wave of stars and CEOs discovers Sarasota real estate.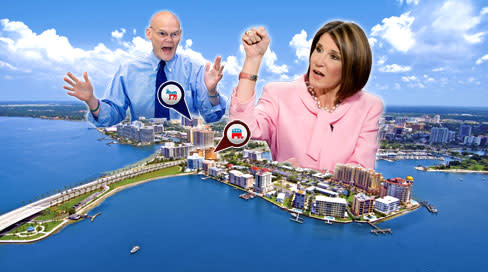 Frankly, I don't know if I can survive another boom. I still owe money from the last one. But they tell us that another one is coming. A whole new wave of rich boomers and celebrities has decided that they can't wait another moment to buy an expensive home here, and they're clogging the real estate offices, clamoring for something trophy-like. The news that Rosie O'Donnell, her wife and five kids have just bought a place on north Casey Key for $5 million only goes to confirm this, and the problem now becomes, where are these new celebs going to live?
Rosie and wife Michelle were smart to choose Casey Key. Its northern tip is a great location when privacy is an issue. There's no gate, but it's very psychologically intimidating. Once you cross the bridge from the mainland and turn right, the road is only one lane wide, with many twists and turns, and God forbid one of the residents should see you driving by. You'll get a withering stare that's straight out of a Stephen King novel. And probably straight from Mr. King himself, who lives at the end of the street in total, hermit-like seclusion, although I did see him once in a 7-11 on Tuttle. He was buying some bottled water and what looked like a can of baked beans.
CEOs are flocking to Siesta Key, again the northern end, where they are buying up older houses, tearing them down (there are still plenty of 40- and 50-year-old beach cottages on fabulous pieces of land) and putting up the sort of 10,000-square-foot mansions that are more typically found in Naples than Sarasota. Also snooping around the area: Michael Kors and Tony Robbins, though not together. Tony—the motivational guru—finally settled on Orlando while Mr. Kors—who recently married his very attractive boyfriend—is, from all reports, still homeless.
If you have impeccable academic credentials or a Nobel Prize, you'll probably want to look at Longboat Key. That's where the former president of Vassar, Frances Daly Fergusson, has settled.
As opulent as Longboat is, it has this strange quality that attracts brilliant thinkers who now want to kick back and go to cocktail parties. Paul Samuelson, whom I'm sure you remember—he wrote those textbooks we all had to use in college and got his Nobel for Economics in 1970—lived here for years, until he finally passed away at age 94. He was a charming old gentleman with a surprisingly large 'fro who loved to reminisce about his childhood in Gary, Ind.
Professor Samuelson hung out a lot with Derek Bok, who is still here. He's the only man who has twice been President of Harvard, the second time when he had to suddenly replace Lawrence Summers, who got fired after he said those foolish things about how women make bad scientists.
This illustrates perfectly the type of academic who flourishes on Longboat—certainly not the bombastic Mr. Summers, but rather the tactful Mr. Bok, whose wife, Sissela, happens to be the daughter of Gunner Myrdal, the famous writer who had his own Nobel Prize for economics, and Alva Myrdal, who had her own Nobel Prize, for peace.
If you think Longboat would make you feel inferior intellectually, then I suggest you try downtown, where anybody can live and flourish. Take James Carville and Mary Matalin, for example, the famous couple who are politically opposed even though happily married. He's the Democratic strategist who invented the phrase "It's the economy, stupid!" and she's the Republican consultant who advised everybody from Reagan to the Bushes and Dick Cheney. Well, now they've gone and bought two condos in downtown Sarasota, and guess what?
One's Democratic and one's Republican, just like them.
Back in April they bought Unit 611 in the Renaissance, across from the Van Wezel. The Renaissance is very nice, but it is not a prestige building. It was designed as rentals, and the units are a little small. There was also a mold or insulation problem, and right after the building was completed it had to have major renovations. It's known for attracting young professionals and people who want a downtown high-rise but can't quite afford the glamorous buildings, like the Ritz or Beau Ciel. In other words, Democrats live there.
The apartment itself (1,360 square feet) has two bedrooms, two baths, a den, and a lot of faux finishes. It's a corner unit and most rooms face the bay. It was offered for sale furnished, and has been rented out over the years, at $2,500 for an annual lease and $4,500 seasonal. The Carvilles got it for $415,000, down from an asking price of $450,000, and I bet the owner was glad to see them, as it had been on the market for 979 days.
Once they realized how Democratic their new home was, they went out and bought the Republican version, about half a mile away in Golden Gate Point. It's unit 702 in Vista Bay Point, one of those twin beige-y buildings right on Ringling that have those odd, rounded dome-shaped things on the roof. This place is much fancier. It's got 3,317 square feet, three bedroom, three baths, a coded elevator, two terraces (one faces the bridge, the other Marina Jack) and that ultimate Republican indulgence, a bidet in the master bath.
The asking price was $1,369,000, but the Carvilles got it for $1.2 million. It's a strange building that takes a little getting used to. The rooms are all oddly shaped, resembling gerrymandered Congressional districts. Though it's on a busy street, it's very well soundproofed, and if there was a mob outside yelling things, you'd never hear a peep.
The Carvilles swear they never discuss politics at home, which is great because now they don't have to. Like everybody else in Sarasota, they can now discuss real estate.
Read Bob Plunket's Real Estate Junkie blog here. >>
This article appears in the December 2013 issue of Sarasota Magazine. Like what you read? Click here to subscribe. >>