Article
For Sale: An Architectural Standout on Casey Key
A Toshiko Mori-designed home comes on the market.
Of the several barrier islands that line Sarasota's shore, everyone agrees that Casey Key exists in a world of its own. It's very small and very exclusive—a perfect hideaway for the world's super rich who find seclusion in the glamorous second (or third) homes that line the usually deserted white sand beach.
In such a rarified atmosphere, the architectural quotient can be pretty high. A standout among the island's newer homes is this 7,121-square-foot residence designed by Toshiko Mori, the former head of the architecture department at Harvard. With an aesthetic formed by the Zen gardens and ancient Kyoto temples of Ms. Mori's native Japan, "West Wind," as the house is known, provides the peaceful atmosphere of a beach retreat with a hip overlay of cutting-edge style.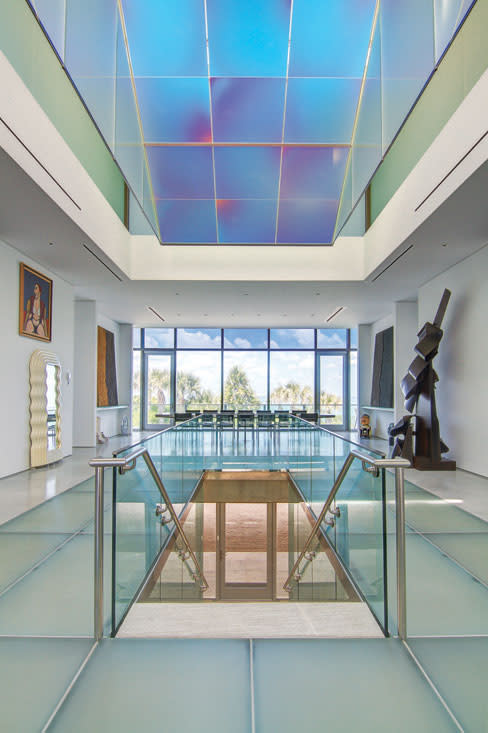 The home is constructed on pilings, with living spaces on the second and third levels. Walls of glass bring in sunlight and views of the Gulf and Little Sarasota Bay. There is also a two-bedroom guest house remodeled from a former Coast Guard barracks that once occupied the property, and a new pool house and pavilion.
The interior of the main house is grand in scale—the living room is 57 feet long—and there are six bedrooms and seven-and-a-half baths. Perhaps the most unique feature is the dramatic entry stairway, located beneath a central atrium. Renowned designer James Carpenter (who also happens to be Ms. Mori's husband) has created something called a "dichroic glass prism" that diffuses daylight from clerestory windows to bring a spectrum of colors that shift with the viewing angle and time of day.
Set on more than two acres at the preferred northern end of the key, West Wind also features tropical gardens with 60-plus varieties of plants and trees.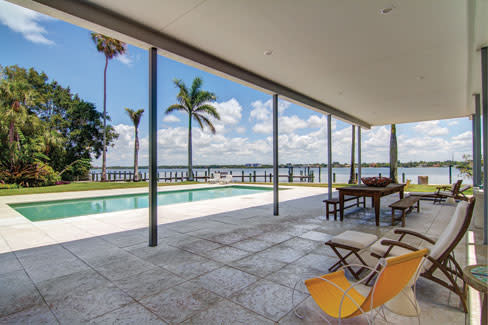 ›› Interested? 316 N. Casey Key Road | $9.9 million
Contact Deborah Beacham, (941) 376-2688, Michael Saunders & Co.
Click here to read Bob Plunket's Real Estate Junkie blog. 
This article appeared in the November 2013 issue of Sarasota magazine. Like what you read here? Subscribe to Sarasota magazine. >>