Article
Sarasota Real Estate News: International Buyers and More
Ilene Denton reports on international buyers and other Sarasota real estate news.

Wilkommen, bienvenue, welcome, to all our foreign visitors—and buyers.
European tourism to Sarasota County was up a strong 17 percent from 2011 to 2012—93,329 European visitors stayed in area hotels versus 77,354 in 2011, according to Visit Sarasota County. So expect to hear lots of British and German accents on the beach and around St. Armands Circle the next few months, as summer is traditionally a strong season for those tourists—and for real estate agents who try to convert them to home buyers.
German natives Karen and Jan Heitmann of Re/Max Alliance Group in Venice have been selling homes to foreign buyers for 10 years. "We have a German website[zuhauseinflorida.de]and our own website, and we market to real estate agents we know over there," Karin Heitmann says. "It's all about networking; people who've bought from us go back and tell their friends."
The last four years were fairly quiet for European buyers because of the economic crisis back home, says Heitmann. "But it will come back," she predicts.
One possible bright spot: talk that the U.S. will consider a retiree visa as part of immigration reform. "That would be a huge benefit for Florida and Sarasota," she says. "Retired people with income would then be able to stay here for a longer period of time." Currently, European visitors can stay in the U.S. for six months if they have a visitor visa, or three months with a visa waiver.
The Heitmanns mirror the typical pattern of their buyers. They started out as tourists here 13 years ago and were so taken with the area that they immediately bought a vacation home in Englewood.
"Europeans are looking for gated communities because when you only use your house for a few months of the year you want a secure place," she says. In south Sarasota County, where the couple does most of their business, Calusa Lakes, Silver Oaks, Sawgrass in Venice, Venetian Golf & River Club, Boca Royale and Oyster Creek are particularly popular. The price point, she says, tends to be $400,000 to $500,000.
Carla Rayman and Patricia Tan of Coldwell Banker Residential Real Estate are certified international property specialists who woo potential foreign homebuyers by traveling overseas to conduct seminars at major real estate exhibitions like London's "A Place in the Sun." They often bring along a local immigration attorney and CPA. "It's 70 percent of our market, and we go after it hard," says Rayman, who spoke to us while Tan was in the middle of a month-long trip to Singapore and London, and just before Rayman flew off to Taiwan. Last year, she visited Brazil and Venezuela.
"Our job is to put Sarasota on the map," says Rayman. "International buyers typically think Orlando and Miami; I wouldn't even say they know what Sarasota is." But once she and her partner explain Sarasota's attributes—the beautiful beaches, the small-city appeal ("sometimes Miami seems too big for them")—Sarasota is an easy sell. "It's what they're looking for, they just didn't know it," she says.
"We see a lot of U.K. business, since we've been going there since 2006, and while we're not seeing as many Canadians as we used to, we are seeing a lot of Canadian-Asian investors," Rayman adds. And she and Tan have worked with several Chinese investors this year. "They don't intend to live here," she says. "They're true investors, buying multiple single-family properties and renting them out."
Last Dance

The Manasota Key home of the late disco diva Donna Summer sold in April for $2.85 million to an Atlanta couple. Summer had purchased the waterfront home in a gated enclave on North Manasota Beach Road in 2007. Summer was posthumously inducted into the Rock & Roll Hall of Fame at a sold-out ceremony in Los Angeles on April 18. The home had been listed for sale by Nelda Thompson & Associates; Maryann Casey of Michael Saunders & Company represented the buyers.
NEIGHBORHOOD WATCH: Eagle Point Club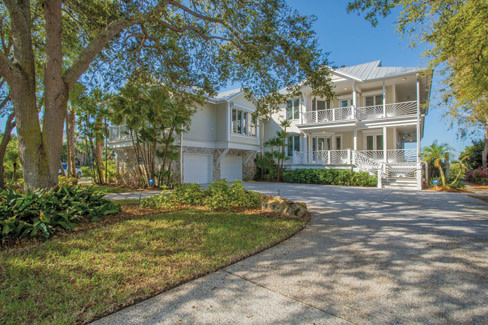 Originally an exclusive hunting and fishing camp owned in the early 1900s by Bertha Honore Palmer, Eagle Point Club is now a small gated community of Key West-style residences just north of the Island of Venice on Roberts Bay. In 1989, the 24-acre waterfront property was officially recognized as Sarasota County's oldest continuously operated winter resort, and it is listed on the National Register of Historic Places.
The clubhouse and original 10 resort cottages, most of them updated, still exist. One is reserved as a guest cottage for residents, says Terry Herschberger of Premier Sotheby's International Realty. The remaining homes were built in the 1990s in the Key West style, with cupolas, metal roofs and wrap-around railings. "Many of the non-waterfront homes have deeded docks right on Roberts Bay, so even not living on the water you have deep water access and only minutes to the Gulf of Mexico," he says.
Herschberger, who currently has two waterfront listings (there were only two other, non-waterfront listings at press time), says there's minimal turnover, because "People love living there."
BY THE NUMBERS
44 Number of eagle point properties
1 Number of sales from march 2012-march 2013
$670,000 Sale price for a 2,554-square-foot  two-bedroom/ two-and-a-half home
Top of the Market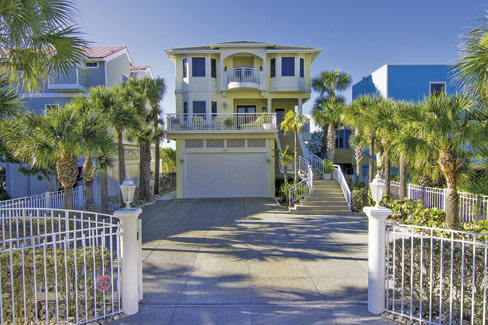 It took just 30 days to go to contract on this 6,657-square-foot, two-story Siesta Key beachfront home at 220 Tenacity Lane, which sold in late March for $4.25 million. The four-bedroom gated residence has a spacious open great room with knockout beach views, a large beachside terrace perfect for entertaining and a five-car garage. Linda Dickinson was the listing agent and Kim Ogilvie was the selling agent; both are with Michael Saunders & Company. Sales information provided by Ogilvie.
 For more Sarasota real estate news, read our Real Estate Junkie blog.