Article
Luxury Homes: On the Homefront
Sarasota real estate: What's new this month, plus Florida House Learning Center reopens.
By Ilene Denton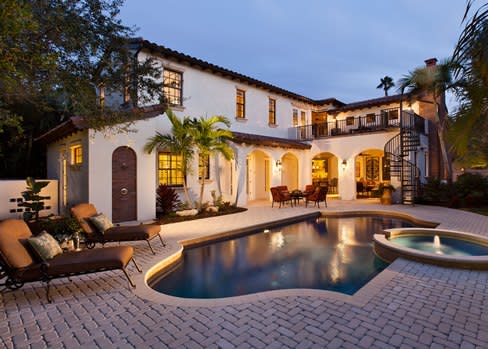 Our real estate market may not be quite as red hot as D.C.'s, where, the Washington Post reported at year's end, a 2,850-square-foot townhouse near Capitol Hill got 168 offers and ended up selling for $400,000 over asking price.
But we're no slouches, either. The Sarasota Association of Realtors announced that its members sold 606 single-family homes and 222 condos in December, the fourth-highest number of annual sales in SAR's 90-year history—and 28 percent higher than December 2011. "There's a sense of urgency with buyers now that I haven't seen in years," Pat Warren of Premier Sotheby's International Realty told us.
The downside: Inventory of existing homes on the market is near a 10-year low. Area custom home builders are addressing the home-inventory shortage with new model homes. Here's a look at some.
At The Founders Club, prospective buyers can tour two London Bay Homes' models. The Laurel model is one of several planned spacious single-family homes in The Cottages with pool and landscape maintenance packages that should appeal to the serious golfer who wants to fly in for a long weekend. On The Fairway, the 2,880-square-foot Isabella model is a three-bedroom, three-bath single-family home with a great-room-style floor plan.
London Bay Homes also has three luxury models in The Lake Club at Lakewood Ranch: the 2,967-square-foot Emilia, the 3,789-square-foot Alezia and the 5,682-square-foot Avena, and it has two models now open in Tidewater Preserve in north Manatee County. WCI Communities has three models open in Venetian Golf & River Club. has three models open in Venice Golf & River Club.
John Neal Homes is building the largest model home in Lakewood Ranch. At nearly 5,000 square feet, the Barbados II model in the Highfield section of the Lakewood Ranch Golf & Country Club will have four bedrooms, four-and-a-half baths, plus den, club room and bonus room. It's priced in the low $900,000s.
Also at Lakewood Ranch, Lee Wetherington Homes has broken ground on its Solvita model. Two versions are available: a one-story option with 2,644 square feet, and a two-story option with 4,000 square feet. It's located in the Haddington neighborhood in Country Club East.
John Cannon Homes turned to the popular West of Trail for his newest model, The Macalla, a Spanish-style home with 3,300 square feet of living space at the corner of Wisteria Street and South Osprey Avenue. Cannon also recently premiered The Baylin model in Country Club East in Lakewood Ranch, The Akarra II in The Vineyards at The Lake Club, and The Amarina in Legends Bay at IMG Academies.
And most eye-popping of all, Modus Custom Residences broke ground in January on a $2.695 million spec home on the beachfront on Lido Beach.
Florida House Learning Center reopens
The nonprofit Florida House Learning Center is reopening at its new site, 4454 Beneva Road, as a demonstration house for homeowners seeking the latest products to "tune up their homes to high-performance standards," according to executive director and co-founder John Lambie.
In its heyday in the 1990s and early 2000s, some 10,000 people annually toured the Florida House, then a partnership with the Sarasota County cooperative extension service, to see eco-friendly building and landscaping techniques put into practice.
Now the Florida House is on its own, "green building is business as usual, and the Florida Friendly yard is a common sight everywhere," says Lambie. The new focus will be on continuously introducing new products to help homeowners retrofit their existing homes, and on edible landscapes and local food production. The building is also being retrofitted with video capture and live screening capabilities, in order to make it "the best small-meeting facility in town," says Lambie.
"We're really in restart mode, looking for community support, looking for folks interested in contributing their time and business expertise," says Lambie. For more information, contact Lambie at (941) 323-8800.