Article
The Luxury Home
Sarasota real estate news: February 2013.
By Ilene Denton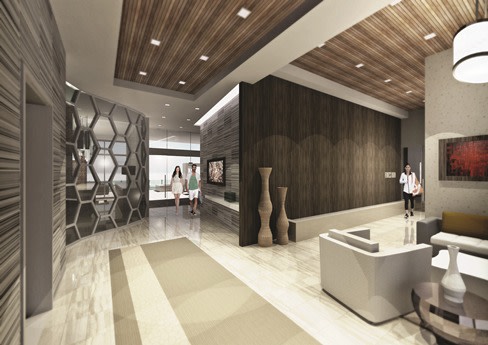 ON THE HOMEFRONT
Downtown Sarasota advocates are cheering the return of the construction crane—which, in the not-so-distant go-go years, was the unofficial city bird—as three very different downtown residential projects are ready to fly off the drawing board.
"The true legacy of the last boom is we built a better downtown," says Drayton Saunders, president of Michael Saunders and Company and a past Downtown Sarasota Alliance board member. "And the improving economy is bringing a wave of interest from buyers who want to be in the middle of all that. That promise of urban amenities within a relaxed community is something we always said was coming. Now it's here."
Construction is slated to start June 1 on the project with the premium location, The Jewel, at the corner of Main Street and Gulfstream Boulevard. (It will comprise both the vacant lot at the foot of lower Main Street and the buildings that now contain Living Walls and The Sports Page; those buildings are slated for demolition April 1.)
The luxury condominium project will have 18 units ranging in size from 2,350 to 4,700 square feet, priced from $1,375,000 to $4,195,000. The developer is Thomas James Mannausa of Main Street J Development Company, who bought the property in 2010. Gary Hoyt of Hoyt Architects and Kurt Lucas of JKL Designs are collaborating on the very modern design.
The Jewel will boast an amenities floor on the third level with a 20-meter lap pool, Jacuzzi, steam bath and infrared sauna, as well as a fully equipped gym with yoga stretch room, and, outdoors, a putting green and platform tennis court. At 211 feet ("and five inches," the developer says), the roof deck will be the tallest in the area, affording views all the way to Anna Maria Island. In addition, it's a fully automated "smart building," so homeowners will be able to control their thermostats and make sure doors are locked wherever they happen to be.
Interest has been strong. Mannausa says nine units were snapped up in the first 28 days after he opened his sales office in November. "Two of our buyers are coming from beach communities, one is relocating from New Jersey, and the balance wanted to move into the newest building in the best location, with spectacular views," he says. "If you live on Longboat Key, you're constantly coming downtown and then having to drive back out."
Completion is expected by the end of August 2014.
Kurt Lucas is also doing design work on another very modern downtown project, The Queue, on Ringling Boulevard just west of Osprey Avenue. Developer Jim Bridges of Jebco Ventures says construction should commence in March or April on the community, which will include 41 two- and three-story townhomes that will range from 2,000 to 3,400 square feet including garages and terraces. At year-end, prices had not been set, but Bridges says they will be somewhere in the high $300,000s to just under $600,000.
Even though a sales center wasn't scheduled to open until sometime in January, Bridges says interest has been remarkable from both empty nesters and young professionals. "I could honestly take 30 deposits today if I was ready; we've had so many inquiries," he says. "There just isn't any housing other than condos that have been built in downtown in several years, and not everyone wants to be in a condo.
"People ask me, is there a clubhouse or pool, and I say no, the downtown address is our amenity."
Developer Lou Donato hopes to break ground in March or April on The Homes of Laurel Park, between Devonshire Lane and Alderman Street just east of Orange Avenue. Prices will range from the $300,000s to $500,000 for three premium lots on Hudson Bayou, and Mark Sultana, exclusive architect for the project, has designed four single-family floor plans with three different styles: modern, contemporary and traditional. Each home will be custom, and Donato says potential buyers are expressing interest in from 1,700 to about 2,500 square feet of living space. Fourteen of the 19 lots "have names on them for first crack" once permitting is approved, he says. "People want to live in a historic part of downtown four blocks from Main Street and three blocks from the bayfront."
This is the first Sarasota residential project for Donato, who developed communities in his native Toronto and in upstate New York.
"I'm very much in love with downtown Sarasota; it's a great city with a great future," says Donato, who is also working with Sultana on an eight-unit "boutique-y" higher-end condominium building to be built on Golden Gate Point pending approval from the city. A small building with four rental apartments will be demolished to make room for it. At year's end, no timetable was set for groundbreaking.
NEIGHBORHOOD WATCH
Harbor Acres
No custom home building slowdown in the fashionable West of Trail bayfront enclave of Harbor Acres, with seven grand estates in various stages of construction at year's end and a similar number of empty lots awaiting the same fate. "It's a construction site. Homes are going up all over the place," says Coldwell Banker's Louis Wery, who facilitated Sarasota County's largest residential sale of 2012 last fall, an 8,433-square-foot estate in Harbor Acres sold for $7.5 million to a Midwestern couple new to the area.
The appeal of Harbor Acres is the same as it's been since the 1950s, when the first humble stucco homes—now almost all demolished to make room for mega-homes—started rising: proximity to Sarasota Memorial Hospital for physicians, to downtown for attorneys and other professionals, and to beautiful Selby Gardens and Bayfront Park. "It's one of the best areas in town if you want to be close to anything," says Wery.
Even though sale prices are off their boom-years high (asking prices at year's end ranged from $1.4 million for a brand-new non-waterfront home on South Orange Avenue to the $7.9 million ultra-modern Nelson house on Hillview Drive), the current construction hubbub, says Wery, is "definitely a sign that this particular area is not hurting."
BY THE NUMBERS
Number of Harbor Acres properties: 166
Number of sales from November 2011 through November 2012: 10
Range of sale prices: $465,000 to $7.5 million
Range of square footage: 2,800 to 8,433
TOP OF THE MARKET
A 6,320-square-foot estate on Little Sarasota Bay that sold for $4,075,000 was Sarasota County's highest-priced residential sale in November. The four-bedroom home at 8347 Midnight Pass Road on Siesta Key was originally listed at $4.49 million and went under contract in just 56 days. It has large outdoor terraces and a summer kitchen. Inside, a 21-foot fireplace made of imported Turkish stone is the focal point of the grand living room. The home was built in 2010. Ian Addy and Gail Wittig of Michael Saunders & Company were the listing agents; Lindsay Bucknell of Re/Max Alliance Group was the selling agent. Sales information provided by Kim Ogilvie of Michael Saunders & Company.