Article
Home of The Month: January 2013
Bachelor Pad
Suave and sophisticated, this Sandy Hook compound defines Sarasota style.

This is a house Frank Sinatra would love. It has a rich bachelor chic, perfect for entertaining a crowd around the 16-by-44-foot pool—or for more intimate entertaining in the many elegant nooks and cubbyholes inside. And when it comes time to scramble up some eggs, there's a kitchen made out of glass—even the ceiling.
Actually, it's two houses—a mini compound. The first is a circular space of about 1,700 square feet, where the rooms flow into each other and are detailed with jewel-box paneling and granite and marble trim. There's a living room with a fireplace, an elegant dining room with black-stained walls, two bedrooms and a den. Or is it one bedroom and two dens?
Across the pool area, over the detached garage, is a guest house in much the same sophisticated style. Again, the walls are paneled and there is an array of remarkable custom lighting. Built-ins are everywhere, and the windows offer views on the half acre of well-tended tropical gardens and a lagoon complete with ducks and turtles.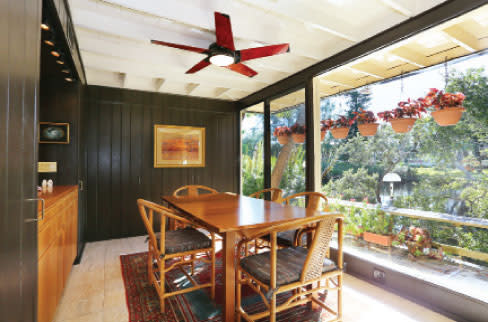 The main house has the added bonus of being one of Sarasota's most important homes. It was designed by Mary Hook in the early 1950s for her own use. She was the prominent female architect—one of the country's first—who developed Sandy Hook, arguably Siesta Key's most stylish enclave. It rivals Lido Shores in its museum-like display of Sarasota School architecture, with examples by all the greats, including Paul Rudolph. The 44 homes are set on rustic shell roads that meander through the tropical vegetation, and many of them are directly on the Gulf. But for all of Sandy Hook's seclusion, Siesta Village with its shops and restaurants is just a five-minute walk away.
This is the first time the home has been on the market for more than 25 years. It was owned by man-about-town Bill Burgunder (who passed away recently) and his partner, Jim Fellows; the two of them deserve the credit for creating this near-perfect slice of the Sarasota lifestyle.
172 Sandy Hook Road
$1,595,000.
Contact Ron Stahl of Ron Stahl Realty, (941) 374-1617.
Read Bob Plunket's "Real Estate Junkie."