Article
Wish We Were Here
A design-savvy couple creates a sophisticated guesthouse for friends and family.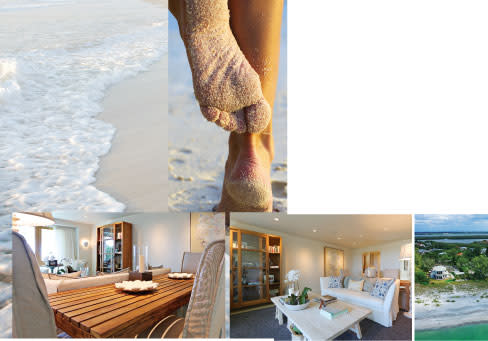 Wayne and Mindy Rollins—who bought a 2.8-acre slice of Longboat Key paradise a few years ago with the intent of transforming the existing 1960s-era residence into their "grow-old home"—are such good hosts, they rebuilt the beachfront guesthouse first.
The Rollins are a busy young couple. In addition to being the proud parents of a baby and toddler, they own the stylish downtown Sarasota home furnishings boutique, Black Bird Home Gallery. They're also making a mark philanthropically in town since moving here from California, mostly by working on family-oriented causes like Children First, Forty Carrots Family Center and the planned Children's Rainforest Garden at Selby Gardens. When they want to—make that need to—relax, the first place they head is the beach.
"The beach invokes emotions in everybody," says Wayne, "and for me, it's a very relaxed, comfortable feeling. Longboat Key is a beach destination, and when our friends and families come to visit we want them to enjoy it, too."
At 1,000 square feet, the two-bedroom, two-bath guesthouse, newly fortified to withstand Florida storms, sits right on the beach. "Because it's not a large space, each piece needs to be beautiful and of quality," he says. "The view is what we're there for, so it needs to have a calm-ing feeling."
But comfort doesn't equate with shabbiness, cautions Wayne. Most everything is slipcovered, for example, but it's slipcovered in white linen with a textured coral motif stitched in teal.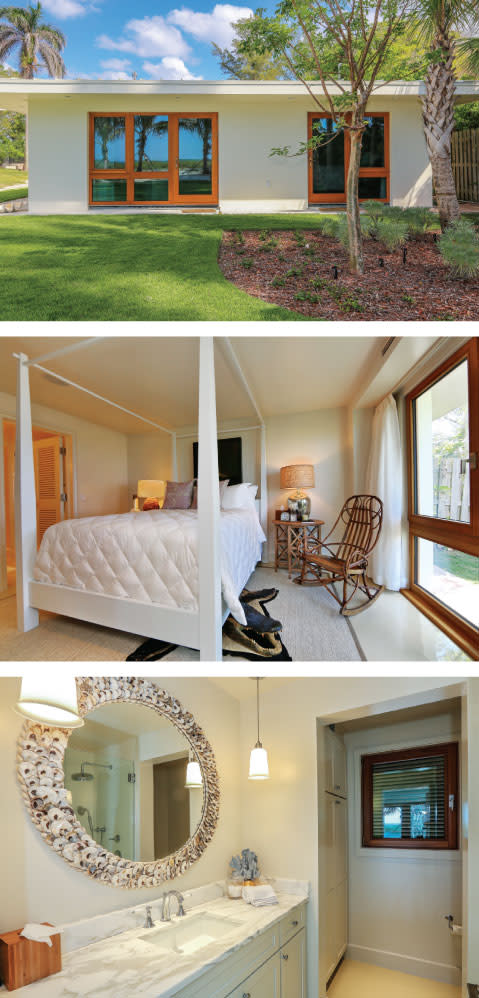 Unsurprisingly, he and Mindy went shopping at their own store for the simple yet sophisticated furnishings—accessories like the horseshoe crab light fixture in cast resin and the large round oyster shell mirror in the master bath, both by Oly; and pieces like the reclaimed washed-oak coffee table in the living room, by CFC. The result, says Wayne: "an unassuming elegance, wonderful without a lot of opulence. It's a beach guesthouse, after all, and the simplicity pays off."
The couple opted for neutral tones throughout, because, he says, "What we're really doing is looking out the window." Their aim, he explains, was for "your eye to flow into the water, instead of stopping at every little bit" in the room.
That doesn't mean there won't be space for collectibles. The Rollinses have amassed an art collection, including some William Morris glass pieces and works by Jean-Michel Basquiat, currently in storage in Los Angeles. Once the entire project is complete, they'll be moving them here, and some will surely find a place in the guesthouse.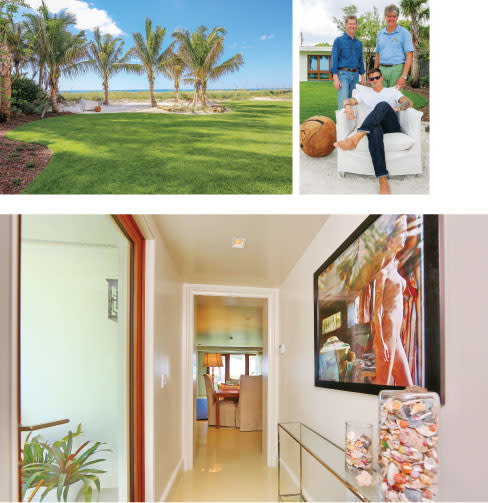 The guesthouse is phase one of a master plan that over the next couple of years will include the overhaul of the main residence (that means completely changing what they describe as an "odd" layout and, instead of adding on to it, reducing its footprint by 450 feet). They'll also add a multi-car garage and screened pavilion that will connect the main house and guesthouse. Steve Ellis of MyGreenBuildings is their contractor. Michael Gilkey is the landscape architect. Wayne is the designer, and the architect is Charles Heydt of Pak-Heydt & Associates in Atlanta.
"I'm excited about it," says Ellis. "They have an absolute dedication to quality, and to making this their very unique family dream home. Their taste is impeccable, and their hearts are always in the right place." (True to MyGreenBuildings' environmental philosophy, the entire project is being planned for eventual LEED certification.) Ellis singles out such high-end finishes as the solid teak hurricane windows and doors imported from Germany, and the beautiful Italian travertine marble from a Vatican-owned quarry that will eventually be used on all the floors.
"This is going to be one of those homes that will raise the bar in the custom world of Sarasota," Ellis says.