Article
Sarasota-Manatee Offers Growing Variety of Birthing Options
Our region offers a growing variety of ways to bring your baby into the world.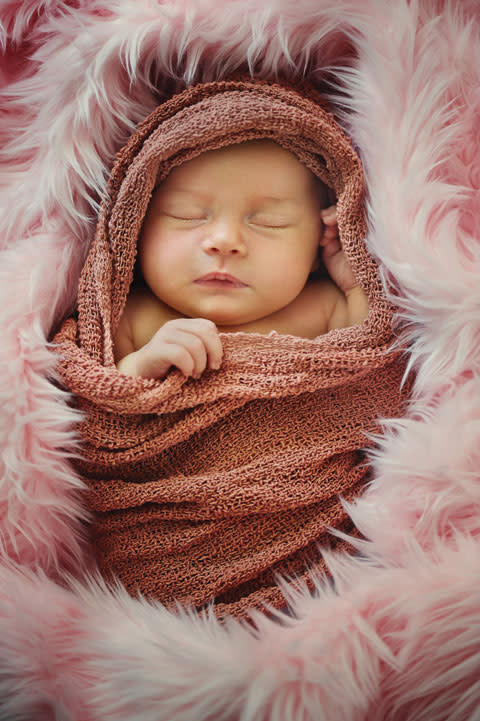 Shon Ewens has seen local birth from nearly every perspective, but the most profound one was as a mother at Sarasota Memorial Hospital (SMH). It was there, in January 2011 and November 2013, that she delivered babies Jackson and Harper, surrounded by a medical staff that felt like an extended family.
"I had such a great birth experience with both of my kids," Ewens says. "My nurse was with me the whole time and stayed through the delivery. The doctors and the nursing staff were so attentive. They listened, they helped, they encouraged."
As the current executive director of the Healthy Start Coalition of Sarasota County (a nonprofit organization dedicated to helping mothers and babies), Ewens knows how important it is for women to experience respectful care during labor.
Though birth is never a uniform experience, laboring families in Sarasota-Manatee have a variety of alternatives, from choosing a midwife-assisted water birth to opting for an obstetrician in a hospital setting to an entirely customized combination. For its size, the bicounty area's pre- and postnatal resources are diverse and numerous.
"I used to live in Birmingham, Ala., which is a huge city compared to Sarasota, and I never heard about the options of homebirth or birthing centers there. I think we have great options here," Ewens says. "Whatever your lifestyle is, you can do whatever works for your family."
Navigating the Options
For Julia Mollohan, the second time was the charm.
A full-time stay-at-home mother in Sarasota, Mollohan had her daughter, Sarah, in September 2009 at SMH. Finding that the hospital setting was not ideal for her, Mollohan chose midwife Harmony Miller of Rosemary Birthing Home to deliver her second daughter, Lily, at home in July 2011.
"Having my baby at home was a completely different experience than in the hospital. I got to sit on my own couch and eat my own food and I could invite whoever I wanted to be there," Mollohan says. "We laughed and talked and it was very comfortable. Right after Lily was born, I got to sleep in my own bed that night. That worked for me."
Mollohan is currently pregnant with another girl, whose name will be Emily and who is due in the fall of 2014. Miller will attend that planned homebirth as well. Mollohan's is a story of a mother tailoring her birth plan to suit her own specific needs, which can be done in Sarasota-Manatee when families are properly educated about their choices.
"Regardless of how their babies are born, I believe women should feel empowered by the decision-making process and honored with the reverence the moment deserves," says Laura Gilkey, a co-producer of the Maternally Yours program at WSLR 96.5, a board member at the Healthy Start Coalition, and the coordinator for the Safe Motherhood Quilt Project, which raises awareness of the maternal death rate in the United States.
Local women wishing to have their babies in a hospital can pick from SMH, Manatee Memorial Hospital (MMH) and Lakewood Ranch Medical Center (LRMC).
Out-of-hospital alternatives include Birthways Family Birth Center, Rosemary Birthing Home, Cathy Matthews Homebirth and LifeSong Midwifery, where certified professional midwives are present.
Like Gilkey, Katie Powers, a longtime registered nurse and the director of MOMMs Place at MMH, wants all women to experience a loving birthing atmosphere, and her educational initiatives exist for this purpose.
MOMMs Place provides prenatal, childbirth preparation and breastfeeding classes. MMH supports the "wait for eight" policy of not washing the baby for eight hours after delivery, and leaving the baby on the mother's chest after both vaginal and surgical deliveries.
"This helps the baby maintain temperature, and it's widely held that it's traumatic to wash the baby first," Powers says, adding that MMH sees 2,000 babies delivered each year. "We support mother-baby nursing; it's really the odd thing not to nowadays. We're always striving to improve upon what we're doing."
So is the staff at SMH. Debbie Harman, the clinical manager of the NICU and maternal-neonatal transport at SMH (which delivers 3,000 babies annually) has watched families benefit from the new unit that opened on the Courtyard Tower's fifth floor last year. What was formerly a pair of open rooms with little privacy has been transformed into a 33-room area with personalized care.
"It's much more of a home setting. There's a place to shower, a family lounge, two computers and kitchen amenities like a toaster oven and a coffee pot," Harman says. "I've noticed that parents feel more comfortable having this kind of privacy. We have an experienced staff that provides the latest technology and an environment for families to have the best possible outcome."
The unit is the only Level III intensive care nursery in the area, and rapid transport to All Children's Hospital in St. Petersburg is available for babies requiring heart, lung or gastrointestinal surgery.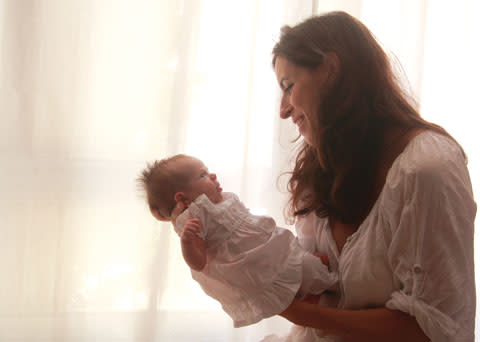 A Paradigm Shift
A growing number of maternal advocates are pushing for more noninvasive procedures during labor—less medical intervention unless it is absolutely necessary and a closer-to-nature overall birthing experience.
They point out that women who undergo C-sections are more likely to have longer post-labor recovery times, as well as complications such as infections and blood clots. Also, C-sections cost much more than nonsurgical births.
The current C-section rates at area hospitals, according to data through September 2013, are 40 percent at SMH, 32 percent at MMH and 33 percent at LWRMC. The United States C-section rate for 2013 was 33 percent,  and Florida currently has the fourth most C-section births in the country at 38 percent.
To reduce C-sections, many birth experts recommend midwifery care and the support of a doula (a nonmedical person who assists a women before, during and after labor).
"There is definitely a paradigm shift happening. Women are learning they can choose out-of-hospital births and homebirths," Gilkey says. "Part of it is the word of mouth that happens when women feel empowered or dis-empowered."
Miller believes the midwifery model of care empowers women.
"Having a homebirth or birth center birth will not be the first choice for everyone, but those who choose it can be supported toward it," Miller says. "The sweet postpartum and fantastic prenatal care designed to guide the newly budding parents into the birth of their new family is what sets midwifery care apart."
Sarasota has many practicing midwives and a much higher rate of out-of-hospital births than the rest of the country—5 percent in Sarasota, versus a national average of 1-2 percent.
"In our area, we have care providers and legally recognized options for every kind of birth imaginable, from the planned to the premature, from the highest-risk surgery in the hospital to the most normal, natural home birth," Gilkey says. "We have smart consumers here who understand that pregnant women have rights and deserve to be treated with compassion and respect."
Powers says being able to nurture families at MMH during such a vulnerable time is a tremendously rewarding experience, and that nurturing is something everyone deserves.
"There is nothing like witnessing a woman and a man transform from being Sally and Joe to being somebody's mother and father," Powers says. "I love being put in the position where I can be kind and comforting and teach people from every walk of life, no matter who they are or what language they speak."
By the Numbers
3.95 million births were registered in the United States in 2012
The general fertility rate declined to 63 per 1,000 women ages 15 to 44.
The teen birth rate fell 6 percent to 29.4 per 1,000 women.
The preterm birth rate declined for the sixth straight year to 11.55 percent.
The low birth weight rate declined slightly to 7.99 percent.
The birth rate declined for women ages 25 to 29 but increased for women ages 30 to 44.
The mean age of first-time mothers rose again to 25.8 years in 2012, up from 25.6 years in 2011.
The Caesarean rate rose nearly 60 percent from 1996 to 2009, declined slightly from 2009 to 2010, and has been stable since.
Resources: Laura Gilkey, co-producer of Maternally Yours at WSLR 96.5 LPFM community radio station, [email protected]; Shon Ewens, executive director, Healthy Start Coalition of Sarasota County, 1750 17th St., #A, Sarasota, (941) 373-7070; healthystartsarasota.org.