Article
An Interview with Breast Cancer Survivor Margo Rey; Plus Sarasota Breast Cancer Awareness Month Events
An interview with breast cancer survivor and recording artist Margo Rey, plus breast cancer events in Sarasota and the latest exercise craze.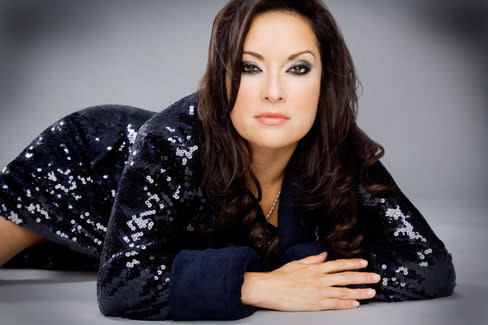 In August of 2009, recording artist Margo Rey was diagnosed with breast cancer. "I had never been hospitalized, broken a bone or had a cavity," she says. "It was really quite shocking." She chose to undergo a double mastectomy.
In January of this year, doctors again discovered cancer, this time in her lymph node. Rey, who turns 47 on Oct. 17, took to calling herself a "breast cancer warrior." She underwent another surgery, then chemotherapy from April to June, and radiation treatments this past summer.
This month, Rey, whose song Let the Rain was recently chosen as the anthem for Brides Against Breast Cancer's "Say I Do!" campaign, will marry her longtime partner, comedian Ron White. (The couple became engaged just weeks before Rey's initial diagnosis.) Then the newlyweds will come to Sarasota as honorary co-chairs of the Center for Building Hope's Night of Hope Gala Nov. 1 at The Ritz-Carlton, Sarasota.
How did the song Let the Rain, which you co-wrote with John Oates, coincide with your breast cancer diagnosis?
I started writing the song on the flight to Paris when we got engaged [prior to the diagnosis]. When we came back, I was scheduled to do some songwriting with John Oates, so I was going to spend some time alone to work on writing. But Ron surprised me in the middle of the night—he showed up in my bedroom, scared me to death.
At one point, he leaned over and, in a very unromantic way, touched my left breast. And he said, "What the hell is that?" Like all the women say: It feels like a frozen pea.
I got all these tests done, and I got the diagnosis. Then they wanted to sonogram my liver. I said, "I gotta go write songs with John Oates. I'll be back."
I didn't tell John I had cancer. I just wanted to meet him as a writer, so I brought him this melody and lyrics about how I like to be in the rain—because a lot of people act as if the rain's going to water-log them. It became a metaphor for hope.
You project such strength and positivity. How did you achieve that mindset?
When I was first diagnosed, I never said "Why me?" because that's just a silly question. Nobody gets out alive, anyway. But I certainly didn't want this to be the thing that takes me out. I was sad. Then after three days, I was like, "OK, let's just do something about it."
How has this affected those around you?
It's very hard on the partners or the family or the children or the best friend. Ron had had a brush with breast cancer with another partner years ago, and it did not end well. He cried really hard [after the diagnosis]. I said, "You'll see that this will be a completely different set of circumstances."
You have to recognize that there are so many people trying to make it better. When I got upset, I liked to say, "I'm not screaming at you; I'm screaming adjacent to you." I called it "the Kraken": I didn't have this anger in my personality until chemo left this toxic wake of garbage in me. One time, I told Ron, "This isn't about you," and then I grabbed a plastic bottle full of Diet Coke, chucked it and screamed like a rugby player. Almost as soon as that heat comes it disappears. So just let everyone know, if you can, "It's not about you."
You've expressed a lot of pride in your natural breasts. How did you cope with the double mastectomy?
I loved my natural breasts—people always asked me if they were fake. But breasts are a great place for cancer to hide. And when you have dense breast tissue, it's even harder to see the cancer. A sonogram saved my life twice: Even after finding the lump, we still couldn't see it on a mammogram; we found it with a sonogram. And this last time, a sonogram of my axillary lymph node found the recurrence. After the double mastectomy, my entertainment manager said to me, "An empty house is better than a bad tenant." Now I like to say my breasts got early retirement for good behavior.
SHOP FOR A CAUSE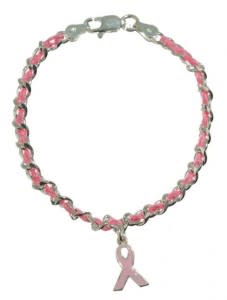 Alef Bet Breast Cancer Awareness Bracelet Make a wish when you put it on; as the pink string unravels from the silver charm bracelet, your wish comes true. $32, alefbet.com. Twenty percent of all Alef Bet proceeds benefit the Avon Foundation for Women.
Cancer Ribbon SPI (Small Personal Item) Belt Surprisingly roomy, the SPI belt can be used by everyone from fitness buffs (for iPods, protein bars and house keys) to on-the-go moms (for pacifiers, snacks and wipes). $19.99, spibelt.com. A portion of all sales benefits Susan G. Komen for the Cure.
JOIN THE FIGHT: Upcoming Breast Cancer Events
OCT. 17
Sarasota Memorial Healthcare Foundation Key to the Cure, at Saks Fifth Avenue. smhf.org
Oct. 19
American Cancer Society's Making Strides Against Breast Cancer, held at the Sarasota Polo Club. makingstrides.-acsevents.org
ORANGETHEORY FITNESS
What: Group personal training; interval and strength training
Where: 5275 University Parkway, Suite 116, University Park
How it works: Half of an hour-long session is spent doing interval treadmill exercises; the other half focuses on strength exercises, including rowing machines.
Why it's different: Clients wear heart-rate monitors that project their BPM (beats per minute) onto a board for everyone (including the trainers) to see. Workouts are designed to spend optimal time in each of three BPM zones in order to burn calories both during and after the workout.
The Zones
Warm up to Green
70 to 83 percent of maximum heart rate
Push into Orange
84 to 91 percent max
All-out into Red
92 percent and up
I CAN DO IT, YOU CAN DO IT
For many people with disabilities—approximately 56 million Americans—their own personal fitness looks very different from the way "fitness" looks on TV and in magazines.
The newly expanded, national "I Can Do It, You Can Do It" (ICDI) program aims to overcome that disconnect between popular fitness culture and people who might not think they fit that mold. From the President's Council on Fitness, Sports and Nutrition, ICDI encourages Americans across the board to improve and maintain their health through regular physical activity and good nutrition.
For more information and to become an ICDI advocate with access to tools and support, email [email protected].
For more Sarasota health news, click here to read Hannah Wallace's Health & Fitness blog. >>