Article
Sarasota's Top Spas
Ilene Denton is rubbed, scrubbed and soaked at some of Sarasota's top spas.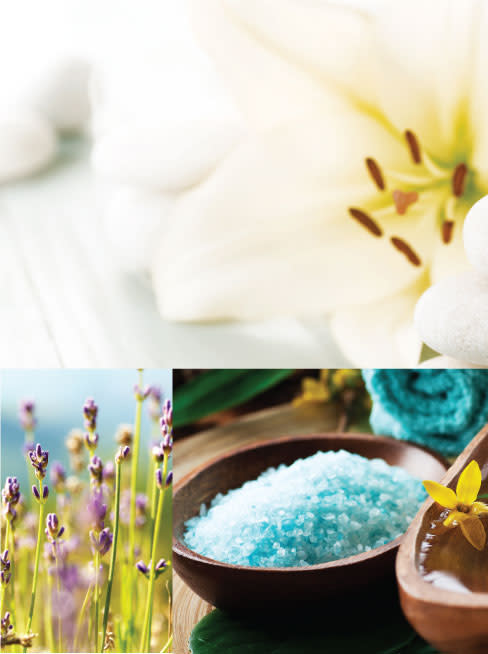 I couldn't have picked a better afternoon for a pink Himalayan sea salt polish with hydrating cocoon. It was Multitasking Monday, the workday had gone haywire from the get-go, lunch was a sandwich at my computer, and I'd pulled something in my back at the gym the day before.
And then at 4 p.m., my spa appointment awaited. No email, no cell phone, no Facebook or traffic or hustling to get supper on the table. Just a cup of tea, a fluffy robe, an aromatic massage room, some lovely music, an attentive massage therapist. An hour of quiet reflection. Complete, utter peace.
Is spending an hour or two on a spa treatment a luxury? You bet. But over the course of this story, I learned it's also an essential part of taking care of your skin, your largest organ, "the roof of your body," as one of a happy blur of professionals told me. And an essential part of nurturing your psyche, so you can tackle all those Multitasking Mondays to come.
Lucky me—I sampled five of Sarasota's very best spas. Here's my deliciously fuzzy-headed report.
Spa Hollywood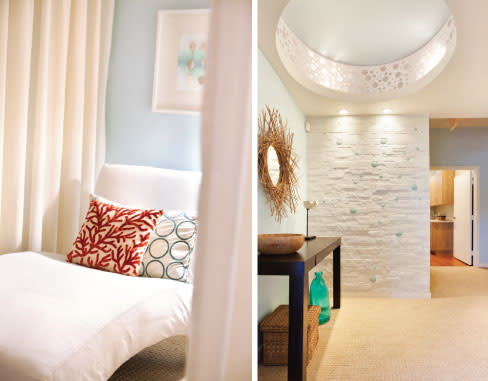 Ambiance Newly remodeled, Spa Hollywood has a modern California Dreamin' vibe in tan and blue with accents in driftwood and blue glass mosaic tile. Half of the nearly 50 employees work in the big hair, nail and tanning salon, and when I visited the day before Forty Carrots
Family Center's enormous Wine, Women & Shoes luncheon, the place was humming.
Special because "We've had one local owner for 20 years, so there's a lot of consistency in clients and employees who've been with us a long, long time," says spa manager Mary Winter. "We try to please both. If I have quality staff, my clients are better served."
I tried the Body Shaping Wrap, which combines red and brown algae extracts and antioxidants to stimulate circulation and improve the tone of your skin. Erika, who's worked in the spa biz for more than 20 years, used her strong, practiced hands to start a back massage to release tensions and toxins. Since I was suffering from the tail end of a cold, she worked on my lymph nodes, too, and it was a much more pleasant treatment than any over-the-counter medication. She used essential massage oils and body shaping lotions by Pino before wrapping me in layers of sheets (like a burrito) to let the body shaping magic work. Meanwhile a royal jelly facial mask helped to replenish my drying skin. Heavenly. $145 for 60 minutes.
Upgrade the experience Depending on availability, you'll get complimentary shampoo and blow dry with every one-hour massage, facial or body treatment that you purchase so "you can look beautiful when you leave," says Winter. Champagne and wine service, or herbal tea, is also complimentary. "It's the best deal in town," Winter says.
5780 Swift Road, Sarasota , (941) 927-2635; spahollywood.com
Take home
Lavender Essential Oil by Sonoma Lavender. It encourages sleep, elevates your mood and is even said to alleviate headaches. "People like to carry home the spa experience with them, and lavender is the most popular," says spa manager Mary Winter.
The Ritz-Carlton, Sarasota Spa

Ambiance Super posh, with Tuscan-toned décor in amber and café au lait. Lots of thoughtful niceties await, like orange-slice and strawberry infused ice water to quench your thirst after a dry sauna, and, to depuff your eyes, steely-cold compresses floating in a silver ice bowl topped by three perfect slices of cucumber.
Special because with 16,000 square feet of facilities and 100-plus treatments offered, it's the area's largest and most extensive resort spa. Besides the many massage and hydro rooms (even a couples room), there's a whole wing christened the Relaxation Sanctuary, with separate steam rooms, saunas and whirlpools for men and women. It leads to a private outdoor terrace overlooking a lovely healing garden, where, if you time your treatments around the lunch hour, you can order a shrimp cocktail or maybe some Moet & Chandon Ice Imperial champagne with frozen grapes. This ultra-luxe spa has been open to the public since 2011, so what are you waiting for?
Don't miss The Ritz-Carlton Signature Massage. Each one is completely customized to the client depending on his or her need, whether it's deep neuromuscular or Swedish, or a little bit of both. $150 for 50 minutes; $210 for 80 minutes.
Upgrade the experience If you're planning a day at The Ritz-Carlton Members Beach Club, call ahead to arrange for the spa to come to your poolside cabana with a chair massage and paraffin dip.
I tried The Energy Balance Massage. It taps into the Chinese philosophy of using the five elements of air, water, earth, fire and metal—each represented by a different pharmaceutical-grade oil blend massaged into specific chakra points (thyme and basil on the abdomen, for example). The massage begins with two tuning forks used as "vibrational healing tools"—one set at the temple, and the other set atop a hot stone placed upon the sternum—and then continues with a combination of Swedish and deep muscular massage. When my massage therapist, Michelle Bessette, laid a steaming hot towel across my back to signal the session's end, I was almost too relaxed to arise. $225 for 80 minutes of pure bliss.
1111 Ritz-Carlton Drive, Sarasota, (941) 309-2090, ritzcarlton.com/sarasota
Take home
Epicuren's after-bath moisturizers. "They're natural and loaded with essential oils that will tune in to what your skin needs," says massage therapist Michelle Bessette. "Applied just after a shower, they moisturize and penetrate." And they come in amazing aromas, like Bessette's favorite, Kuku Coconut.
L. Spa
Ambiance The smallest of all the spas we sampled, L. Spa sports a youthful, contemporary vibe in cheery Caribbean colors: pale turquoise, fuschia, lavender and lime.
Special because "of our experienced staff," says owner LeeAnne Swor. "We're not the typical spa; it's like your best girlfriend told you where to get your skin, nails and medical skin care done."
Signature treatment Skin care, from facials to Botox, Juvederm and other fillers are offered under the medical supervision of Dr. John Fezza, cosmetic facial surgeon, and Sue McCann, R.N. "We are a medical spa; we can offer products and services that are more results-oriented than simply a relaxing facial," says Swor.
I tried the Age Smart Facial, a highly oxygenating treatment completely customized to my skin's needs by my lovely medical aesthetician, Joanna Mlotkowska. Trained in Warsaw under a dermatologist's eye, Mlotkowska subscribes to the "gentle European technique; no harsh chemical peels." She deftly applied fish collagen, an algae mask and a variety of vitamins to hydrate, moisturize and protect. My skin glowed for weeks afterward, and even my under-eye circles were minimized. "After 50," she gently reminded me, "it's maintenance, maintenance, maintenance." $125 for 60 minutes.
Don't miss The Coconut Milk & Honey Ritual. A massage and coconut milk-organic cane sugar scrub all in one, it's dubbed "the Royal Treatment" for all the obvious reasons. $145 for 80 minutes.
Upgrade the experience L. Spa offers email-only specials monthly (and sometimes weekly, depending on time of year). Sign up for the e-newsletter at lboutiques.com.
556 S. Pineapple Ave., Sarasota , (941) 906-1358, Lboutiques.com
Take home
Biologique Recherche P50 balancing exfoliator. Used twice daily, it speeds up the skin's exfoliating process and reconstruction of the epidermal shield, and helps maintain acid pH. "It's the elementary product for all types of skin," says aesthetician Joanna Mlotkowska.
Mandala Med-Spa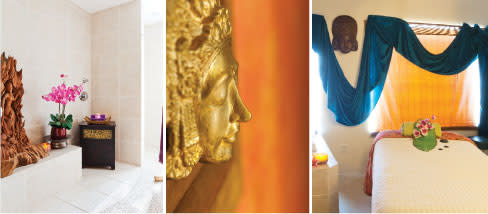 Ambiance An elaborately carved teak archway ushers you into this comfortable oasis that's decorated throughout with busts of Balinese deities—fitting since it's the area's only Indonesian-infused medical-based spa. The Yoga Shala studio upstairs offers everything from hot yoga to belly dancing.
Special because It offers treatments other area spas don't, such as traditional Thai massage, sometimes called "the lazy man's yoga," which is conducted on the floor instead of a massage table and involves deep stretching, gentle rocking and acupressure. My treatment artist, Stephanie, spent three weeks in Thailand last summer perfecting her technique. The spa is the creation of Dr. Marguerite Barnett, who supervises medical aesthetic treatments in her adjacent office. "Her idea is a holistic approach to health and beauty," says spa manager Angela Nisbet.
Don't miss the Shirodhara, a traditional energy-balancing Ayurvedic treatment in which hot oil is dripped down the forehead, followed by a soothing scalp, neck and shoulder massage. $130 for 75 minutes.
I tried the Samunprai, which began with massaging my feet, because, as Stephanie said, "energy is released" from the bottom up. She used both her hands and a steamed poultice filled with herbs to touch lightly various pressure points from toes to head; then the poultice was rolled over the skin in a gentle but effective manner. When the client flips over on the back, she adds elements of traditional Thai massage, stretching and manipulating creaky joints using an oil mix including wheat germ and lavender. Historically, this treatment was used on warriors returning from battle; even if your only weapon of choice is a computer mouse, you'll feel amazing afterward. I really did drift off briefly into slumberland. $150 for 90 minutes.
Upgrade the experience Mandala Med-Spa offers several day spa packages. The Deluxe Day of Healing, for example, includes a private yoga session, reflexology or Reiki session, Javanese foot back and massage or facial for $280.
1715 Stickney Point Road, Sarasota 34231, (941) 927-2278,
Take home
Revision Intellishade SPF 45, an anti-aging tinted moisturizer in radiant or matte finish. Both formulas include a powerful wrinkle-reducing peptide and provide broad spectrum UVA and UVB coverage. "This is one product that can be used on its own and delivers fantastic results," says spa manager Angela Nisbet.
The Met Day Spa & Salon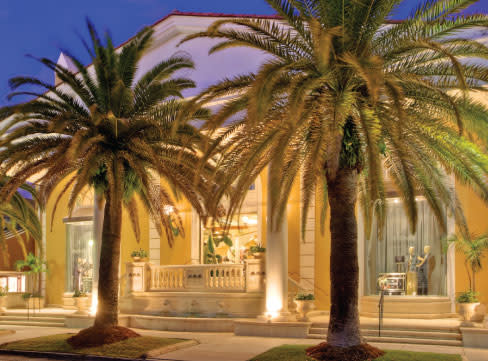 Ambiance Tastefully tropical in tones of sand and sea, with banana leaf and coral motifs on fabrics and furnishings, and bamboo-pole ceilings in the massage rooms. While waiting for your session in the comfy lounge, enjoy a cup of fragrant South African Rooibos vanilla tea, said to encourage relaxation.
Special because It's a full 6,500-square-foot day spa that offers aesthetics, massage, hydro rooms, and a terrific hair and nail salon. The focus is on continuing staff education, says spa manager Heather Smith. There's an unpretentious yet professional vibe. "One of our clients summed it up best," says Smith. "What she loves is that it's like it's being at home only better."
I tried The Pink Himalayan Sea Salt Polish with Hydrating Cocoon. Mineral-rich sea salt was mixed with lavender-infused shea butter and vigorously scrubbed on all over by my kind and capable technician, Danae. She then left me for five minutes under the seven strong jets of the bracing Vichy shower (perfectly positioned for your pressure points), and followed up with a shea butter massage and 15 minutes of meditative silence while I was swaddled in warm wet sheets. The treatment improves circulation and exfoliates dead skin, leaving me amazingly smooth and—as Danae aptly puts it—"in la-la land." $120 for 60 minutes.
Upgrade the experience The Met Fashion House adjacent to the spa offers complimentary Trish McEvoy make-up lessons. (It's the only specialty store in North America with two full Trish McEvoy counters.)
Don't miss The Sundari Four-handed Massage. Yes, that's right: two massage specialists together in synchronized fashion give you a well-being massage using warm oils to restore your flow of "prana," or life force. $270 for 80 minutes.
35 Boulevard of Presidents, St. Armands , (941) 388-1772, themetsarasota.com
Take home
The ChromaWhite multi-step skin care system by Dermalogica. "It brightens the skin and has lots of anti-aging benefits," says manager Heather Smith. "And it's great for sensitive skin."
A WORLD OF SPAS
Everybody wants to lose weight, get fit and unplug, right? Sounds like a spa destination vacation to us.
Malaka Hilton of Admiral Travel in Sarasota is on top of the trend. "Our customers want the all-inclusive experience—culture, great food, great wine, but please cut out some hours for me to enjoy a spa," she says. Check out destination spas in hot spots like Vietnam, Spain, Tuscany and the Caribbean, she advises.
We did a bit of sleuthing on our own:
The Oasis Spa at Couples Tower Isle in Ocho Rios, Jamaica, earned Travel + Leisure's top score for Best Caribbean Hotel Spas last year for a $30 million renovation that brought the 1950s-glam all-inclusive resort into the 21st century. Seaweed body nourish wraps, bamboo fusion massages and other yummy treatments are conducted in the bright white, Zen-inspired treatment rooms perched on the blue, blue Caribbean Sea. couples.com/tower-isle
The Luxsa Spa at the Hansar Hotel in Bangkok was named to Conde Nast Traveler's coveted Hot List 2012 of 35 best new spas around the world for its sumptuous herbal healing Thai massage and its tasteful ambiance, "like a ranch house occupied by an Asia-loving great-aunt." hansarbangkok.com/luxsa
The Fonteverde Tuscan Resort & Spa, set in the rolling Siennese hills in San Casciano dei Bagni, won a prestigious 2012 World Travel Award for "Italy's Leading Spa Resort." A 17th-century grand resort built by a member of the Medici family (don't worry, it's been updated several times since), it's renowned for the rejuvenating power of its thermal spring waters. fonteverdespa.com/en/luxury_spa_resort.htm
And closer to home, superstar architect David Rockwell transformed the mid-century modern Carillon Hotel into the Canyon Ranch Miami Beach—a sleek 150-suite beachfront hotel and 70,000-square-foot Wellness Spa with 54 treatment rooms and 30 different daily exercise classes—everything from power yoga to boxer's workout. canyonranch.com/miamibeach
More Top spas
John Carl Spa and Salon
1345 Second St., Sarasota
(941) 330-8000; johncarlspa.com
Body masks and polishes, herbal wraps, massages, facials, hydrotherapy treatments and more.
Les Ciseaux Hair Salon and Spa
6 N. Boulevard of Presidents, St. Armands
(941) 388-2176; lesciseauxsalonspasarasota.com
Massage, facials, nails, permanent make-up, fillers and more.
Melody's Center for Authentic Beauty
555 S. Osprey Ave., Sarasota
(941) 952-1010; melodys.us
Aromatherapy treatments, body detoxification, massage and more.
Beauty Bar at Simply Spoiled Boutique
1471 Main St., Sarasota
(941) 364-3337; facebook.com/beautybarsarasota
Facials, waxing, professional make-up applications, organic spray tans, and manicures and pedicures "for busy mothers and strong professional women in-between meetings on the go."